When the City of Austin asked its citizens to help rename Solid Waste Services, the people made their voices heard: An overwhelming number of those polled want it named after a certain Limp Bizkit frontman.
According to the Austin Chronicle, Solid Waste Services hoped to re-brand itself by focusing less on wastefulness and more on environmentally-friendly, sustainable practices. In the Austin spirit of innovative thinking, the department opted to crowdsource a new name for the public utility using a web poll.
For the lucky few who are fortunate to be unfamiliar with the hopeful winner's namesake, Durst rose to prominence as the frontman of the '90s rock/rap group Limp Bizkit, known for their hits "Rollin'," "Break Stuff," and "Nookie." And apparently, nearly 30,000 people believe it would be fitting to immortalize him by attaching his name to garbage. (For what it's worth, Durst himself responded to the campaign on his Twitter: "I want to thank all of you who are helping me in Austin. I hope we win.")
Voting closed yesterday and the final decision lies with the city itself, but we certainly hope that Austin lives up to its "weird" reputation and approves the peoples' choice.
Here's a screenshot of the final results of the poll.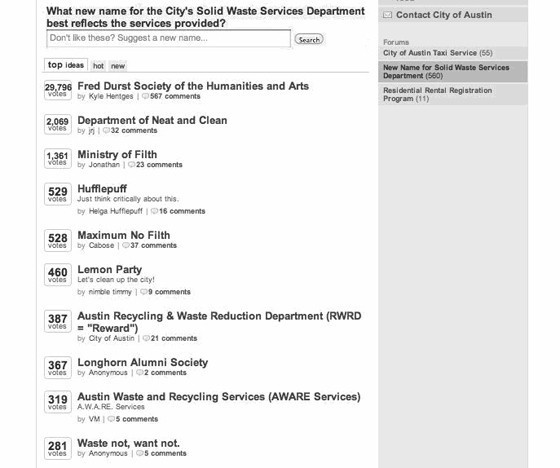 Popular in the Community