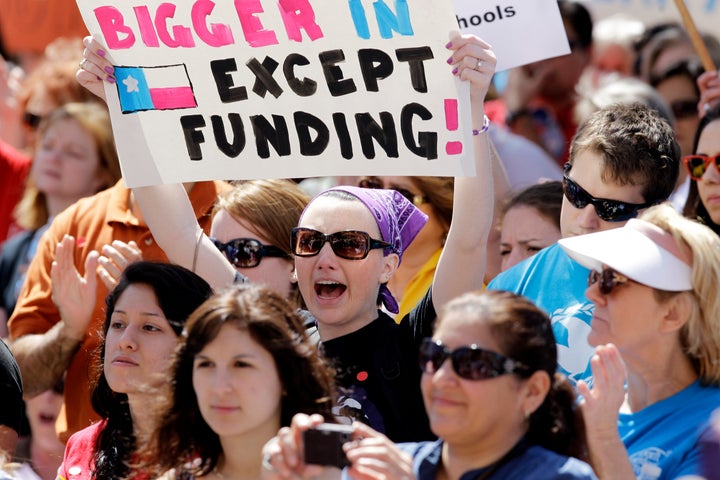 As spring break kicks off, thousands of educators from around the state are hardly vacationing. Instead, they're protesting budget cuts at the state capitol.
A large rally Monday in Austin, organized in part by the American Federation of Teachers, arrived on the heels of another large protest on Saturday against a proposal to cut $10 billion in state education spending. Monday's rally drew about 4,000, according to local NBC station KXAN.
Amid Saturday's large crowd of protesters -- some carrying umbrellas to symbolize their request for lawmakers to dip into the Rainy Day Fund -- a middle schooler revved things up, local CBS station DFW reports.
"Because my teachers and people like you believe in me, and it rubs off on me."
Texas will have to plug a hole of up to $27 billion, a budget shortfall caused by the recession and a new business tax that hasn't raised the forecasted funds.
The Houston Chronicle points out that education takes up a large part of the budget, meaning it would see a big crunch under initial cut-based proposals. As many as one-third of Texas school teachers could lose their jobs if lawmakers adopt the cuts.
And that makes the education community fume. Many are directing their anger specifically at GOP Gov. Rick Perry for refusing to raise state revenue or tap the Rainy Day Fund.
Perry also told the Houston Chronicle last week that he's not responsible for teacher layoffs -- the districts are.
"The lieutenant governor, the (Texas House) speaker, and their colleagues aren't going to hire or fire one teacher, best I can tell."
He said it's up to districts to decide where to cut, but he suggested schools work at reducing the increasing number of non-teaching hires, which includes staff from superintendents to bus drivers.
But even if the non-classroom cuts were made, it still wouldn't be enough, district spokesman Jason Spencer told the Houston Chronicle.
"We could eliminate our entire central administration and non-classroom spending and it still wouldn't bridge the gap that we're expecting based on the House budget bill."
As a response to Perry's comments, bus loads of custodians, bus drivers, cafeteria workers and teachers' aides from the Houston Educational Support Personnel Union traveled to the capitol Monday to protest, KTRK reports.
Protestors have also asked Perry to sign paperwork that would allow schools to receive about $830 million in federal aid set aside by Congress for schools nationwide.
Texas's bid for the aid was denied last year, and the funds have gotten caught up in complications in Washington. Perry has refused to sign the application that he says has too many strings attached.
Katherine Cesinger, a spokeswoman for the governor, said in an e-mail that Perry is simply listening to taxpayers, and "they want their government to be leaner and more efficient," CBS station DFW reports.
But Randi Weingarten, AFT president, said these cuts aren't the right measures, according to the Austin Statesman.
"Look at the polls that are coming out of Texas right now; the public do not want these cuts to education," she said "And ultimately, if one thinks that elections have consequences, kids should be immunized from those consequences. Kids don't vote in elections."
Popular in the Community