The 9th annual Fun Fun Fun (FFF) Fest kicks off this Friday, November 7th at Auditorium shores with promises of three days of beautiful skies and a whole slew of music and comedy acts that range from underground to legendary. The festival is a homegrown event of about 20,000 people that once delighted almost exclusively locals and now is often mentioned in the same breath as the Austin City Limits mega-fest. It's also known for its non-traditional attractions like the famous taco cannon and catering to a niche of passionate, insatiable music fans.
Per the FFF credo, the lineup balances emerging artists, cult favorites, comedians and heavy weights in a mix of genres. It's comprised of a well-curated list of artists brought to us by the same crew of industry insiders who run some of the best music clubs in town.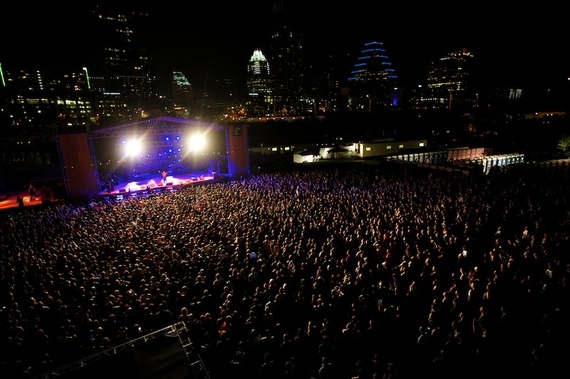 A large crowd gathers at the stage for momentous the Run DMC reunion show in 2012
Photo Credit: Ashley Garmon
This year Judas Priest, Nas, Alt-J, Neutral Milk Hotel, The New Pornographers, Ginuwine, Modest Mouse, First Aid Kit, and Fred Armisen anchor the event with their recognizable names and renowned talent but according to festival producers James Moody and Graham Williams, that's just the beginning. Here are their tops picks for ones to watch on-site at the festival and around town after dark.
Graham Williams' Picks (Producer/Talent Booker):
Orange Stage (Indie/Rock): Modest Mouse, Failure, Courtney Barnett
Honorable mention: Dinosaur Jr.
Black Stage (Metal/Punk): Judas Priest, Sick of It All (doing 2 classic records), Pissed Jeans
Honorable Mentions: Rocket from the Crypt, Metz and too many to count...
Blue Stage (Hip-Hop/Dance): Nas (doing Illmatic), Flying Lotus, Run the Jewels
Honorable mention: Gary Numan
Yellow Stage (Comedy): John Waters, Fred Armisen, Jello Biafra
Honorable mention: Jonah Ray
James Moody's Picks, (Producer/Festival Boss):
Orange Stage (Indie/Rock): Yo La Tengo, Dinosaur Jr., Neutral Milk Hotel
Black Stage: Judas Priest, Death From Above 1979, Pallbearer
Blue Stage: NAS, Ginuwine, Gary Numan
Yellow Stage: Fred Armisen, Har Mar Superstar, J Mascis
Green "Stage" (which is actually a BMX/skate ramp): Athletes Chase Hawk, Grant Taylor, David Gonzales
Purple Stage(s) (FFF Nites, free shows across downtown): MSTRKRFT, Steel Panther, J Mascis, Stooges Tribute Band, The Briefs
For the complete lineup, schedule, artist info and an app that enables one to create sassy pics with superimposed tacos, check out www.funfunfunfest.com.