Joyce, who once threatened to kill Johnny Depp's dogs, will officially resign Monday as deputy prime minister as well as leader of the National Party, the junior partner in Australia's coalition government. He said he will resign the leadership positions but remain in the Parliament as a local member. 
"This current cacophony of issues has to be set aside," Joyce told reporters. 
Prime Minister Malcolm Turnbull is currently in Washington, D.C., for meetings with President Donald Trump and other high-level U.S. officials. Turnbull refused to back his deputy on Thursday morning. 
The announcement comes after weeks of speculation about the future of the outspoken member of Parliament as tensions between the two parties that form Australia's ruling coalition flared.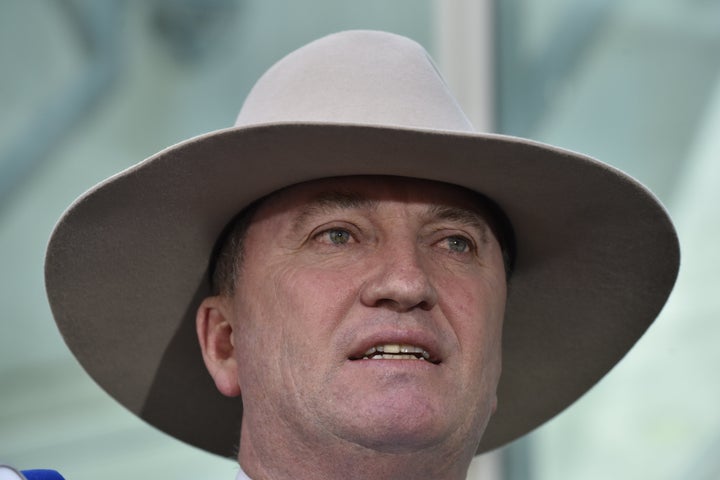 In early February, it was revealed that Joyce, 50, had been engaged in a months-long relationship with his former media adviser, Vikki Campion, 33, who is expecting a baby in April.
Ministers' relatives and partners are not allowed to be appointed to executive government offices without approval from the prime minister, but Joyce battled the calls for his resignation by claiming Campion was not technically his partner at the time she was appointed to the various roles.
The pair moved in together after Joyce separated from his wife last year. Journalists and politicians have described the affair as being an open secret in political circles for many months, but it was reported publicly only recently.
"I'd like to say that it's absolutely important, it's incredibly important that there be a circuit breaker, not just for the Parliament but, more importantly, a circuit breaker for Vikki, for my unborn child, my daughters and for Nat," Joyce said during his news conference. Natalie Joyce, his estranged wife, who responded earlier this month that she felt "deceived and hurt" when she saw a picture of a pregnant Campion.
Joyce, who holds the rural New South Wales electorate of New England, has been an outspoken member of Parliament since 2005 and was elected leader of the National Party, and therefore deputy prime minister, in 2016.
Joyce's woes — and his seeming determination to hold on — led to surreal political theater and mounting tensions between Joyce and Turnbull.
Last week Turnbull slammed Joyce for the "terrible hurt and humiliation" he had inflicted on his family and his new partner, saying his deputy had made "a shocking error of judgment" and "appalled all of us."
Joyce responded by calling Turnbull's comments about his personal life "inept" and "unhelpful."
Joyce has been embroiled in other controversies, most notably for the revelation last August that he had New Zealand citizenship, which led to his expulsion from Parliament and ineligibility to run for election (the Australian Constitution bans dual citizens from running for election). Joyce renounced his New Zealand citizenship and successfully regained his seat, returning to Parliament late last year.
Joyce has said he will remain in Parliament, protecting Turnbull's narrow one-seat majority.
Calling all HuffPost superfans!
Sign up for membership to become a founding member and help shape HuffPost's next chapter