Australia's foreign minister turned the tables on President Donald Trump's assessment of French first lady Brigitte Macron's "good physical shape," asking if the same could be said about him.
"I'd be taken aback, I think. It's a rather interesting comment to make," she told the outlet's host. "I wonder if she could say the same of him?"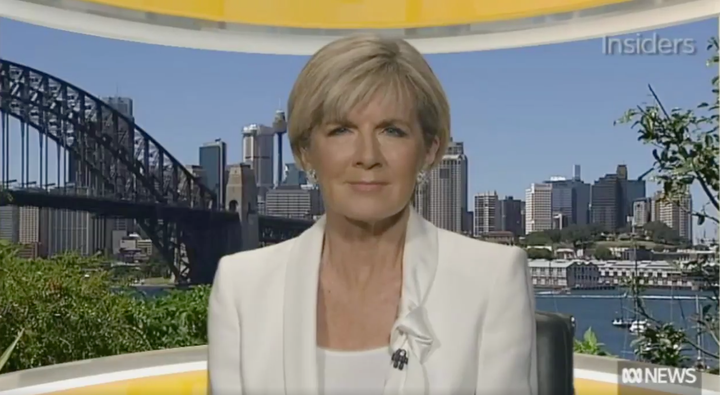 Brigitte Macron is 64, while her husband is 39. Melania Trump is 47, while her husband is 71. Bishop turns 61 on Monday.
"You're in such good shape. Such good physical shape. Beautiful," Trump proclaimed as Brigitte Macron was seen inching closer to Melania Trump.
The unsolicited assessment drew scowls and scorn around the world, with sports brand Reebok releasing an easy-to-read chart that points out when it's appropriate to say "You're in such good shape … beautiful" and when it's not. (Spoiler alert: Trump's decision is in the "no" section.)
Bishop's comment was just the latest shot taken at Trump on the Australian news station.
"We learned that Mr. Trump has pressed fast forward on the decline of the U.S. as a global leader," he said in his two-minute broadcast.
Australian Prime Minister Malcolm Turnbull also has had a rocky start with Trump, with the president hanging up on him during their first phone call in February after 25 minutes. They had been scheduled to speak for an hour, the Washington Post reported at the time.
Calling all HuffPost superfans!
Sign up for membership to become a founding member and help shape HuffPost's next chapter
BEFORE YOU GO