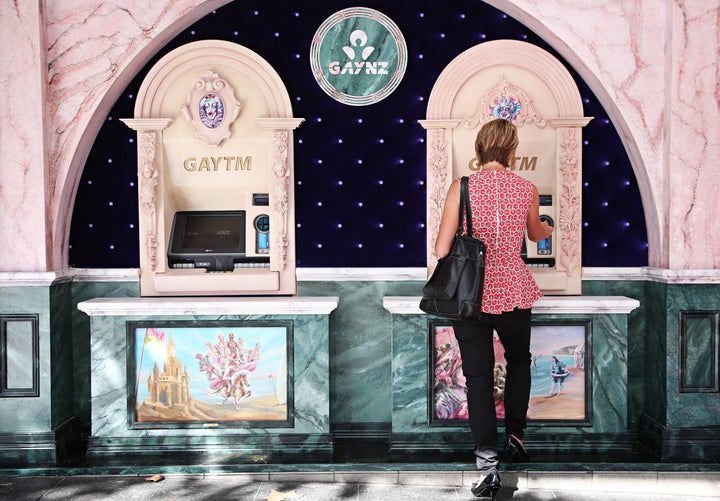 A bank in Australia is temporarily rebranding itself in an effort to honor the local lesbian, gay, bisexual and transgender (LGBT) community. 
For the duration of Sydney's Gay and Lesbian Mardi Gras, ANZ Bank will be known as GAYNZ. One of the bank's Sydney offices is also getting a "baroque-inspired" makeover to mark the tenth anniversary of the Mardi Gras celebration, which runs until March 6. 
Included in the colorful decor are 16 murals inspired by the LGBT community, a marbled floor and two new "GAYTM" machines. The "GAYTMs" will also return to two additional branches, where they appeared in previous years, according to a press release. 
Check out a video the bank posted on its Facebook page about the project.
Mark Hand, who is the chair of ANZ's Australia Division Diversity Council, said his company felt inspired to "take things to a new level" for the anniversary celebration, citing "incredible response" to the "GAYTMs" over the years. 
"Diversity, inclusion and respect is an important part of what we do at ANZ so we are particularly proud of our partnership with Mardi Gras which started because our staff passionately believed in supporting the cause 10 years ago," he said in a press release.
PHOTO GALLERY
24 LGBT-Friendly Products And Companies Targeted By Boycotters