SYDNEY – Australian Prime Minister Scott Morrison is facing international backlash over his decision to consider officially recognizing Jerusalem as the capital of Israel.
For decades, a proposed two-state solution has underpinned the international community's efforts to address and achieve peace in the Israeli-Palestinian conflict ― but Morrison appears unconvinced that it's ever going to work. 
"We are committed to a two-state solution, but frankly, it hasn't been going that well," Morrison said. "Not a lot of progress has been made, and you don't keep doing the same thing and expect different results."
"He hasn't offered a single reason why now is the appropriate time for Australia to be moving its embassy to west Jerusalem," Jewish Labor politician Mark Dreyfus said. "It's transparently obvious it's prompted by the Wentworth by-election."
Morrison was adamant that "no decision has been made," but the idea has angered Arab and Muslim states as well.
"Australia is a sovereign nation, we're allowed to engage in conversations," Morrison told reporters in Australia on Wednesday, local time. "We are allowed to do that, we are allowed to raise issues that we think are worthy of discussion that are important to Australian citizens, and that's all we've done."
"It was a surprise for all of us," he said following an emergency meeting in Australia's capital on Tuesday.
"They can't understand this, especially with the trade and good relationship with Australia. Australia has a good reputation with the Arab world. We have a lot of students coming from the Gulf states and other countries, we have a large community," Abdulhadi said.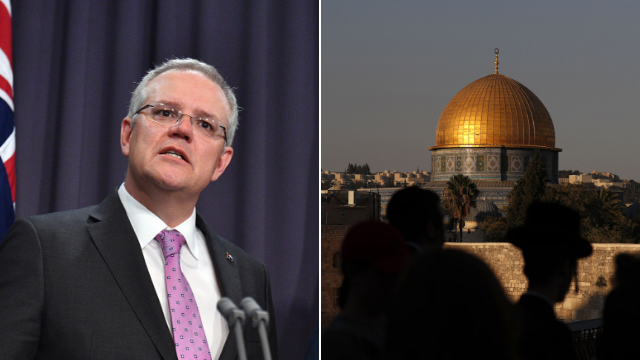 Indonesia ― one of Australia's closest neighbors ― also expressed concern at the prime minister's remarks, and is now reportedly considering suspending an imminent trade deal with Australia, per the Australian Broadcasting Corp. 
The White House, however, has thrown its support behind Australia. 
"We welcome and strongly support Australia's review and discussions on relocating its embassy," an official told The Australian.
In addition to considering relocating its embassy, Australia, along with the U.S. and Israel, voted against the Palestinian bid to chair a coalition of developing countries at the United Nations on Tuesday. 
REAL LIFE. REAL NEWS. REAL VOICES.
Help us tell more of the stories that matter from voices that too often remain unheard.