Hundreds of men have been holed up at the center for more than three weeks, refusing to move to a nearby town over fear of reprisals from local residents. But immigration officials and local police entered the facility on Thursday, according to media reports and videos, aggressively shouting at holdouts to leave.
Some of the men at the center were reportedly in need of medical help during the encounter, and others said authorities were destroying their property in an attempt to make them leave.
"Immigration and police started searching the rooms and are saying 'Move, Move,' you only have an hour to move," Behrouz Boochani, a Kurdish journalist and asylum seeker inside the detention center, wrote on Twitter. "Too much stress and tension here in Delta. Some refugees are crying."
Australia, by law, refuses to resettle any migrants who attempt to travel to the country by boat to seek asylum, an attempt to discourage people from making the dangerous and often deadly crossing. The Australian government had paid Papua New Guinea to house hundreds of detainees captured at sea since 2013 at the Manus Island detention center but announced earlier this year that it would close the controversial facility on Oct. 31.
More than 400 people were inside the facility before authorities began storming it on Thursday, a mix of recognized refugees and people still seeking political asylum.
Last month, access to water, electricity and food at the center was cut off, and Australia said those still in the facility would need to move to another in a nearby town, but hundreds of the men refused. Conditions quickly deteriorated at the center, and on Wednesday the United Nations High Commissioner for Refugees said the event was a "manmade and entirely preventable humanitarian crisis."
"It is a damning indictment of a policy meant to avoid Australia's international obligations," Nai Jit Lam, the UNHCR's deputy regional representative for Australia, said. "Australia has in effect created and then abandoned a humanitarian crisis at the doorstep of the international community."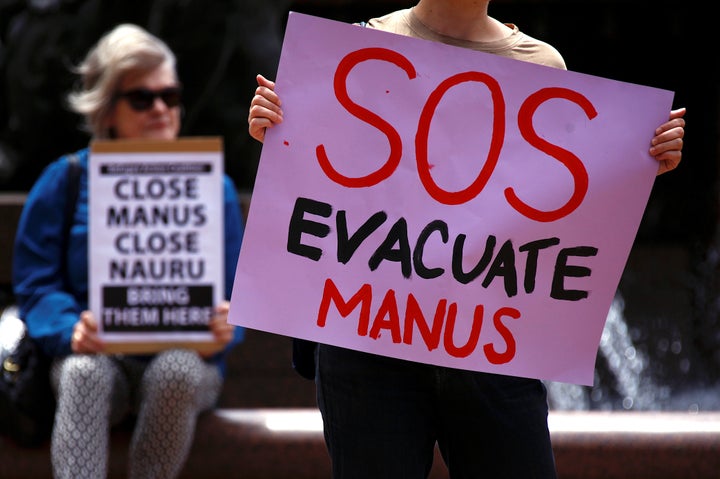 On Thursday, Australia's immigration minister, Peter Dutton, said he believed it was "outrageous" that people were still living at the Manus facility after the government attempted to close it.
"They've trashed the facility. They're living in squalor," Dutton told local radio station 2GB. "The Australian taxpayers have paid about $10 million for a new facility and we want people to move."
Australian Prime Minister Malcolm Turnbull called on the men to move peacefully to the new center.
"They should do so in accordance with the lawful directs of Papua New Guinea," he said.
Dominic Kakas, a spokesman for Papua New Guinea police, told Australia's Fairfax Media that around 50 people were at the center "just talking to people and getting them to move out." Kakas said authorities were destroying rainwater tanks in an effort to prevent a health crisis.
"We just don't understand why they are refusing to move. The longer they stay, people might get sick and die," he said.
The ongoing situation on Manus and at another detention center on the island country of Nauru have become contentious political issues in Australia, sparking a string of protests, including a rally that effectively shut down parts of Melbourne earlier this month.
Some have launched ongoing calls for Turnbull to allow the detainees to resettle in the country. He has repeatedly refused, saying the strict policies have curbed dangerous immigration practices.
New Zealand's new prime minister, Jacinda Arden, has offered to accept 150 people under a deal brokered by her predecessor, but the Australian government has been reluctant to accept that pledge, with Turnbull saying it could open a "back door" into his country.
Calling all HuffPost superfans!
Sign up for membership to become a founding member and help shape HuffPost's next chapter