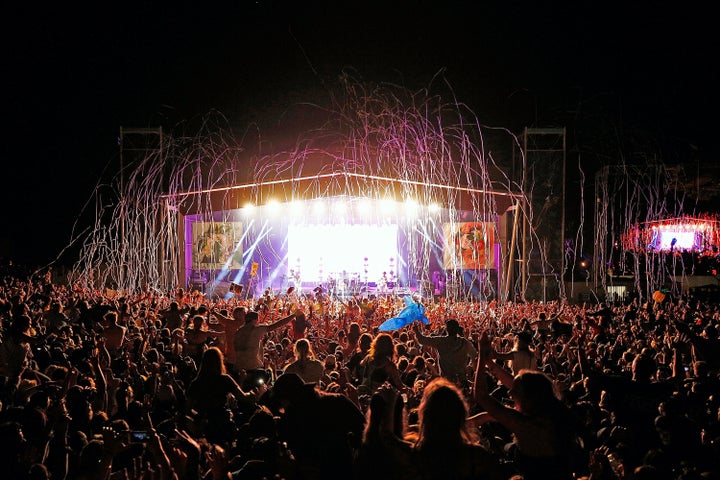 Women in Australia and New Zealand are winning praise for fighting back against sexual assault at New Year's Eve music festivals, with one apprehending her attacker until security arrived and another punching a man who grabbed her breast.
Music festivals are popular in Australia and New Zealand around the new year, when warm weather hits the Southern Hemisphere. However, celebrations in recent years have been marred by a string of unsavory incidents, including a reported rape and several incidents of sexual assault and groping at the Falls Festival in Tasmania, among others.
As the world prepared to welcome 2018, at least three women reported they were sexually assaulted at Falls Festival, despite efforts to increase awareness by organizers, who run events in four Australian states over the New Year's period. A 32-year-old man was charged with indecent assault after police said he grabbed a woman's breast in the festival mosh pit around 9:30 p.m. on New Year's Eve.
"Whilst we would rather have no incidents at all, I can tell you that with that particular one the woman involved, the person involved, and her friend actually apprehended the male and then handed them to security, who then handed them to police to be investigated," said Tasmania police Senior Sgt. Darren Latham. "So it is encouraging that people are taking positive action, but we would of course wish that this didn't happen at all."
Police continued investigating other incidents at the festival, including a second report of groping in the mosh pit, and one of an assault in the campgrounds.
In New Zealand, a woman at the Rhythm and Vines festival dished out some revenge to a man who grabbed her breast. The incident ― captured on video and posted to Facebook, where it racked up tens of thousands of views and comments ― saw a man approach two young women from behind. He appeared to grab a shirtless woman whose chest was covered with glitter, then quickly turned and ran away. The two women walked angrily toward the man, with the victim landing several hits to his head and her friend pouring her drink on him.
Speaking to the New Zealand Herald, the victim ― a 20-year-old woman visiting from America ― said the incident was "shocking".
"I was walking to my campsite and saw this hand come up. He got a handful of my boob. I went over and hit him," Madeline Anello-Kitzmiller said. "It was quite shocking. I'm used to love and kindness, freedom of expression, equality."
"I was going to cover up but I didn't want to let them win," she continued. "My body … is beautiful. It's completely natural. We were born naked."
Related
Popular in the Community