Marriage equality has become the law of the land down under.
Australia's Parliament passed a bill on Thursday to legalize same-sex marriage following a long push for marriage equality. The House of Representatives approved the legislation without amendments after hours of emotional speeches and debate. Only four members of parliament voted against the the legislation.
Prime Minister Malcolm Turnbull, a supporter of marriage equality, had committed last month to passing the bill before Christmas.
"This is Australia: fair, diverse, loving and filled with respect. For every one of us this is a great day," Turnbull said on Thursday.
The law will likely take effect in about a month "after royal assent and other formalities," AP reported. The first same-sex weddings are expected to take place in early 2018.
More than 100 members of Parliament gave speeches on the bill, with a majority in support of changing the definition of marriage, the Australian Broadcasting Corp. reported. MP Tim Wilson used his portion of the debate time to propose to his partner on the floor of Parliament.
"In my first speech I defined our bond by the ring that sits on both of our left hands," Wilson said. "They are the answer to the question we cannot ask. So there's only one thing left to do: Ryan Patrick Bolger, will you marry me?"
The proposal, and Bolger's answer (he said yes), are now part of the official debate record.
Conservative legislators tried to tack religious freedom amendments onto the bill but could not get enough support. The amendments were consistently rejected by other MPs, who have called the suggestions "superfluous" and argued that the existing freedom of religion laws would protect Australia's religious institutions. Even still, debates and votes to the amendments delayed the final passage.
The amendments, noted AP, could still be considered at a later date.
Related
Before You Go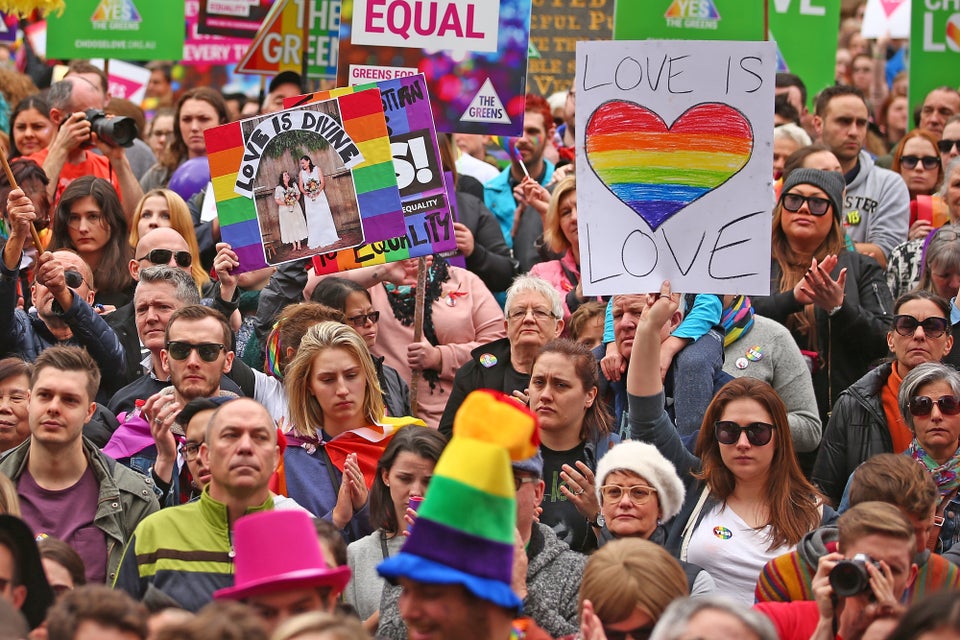 Australia Gay Marriage Rally