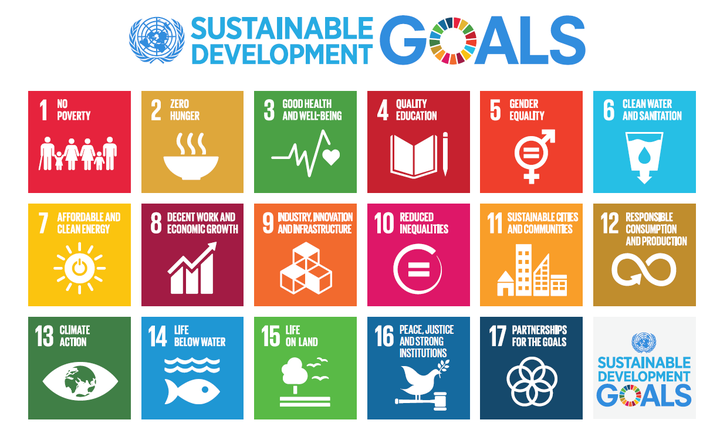 Australia has been ranked a low 26 on the recently released Sustainable Development Goals (SDG) Index, behind many European countries, Japan, Canada and New Zealand.
The 17 Sustainable Development Goals (SDGs) were agreed to by all countries at the United Nations in 2015 to help guide global action towards economic prosperity, social inclusion and environmental sustainability for all.
The SDG Index, produced by the UN Sustainable Development Solutions Network (SDSN) and Bertelsmann Stiftung, collected available data from 157 countries and assessed where each country stood in 2017 with regard to achieving the SDGs.
Australia's poor environmental scorecard
According to the SDG Index, Australia performs well on some social and economic goals, such as health and water quality, while also achieving relatively good results on others, including lack of poverty, quality education, infrastructure, sustainable cities and peace & justice.
However, when it comes to the environment, the SDG Index rates Australia poorly.
Despite its modest population, Australia is one of the highest consumers of energy, with some of the highest per-person CO2 emissions worldwide. It is also the fifth largest producer and the highest consumer (per-capita) of coal. Coal production, and Australia's high beef consumption are also responsible for Australia's worrying nitrogen footprint.
Australia also lags on renewable energy, with only 8.4% of its total energy consumption coming from renewable sources. In comparison, 12.4% of Germany's total energy consumption comes from renewable sources, despite it also being one the world's largest energy consumers.
The SDG Index shows that Australia faces significant challenges with electronic waste (e-waste), with the average Australian generating 20 kilograms of e-waste each year. Last year, researchers reported that e-waste is being generated three times faster than all other forms of waste and that Australia's legislation is unable to keep pace with the trend.
The SDG Index shows that Australia faces some serious biodiversity challenges. In 2016, Australia faced 7.6% change in total forest area, which could lead to habitat loss and the endangerment of plant and animal species.
Australia's management of fisheries and ocean health is also a cause for concern, with 62% of fish stocks overexploited, threatening sustainability of seafood harvests and longevity of healthy fish stocks.
The SDG Index also highlights that Australia has one of the highest rates of obesity in the world, while income inequality, gender equality are also considered problematic.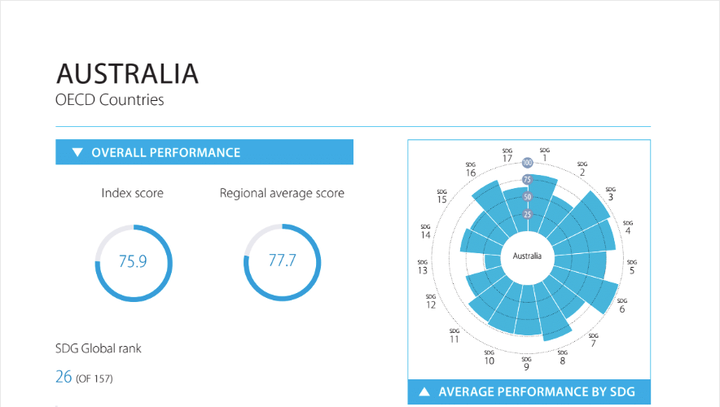 International trends and rankings
As expected, Scandinavian countries performed best on the SDG Index, with Sweden taking first place, followed by Denmark, Norway and Finland. However even these top-performing countries had at least one 'red' rating (indicating major challenges to overcome) for their environmental goals.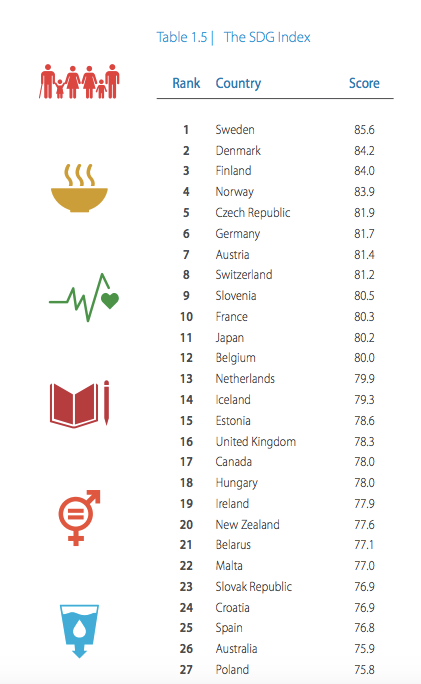 Countries from the Sub-Saharan Africa, such as Central African Republic, Chad and the Democratic Republic of the Congo, occupied the bottom of the Index, and face serious challenges in almost all the SDGs including poverty, hunger, health, education and access to basic infrastructure.
Perhaps the most significant challenge of all remains the attainment of peace, security and justice in societies where conflicts and poor governance continue to impose tremendous costs on the environment, economic development and social wellbeing.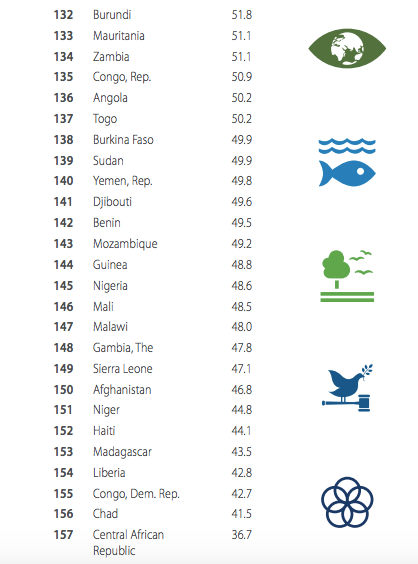 International spillovers – how rich countries hinder progress of poorer nations
The SDG Index also showed that some activities in high-income countries create significant 'international spillovers' that hinder the ability of poor countries to achieve the SDGs.
For example, the demand for energy from high-income countries is the main driver of climate change, which is leading to a global rise in sea levels that could submerge Small Island Developing States. Other examples include high consumption levels, banking secrecy, the use of tax havens, weapons exports, and low levels of official development assistance (or foreign aid).
According to the SDG Index, Australia's main contribution to international spillovers is through its relatively low levels of foreign aid. Australia's current aid budget sits at 0.23% of gross national income. Despite being one of the richest nations in the world, Australia's aid budget is the lowest it has ever been, falling behind most OECD countries. This has severe impacts on the ability of poorer countries who depend on Australian aid to help them achieve the SDGs.
The purpose of the SDG Index is to help countries identify areas they need to address in order to achieve the SDGs by 2030.
The report shows that Australia performs relatively well on social and economic development but does poorly on climate and environmental sustainability. This clearly suggests that Australia needs to act urgently to address these goals.
This is an opportunity for Australia to improve its performance by firstly addressing its weaknesses and secondly to lead the way globally by identifying the pathways needing to be undertaken in order to achieve the Sustainable Development Goals by 2030.
This article was co-authored by Siamak Sam Loni (@siamak_sam) and Professor John Thwaites (@jwthwaites).
John Thwaites is a Professorial Fellow, Monash University and Chair of ClimateWorks Australia and the Monash Sustainable Development Institute. He is a consultant at Maddocks Solicitors providing advice to the firm and its clients on climate change, water, sustainability and corporate social responsibility. He is one of six Co-Chairs of the Leadership Council of the global Sustainable Development Solutions Network (SDSN). Launched by UN Secretary-General Ban Ki-moon in 2012, to mobilise global expertise around the implementation of the Sustainable Development Goals (SDGs).
Support HuffPost
The Stakes Have Never Been Higher
Related
Popular in the Community