Australian Archbishop Philip Wilson was sentenced to 12 months in detention on Tuesday after being convicted in May of covering up a priest's sexual abuse of four boys dating back to the 1970s.
Wilson, who is currently the archbishop of Adelaide, will be eligible for parole after six months, the BBC reports, and may end up not spending his sentence in prison.
Magistrate Robert Stone ordered Wilson to be assessed for home detention on Aug. 14; until then Wilson will be out on bail. Wilson faced a maximum of two years in prison. 
"The whole of the community is devastated in so many ways by the decades of abuse and its concealment," Stone said in court. "We are all the poorer for what has occurred."
He added that Wilson had shown "no remorse or contrition" for his actions.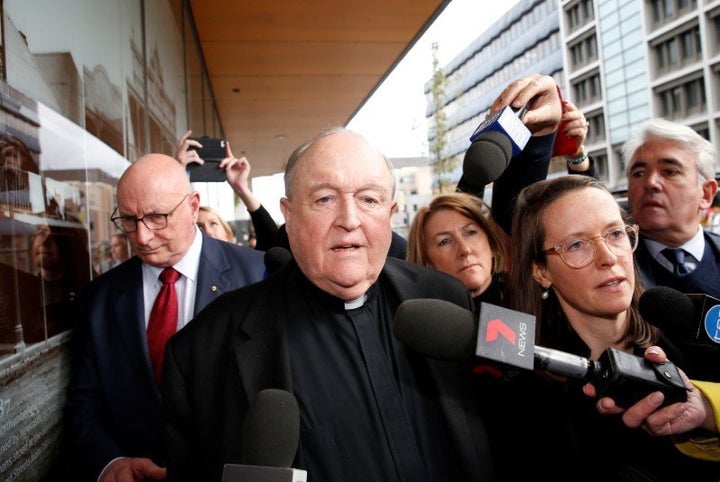 Wilson failed to act after learning that priest James Fletcher reportedly abused four altar boys in the Hunter Valley region outside Sydney. During the trial, Wilson denied knowing about any of Fletcher's actions even though several of Fletcher's victims testified in court that they had reported the abuse to Wilson directly. 
One of Fletcher's victims, Peter Creigh, testified that he told Wilson about the abuse five years after it took place, in 1976. An anonymous victim testified that when he reported the abuse to Wilson, the senior clergyman said the boy was telling lies and instructed him to recite 10 Hail Mary prayers. 
Fletcher was found guilty on nine child sexual abuse charges in 2004 and died in jail in 2006.  
Wilson, 67, is the most senior Roman Catholic Church official to be convicted of crimes involving child sexual abuse in the history of the church. He has not resigned as archbishop, but has handed over his responsibilities since his conviction in May. 
Fletcher's victims and other survivor advocate groups were split about the sentencing. 
Others were still happy with the landmark conviction and sentencing. 
"We have made history here in Australia," one of Fletcher's victims, Peter Gogarty, told reporters after the sentencing. "The highest-ranked church official to ever be brought to account for what we know was a worldwide systematic abuse of children and the concealment of that abuse. So I'm content that we've done something in Australia that nobody else has been able to manage."
"In such circumstances we should be very aware of the impact on survivors, their families and all those who love them. I have witnessed the anguish and grief of victims. The church must continue all efforts to listen and support them," said Bishop Greg O'Kelly SJ, the apostolic administrator of the Adelaide Archdiocese. "I reiterate that our commitment to the safety of every child in our Church and schools is paramount."