"That's my boy," reads the caption reportedly posted by Khaled Sharrouf, a convicted terrorist who fled Australia to join the Islamic State militants waging war in Syria and Iraq.
Secretary of State John Kerry condemned the photo on Tuesday.
"Of a 7-year-old child holding a severed head up with pride and with the support and encouragement of a parent, with brothers there," Kerry said. "That child should be in school, that child should be out learning about a future, that child should be playing with other kids, not holding a severed head and out in the field of combat."
WARNING: The following image, while censored, is brutal and graphic.
Defense Secretary Chuck Hagel, also in Australia, commented on the photo on Monday.
"ISIL is a threat to the civilized world, certainly to the United States, to our interests, as it is to Europe, it is to Australia," Hagel said, according to the Daily Telegraph. "I think reflected on the local newspaper I saw this morning, with the picture on the front page, it's pretty graphic evidence of the real threat that ISIL represents."
ISIL is another abbreviation used for the Islamic State, which is also known as ISIS.
Australian Prime Minister Tony Abbott also condemned the image.
Sharrouf was convicted in Australia on terror-related charges in connection with a 2005 plot and sentenced to five years in prison, the Washington Post reported. Once released, he was forbidden from leaving the country. However, last year, he used his brother's passport to flee, Stuff.co.nz said.
And it appears he's taken his family with him.
Another recent image Sharrouf sent out via social media shows him with three children believed to be his, all in fatigues and holding weapons.
Before You Go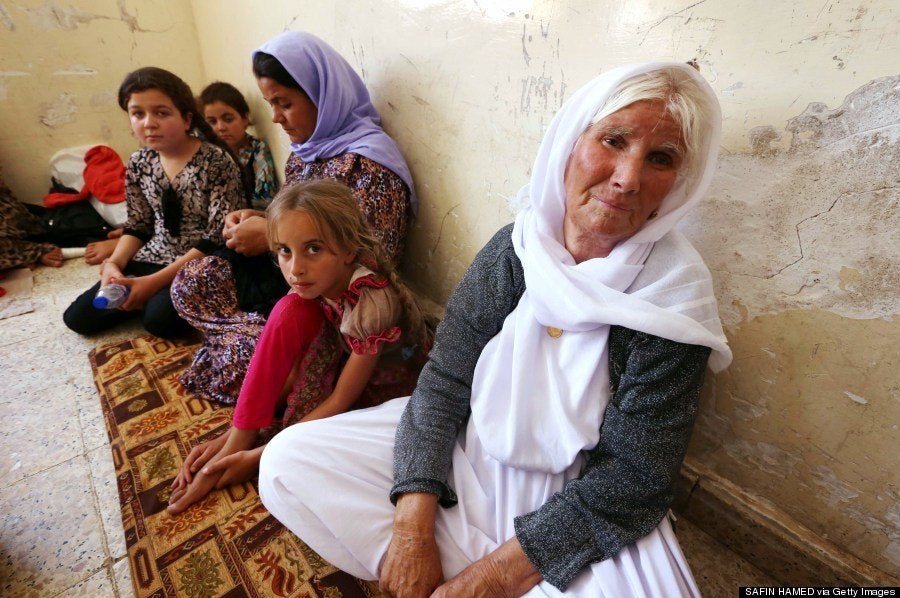 Yazidi And Other Minorities Flee ISIS
Popular in the Community