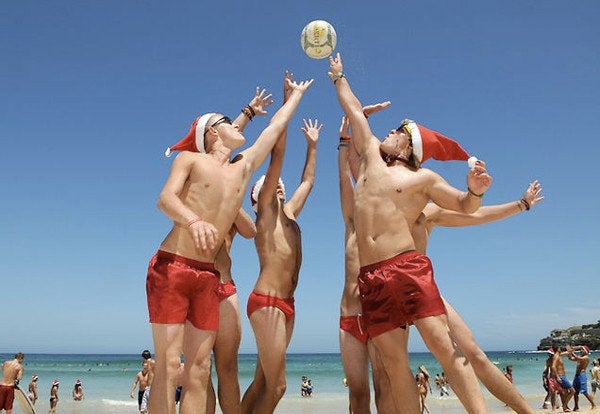 Having grown up in Australia, there's always a part of me that's quietly resented winter's monopoly over Christmas. You know exactly what I'm talking about: the "white Christmas" hoopla. Snowflake-cloaked Christmas trees, sleigh rides in the snow, the big roast turkey and eggnog, chestnuts roasting on the open fire and all that jazz. Just type "Christmas" into Google Images. As ubiquitous as these scenes are in mainstream culture, the "white Christmas" and all its wintry trimmings was no such reality for me until I moved to New York four years ago. Before that, Christmastime to me evoked salty, sunburned memories of 90-degree heat, beach barbecues and Tooheys-induced naps in the sun. The only thing "cold" about our Christmas was the beer. (Yes, I know. "So weird." You can say it).
My experience is, obviously, not unique. For countries south of the equator like Australia, New Zealand and most parts of Africa and South America, the "winter Christmas" simply doesn't exist. December 25 falls in the thick of our summer, with average temperatures ranging between 70 and 90 degrees. And though you'd think climactic factors wouldn't drastically affect how Christmas is celebrated (I mean, everyone still gets presents and turkey tastes good in any weather, right?), the reality is that having Christmas in summer as opposed to winter alters, dramatically, "traditional" Christmas culture and the experience recognized and triumphed by society at large.
A colleague of mine recently asked me, "Doesn't Christmas in summer feel less... festive?" That question gave me pause. Given that I'd never associated Christmas "festivity" with wintertime growing up, then Christmas in the summer was, in fact, plenty festive. Thanks to the perennially sublime weather, every December we'd grab picnic blankets and flip-flop over to Sydney's Royal Botanic Gardens for Carols in the Domain, a huge free outdoor concert-picnic in the days preceding Christmas. Here, families gathered to sing Christmas carols and mainly just enjoy the gloriously balmy summer evening (everyone would be given "candles" to wave in the air, and after dark all you could see was this luminous, pulsating sea of tiny flames). We'd spend warm nights watching the Christmas fireworks over Sydney Harbor and Martin Place, and see the outdoor carolers in the city center every Thursday evening. We'd rent beach houses on the Central Coast over Christmas and Boxing Day (December 26), string twinkle lights and tinsel across the back porch and have barbecues and eat cold cuts (well, in my family it was adobo and rice) and drink beer and swim and bask in the perfect sunshine.
Though there is no cut-and-dried homogeneous "Australian Christmas" experience (just as there is no cut-and-dried homogeneous "American Christmas" experience), there was always some shared element of outdoors-ness; just this general sun-kissed warmth that put everyone in an excessively happy mood. And that, to me, is wonderfully "festive."
That said, since moving to New York, I've learned to equally appreciate the Christmas/winter association. No doubt, Christmas and cold weather make for a magical marriage -- ice-skating, mittened hand in mittened hand, beneath the luminous Rockefeller Center Christmas tree. Strolling through the snowy Union Square holiday markets, fragrant with the scent of hot apple cider, cinnamon donuts and (cliché, I know) roasting chestnuts. And those Christmas trees... real fir Christmas trees. I quickly discovered that nothing makes a tiny studio apartment smell better than a real-life fir Christmas tree (those things wouldn't last a day in Aussie heat).
Neither Christmas experience, however, is more or less festive than the other, in my opinion. They're just different. What Christmas looks like and what is considered "festive" is so ridiculously arbitrary and fluid, anyway. My own current Christmas experience in New York has evolved into something of a hybrid of Australian and U.S. traditions (beernog, anyone?). I mean, really. Whether you're celebrating Christmas Day in a snowflake sweater or in a "singlet and thongs" (please see Aussie version of "Jingle Bells"), we're all essentially celebrating the same thing. As long as you've got family, friends and a delicious meal preferably involving some kind of roasted Christmas bird, does it really matter if your Santa is wearing a red suit or board shorts?