On August 12th, I stood with dozens of young Indians at the Annual General Meeting of the Indian-owned infrastructure company, GVK, in protest of their plans to dig up millions of tonnes of coal from Queensland's Galilee Basin and ship it to India. We are not fighting the reality that India needs energy to bring millions of our people out of poverty, but we are fighting the myth that coal is the solution.
The coal industry both here in India and in Australia uses poverty as an excuse for their big plans, and to quell any opposition to them. The CEO of the Australian Coal Association, Nikki Williams frequently toes the line that "coal is being used to drag hundreds of millions of people out of poverty." This is cover for a dangerous agenda to push a dramatic expansion of coal mining in Australia and coal burning in India, which is not only driving corruption, the violation of human rights, and environmental pollution, but it is pushing the world deep into dangerous and irreversible climate change.
My experiences of watching and listening to stories of coal pollution in India made me a strong advocate against dirty coal. The story is now all too familiar; unjust land acquisition, disproportionate water allocations, political kickbacks, fly ash contamination and consequent health impacts, fall in agricultural yields, minimal or no plant pollution standards, the list continues. Over 100,000 premature deaths occur in India every year owing to various forms of coal pollution!
The coal sitting in Australia's Galilee Basin, which GVK and fellow Indian-owned company Adani plan on mining contains enough carbon to chew through 6 percent of the entire world's carbon budget. We have already burnt more coal, oil and gas than is safe for our planet, and that is why institutions like the World Bank have announced they will stop funding coal projects except for rare circumstances. More coal is simply too dangerous for the world - it risks pushing millions more Indians into poverty by making extreme weather events more frequent and dangerous, raising sea levels and acidifying oceans, and drying out growing fields. So it's somewhat ironic that the coal industry claims to be solving poverty when in actual fact, their continued, unchecked expansion is to be the cause of poverty for decades to come.
So if coal is not the solution for India's energy poverty, then what is? Part of the problem is that many people assume that the only way to bring millions of people out of energy poverty is through big, centralized projects. That's the simplistic message that the coal industry has its vested interest in perpetuating - because they can own and profit from every step of the energy production line. It's more difficult to communicate the solution to India's energy poverty because it's not a simplistic solution, or a one-giant-sized-coal-power-plant fits all. Rather it involves working in villages and communities to understand their energy needs, and identifying affordable renewable solutions that they can implement and own. If we are to simplify this solution, it would be: distributed, locally-owned and renewable. A stark contrast to big, corporate-owned coal.
The billions of dollars being poured into big coal needs to be divested and reinvested in affordable, locally owned renewable energy projects. One inspiring example that is a joint effort between Australians and Indians is Pollinate Energy, a social enterprise that trains local people to distribute and install clean energy systems in urban slums. Customers take out a small loan to purchase their solar systems, which Pollinate Energy have found are usually paid back within 5-6 weeks. From creating new livelihood opportunities to providing locals with entertainment, decentralized energy systems are proving to be cost effective in alleviating poverty whilst leaving a low ecological footprint.
There is no doubt that coal companies and their government backers will fight the distributed, locally owned and renewable solutions. They lose profits when the money stays at a community level. That's why it takes people power to fight back.
And it is people power that we are starting to build -- not just here in India, but in Australia and all over the world. As we stood at the GVK AGM, we held up photos sent to us in solidarity by people from all over Australia. We are relieved to know that many Australians also recognize that coal is not the solution to ending our poverty, and that to prevent more poverty brought on by global warming we have to halt coal expansion and follow a different energy solution for India: distributed, locally-owned and renewable.
(The action outside the GVK AGM was suppressed by the local police. Friends from within the AGM reported that GVK refused to or dodged tough questions on their financial liabilities to deliver on this project. Our message was certainly heard loud and clear by GVK and we want to escalate pressure to stop this dirty investment. Below is an image of the volunteers holding messages from their Australian counterparts on quitting mining in Australia)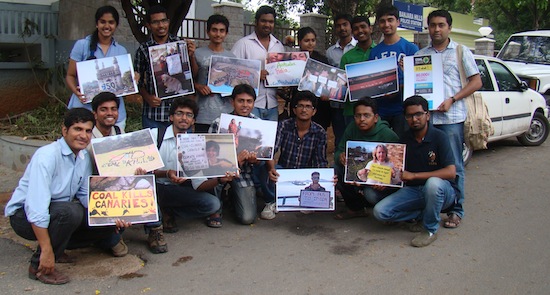 Related
Popular in the Community