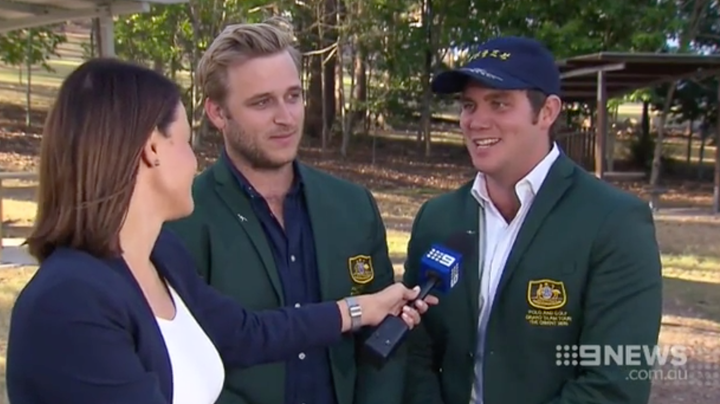 It seems that offensive antics are par for the course for these two "golfers."
Evan Shay and Morgan Ruig, both 28-year-olds from Brisbane, Australia, claim to have passed themselves off as the Australian national team for an international golf tournament in North Korea as a joke.
"Initially we just said we were a couple of Australian golfers and they said, 'You are the Australian team,' and we sort of didn't say no," said Ruig, a real estate agent who told 9News the stunt started when the pair was in Beijing for a polo tournament. 
The media is largely applauding the men for carrying out an epic "prank" or dismissing them with a wink as harmless hooligans. News outlets are eating up their jokes about the possibility of more zany exploits in underdeveloped nations ― like the one Ruig told 9News after returning home unscathed: "I think there is a Somalia National Golf Open."
And such an attitude is not surprising. Instead of highlighting serious issues of famine and human rights abuses that plague North Korea and other countries, we have a tendency to reduce them to a punchline.
"At what point do memes cease to be subversive, becoming perhaps instead a rather grotesque display of privilege?"
In a blog post for The Huffington Post last year, Library of Congress research fellow Bonny Brooks wrote about what an act of first-world privilege it is for "our irony-obsessed, meme-driven culture" to slice up depictions of North Korean life—real people's lives—to share, like and laugh at.
"At what point do memes cease to be subversive, becoming perhaps instead a rather grotesque display of privilege, since we are able to laugh so much and so often at a man [Kim Jong Un] whom millions are afraid of?"
Shay and Ruig's photos from their travels in Asia only illustrate her larger point. 
The duo wore green blazers featuring embroidered Australian crests that read: "Polo and Golf Grand Slam Tour The Orient 2016." Their choice of the term "orient" here is telling, perpetuating what University of California professor Frank H. Wu describes as "old stereotypes of geisha girls and emasculated men."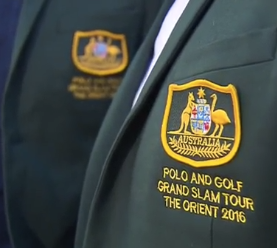 And in China—as their Facebook post below shows—their journey started off really well and not at all offensively:
But the trip wasn't all fun and games for Shay and Ruig.
They were a bit nervous when they had to hand over their passports at the border, Ruig told The Courier-Mail. And they didn't fare so well in the golf tournament itself. In what sounds like a slight knock on Asian customs and values, Shay told the Daily Mail, "Our caddy said we brought great shame upon our families."  
That's apparently the worst that happened to them.
It's lucky that their shenanigans didn't run them afoul of the law: In March North Korea sentenced American Otto Warmbier to 15 years hard labor for stealing a banner. The world was understandably outraged, but HuffPost blogger La Sha argued that one shouldn't ignore the sense of entitlement and invincibility that led Warmbier there in the first place.
"That kind of reckless gall is an unfortunate side effect of being socialized first as a white boy, and then as a white man in this country," she wrote. 
Nina Golgowski contributed to this article.
Calling all HuffPost superfans!
Sign up for membership to become a founding member and help shape HuffPost's next chapter
BEFORE YOU GO
PHOTO GALLERY
Secret Photos Show The Real North Korea