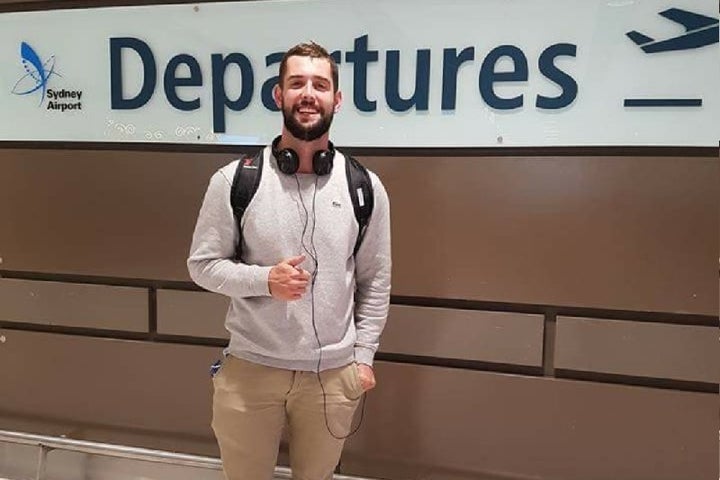 A New York woman pleaded Tuesday for her Australian boyfriend's release after she said he was arrested for overstaying his U.S. visa by an hour. Now a site set up to help raise legal fees has been frozen after questions arose about the case.
Baxter Reid, 26, had been staying in the U.S. on a five-year visa that required him to exit and re-enter the country every six months, his girlfriend said, and they had attempted to enter Canada from upstate New York just hours before his visa's deadline on April 23, The Sydney Morning Herald reported.
Instead of a swift rubber-stamping, however, they were delayed by Canadian officials who eventually denied him entry, Heather Kancso said.
"They spent hours asking us remedial questions and giving us the runaround, with hours of dead time in between," Kancso wrote in a GoFundMe page set up to raise money for Reid's legal costs.
However, the crowdfunding site froze her access to the account after questions arose about details of the incident, The New York Times reported Wednesday, quoting a GoFundMe official as saying it was not uncommon to put a hold on donations while more information is sought.
Immigration experts doubted her account of the border issue, telling the Times that a visa requiring six-month departures and returns does not exist.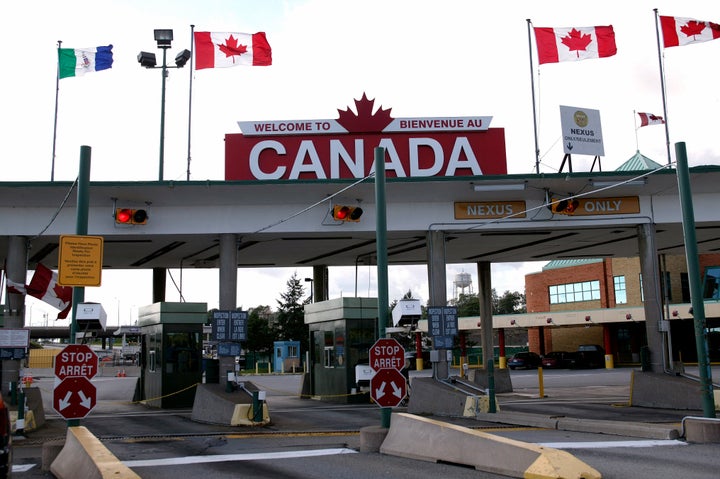 Kancso accused Canada's Border Services Agency of "wasting over four hours" of their time before refusing Reid's entry. By the time Reid was released to U.S. officials, it was past midnight and "he technically violated his Visa requirements and was illegally in the US for a SINGLE HOUR," she said. "They threw Baxter in [handcuffs] and escorted him to prison."
Why Reid was denied entry into Canada was not clear. In an interview with the Times, Kancso clarified that Reid had a B-1/B-2 visa, which typically allows a six-month stay for tourism or business.
A spokesperson for CBSA declined to comment on Reid's specific case when reached by HuffPost on Tuesday but in an emailed statement said: "All persons seeking entry must demonstrate they meet the requirements to enter and/or stay in Canada.
"Admissibility to Canada is decided on a case by case basis and based on the information made available to the officer at the time of entry. A person may be deemed inadmissible for a number of reasons such as financial, and family."
Most travelers wanting to enter Canada will also need to obtain a Canadian visa, even if they have a U.S. visa, according to the Canadian government's website. It's not clear whether Reid had obtained one.
A U.S. Customs and Border Protection spokesperson also declined to comment on Reid's specific case to HuffPost but said that visas can be revoked at any time, such as when an individual's travel plans no longer match the reason for the visa. When re-applying for a visa, it's suggested that it be done from the individual's home country, though that's not required.
As for why the couple arrived at the border so close to his visa's deadline, Kancso told the Morning Herald that their car broke down several times. Instead of a seven-hour drive from New York City, it took them 15, she said.
Reid's father, Tom Reid, said his son is in a legal limbo, having not yet been charged with any crime.
"He's got to wait two to three weeks before he gets a date to appear," he told the Morning Herald.
According to the State Department's website, anyone who stays in the U.S. longer than authorized may be found in violation of U.S. immigration laws and may be arrested and deemed ineligible for a future visa. The current visa "will generally" be voided or canceled automatically.
"Most people who violate the terms of their status are barred from lawfully returning to the United States for years," the department's website warns.
The Guardian reported that Reid was being held at a federal detention center in Buffalo, New York, and is receiving consular assistance from Australia's Department of Foreign Affairs and Trade.
Kancso also did not immediately return a request for comment. Her GoFundMe page had raised more than $9,000 by Wednesday night.
UPDATE: This article has been updated with additional information on the GoFundMe account being frozen and questions arising about Reid's visa requirements.
Popular in the Community