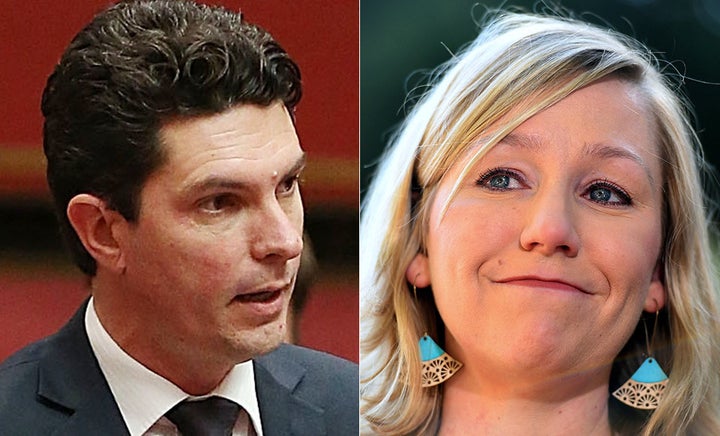 After two foreign-born lawmakers in Australia suddenly resigned because of a decades-old law banning dual nationals from holding federal office in the country, dozens of other lawmakers are under pressure to confirm the status of their citizenship.
Sen. Larissa Waters ― who made history this year as the first person to breastfeed a baby in Australia's Parliament ― stepped down from her post with what she called "great shock and sadness" on Tuesday, after discovering that she is still a Canadian citizen. 
She made a public, tearful apology later in the day and vowed to renounce her Canadian citizenship.
"I was born in Canada and I left at 11 months [of age]. My parents are Australian. I've never been back [to Canada]," Waters explained. "I thought I was naturalized as an Australian, but it seems that the law was changed a week after I was born, and in fact, I should have actively renounced Canadian citizenship."
It appears Waters may have been alerted to the law because days earlier, fellow Greens party member and co-deputy leader Sen. Scott Ludlam resigned after learning that he remains a citizen of New Zealand, where he was born and lived until he was 3 years old.
"Recently it was brought to my attention that I hold dual citizenship of Australia and New Zealand ... I apologize unreservedly for this mistake," he said in a statement, noting that the news has left him "devastated."
Greens leader Richard Di Natale reacted by saying Parliament and Australia "are worse off as a result," and has committed his party to an "urgent root-and-branch" review.
The former senators' abrupt political departures have turned attention to more than 20 other parliamentarians who could be affected by Section 44 of the Australian Constitution, which applies to any person "who is under any acknowledgment of allegiance obedience or adherence to a foreign power, or is a subject or a citizen or entitled to the rights or privileges of a subject or a citizen of a foreign power."
Pundits worry the dated legislation will continue to pose issues down the road, as the country and its parliament become increasingly diverse. Over 28 percent of Australians were born overseas ― the highest proportion in over a century ― according to the country's latest census figures.
Australia's Parliamentary Library has a public online catalogue listing all senators and members of Parliament by their place of birth. As HuffPost Australia's Josh Butler reports, this list featuring 24 foreign-born parliamentarians ― including Ludlam and Waters ― was last updated in March, and is not currently up to date.
The recent resignations have prompted many of the listed politicians to swiftly assure constituents and critics that they are legally qualified to serve in Parliament.
Sam Dastyari, an Iranian-born senator, responded to backlash on Facebook and Twitter by explaining he had already worked to meet the constitutional requirements to hold his position, in what he described as a "difficult, expensive, lengthy and precarious" process costing $25,000 in legal fees.
And in an effort to support his proclaimed lack of Indian citizenship, Sen. Malcolm Roberts made the bizarre statement on Twitter that he has never owned a 7-Eleven store, accompanied by the hashtag #NotIndian.
Several others have come out on social media in defense of their sole Australian citizenship:
REAL LIFE. REAL NEWS. REAL VOICES.
Help us tell more of the stories that matter from voices that too often remain unheard.
BEFORE YOU GO