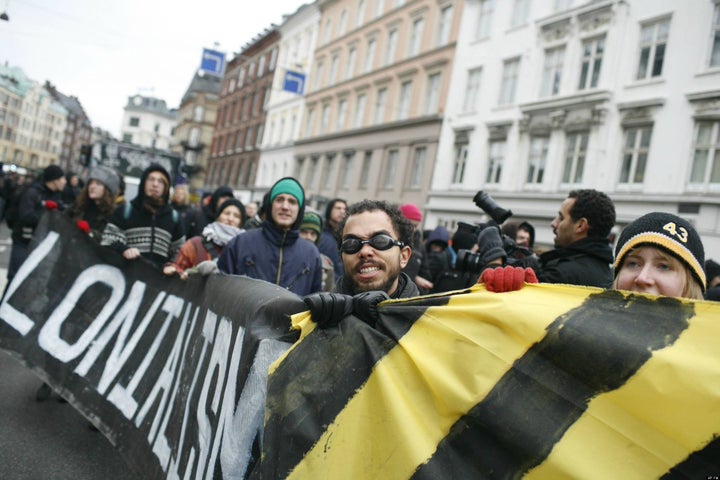 When Kim Nguyen, 28-year-old social worker, left his homeland of Australia in August of 2008, he thought of climate change as an abstract subject that was occasionally discussed on the evening news and something that politicians argued about. But Nguyen always sensed there was a bigger story out there.
So in the lead up to the United Nations (UN) Climate Negotiations in Copenhagen, Nguyen set out on a sixteen-month bike ride through 22 countries between his hometown of Brisbane, Australia and Copenhagen, Denmark to hear firsthand the story of climate change and it's effects throughout the world.
The impacts of climate change are already happening and they are severe in parts of the world. As I traveled on my bike, I started listening to people's stories of how climate change was affecting them, with the hope of delivering them hand-to-hand to the delegates and decision makers in Copenhagen when I arrived.
Nguyen gathered hundreds of testimonials from East Timor, Laos, Kazakhstan and Austria, among other places. When he arrived in Copenhagen last week, Nguyen stood side-by-side with 60 other cyclists who had joined him along the way, who were connected virtually with thousands of cyclists from around the world who have been organizing events to show their support for Nguyen, sustainable transportation and climate justice. Now in Copenhagen, he's meeting with decision makers to deliver the messages he's gathered along the way.
The most important meeting Nguyen has had to date was this morning over breakfast with Australian Prime Minister Kevin Rudd. At breakfast, Nguyen presented Prime Minister Rudd with a DVD of hundreds of testimonials and dozens of written messages, which left Nguyen feeling hopeful that people's messages from his travels were being heard. But Nguyen's skeptical that Rudd plans to act as boldly as those he met on his journey had hoped.
When I spoke to him - I made it clear that we need leaders to be taking the lead in the negotiations to ensure action now on climate change, as opposed to waiting to see how things unfold. What wasn't clear to me before my trip and what isn't clear to so many people right now is that climate change is a survival issue for people right now and it will be for all of us and we need bold leadership on the issue.
Nguyen shared one story in particular with Prime Minister Rudd.
I told him of a school teacher named Alfonso that I had met in East Timor last year. Alfonso explained to me that the farmers of East Timor had not received enough rain in three years to grow the crops they depend on for their local food and economy.
East Timor has suffered major deforestation and now is susceptible to devastating flooding. The mixture of dry spells and floods have led to the people of East Timor being dependent on UN food distribution.
If I'm honest, I don't think the Prime Minister will be the leader I want him to be, but I know he has the capacity to become more of a leader on these issues than he is today and I hope he chooses to do that.
Nguyen is one of thousands of people at the UN Copenhagen Climate Conference calling on world leaders directly to support an ambitious agreement with high emission standards and a deal that will ensure that developing nations have the support, both financially and technologically, to deal with issues of climate change.
"Rich countries like Australia have a responsibility to assist developing countries that do not have the resources or technology to really deal with their current issues related to climate change, or resources for large scale innovation," Nguyen said.
Although Nguyen does not feel confident that this week will bring justice for the people he met along his journey, he is confident that if the world leaders had the firsthand understanding of the situations he experienced on his ride, the negotiations in Copenhagen would be a lot closer to strong solutions. For this reason, Nguyen will continue to spread the stories and lobby leaders to make ambitious change. Nguyen's organization, created for his journey, http://www.RidePlanetEarth.org will continue to organize people across the world to ride for climate justice.
REAL LIFE. REAL NEWS. REAL VOICES.
Help us tell more of the stories that matter from voices that too often remain unheard.