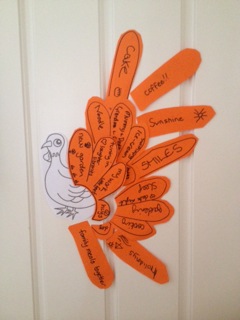 We don't celebrate Thanksgiving in Australia. But given all the evidence of the benefits of gratitude, maybe we would be happier if we did.
There have been some great ideas for savoring all we are grateful for and some tear jerking films to remind us how lucky we are. So no matter what your style, you can find a way to milk this positive emotion for all its worth. A friend and I list three things we are grateful for every time we walk around the botanical gardens. My children tell me WWW (What Went Well) every night before going to sleep. I have an alarm in my iPhone that reminds me to savor what's good in my life right now.
But I was curious to see if I could get some more gratitude action happening in my home by adopting your Thanksgiving holiday.
My idea was to create a "thanks-giving turkey" so we could all add feathers of thanks until we had the fluffiest turkey possible. My family all liked the idea and filled the turkey plumes quickly. But then my daughters invited visitors to add their thanks-giving feathers, too, and soon our turkey was looking very well endowed. Next year, I am going to ask my daughter's teachers if they would like to make their own turkeys in class. Who knows, this Thanksgiving tradition might take hold in Australia yet.
My feathers:
o the garden outside our window that my husband has been planting this weekend
o the hugs in bed from my daughters that start every weekend on a high
o slowing down and tuning in to the everyday joys of life that I increasingly remember to appreciate
o my work
o love, laughter, libraries and little feet
My husband's feathers:
o sleep
o gardening
o cooking (yep, he's the weekend gourmet)
o date night
o our dog
My daughters' feathers:
o hugs (yeah!)
o Noodle (our dog)
o ice-cream
o swimming
o Mummy and Daddy
o Grandma and Grandpa