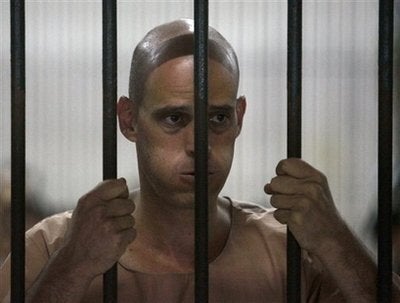 Harry Nicolaides is not the first writer to be imprisoned for a passage he wrote, but the Australian, who was sentenced Monday to three years in a Thai prison, was surprised his self-published, semi-autobiographical debut novel was enough for an arrest.
"I'm not a political activist," Nicolaides, 41, said from Bangkok Remand Prison's visitor area in November. "I'm just a creative writer."
On January 19, Nicolaides pleaded guilty to "lese majeste," insulting the monarchy. In a country where members of the royal family are traditionally considered gods incarnated on earth to lead the Thai people, Harry Nicolaides wrote one paragraph calling into question the romantic affairs of an unnamed Thai prince.
Asking for leniency, Nicolaides, who had previously recanted and apologized for the book, received three years in prison. This is the minimum sentence for lese majeste. The maximum is 15 years.
The passage in question was 103 words in his novel "Versimilitude." Only 50 copies had been printed, with fewer than 10 sold. He had written the book in 2005 and by his own admission mostly forgotten about it. He certainly didn't expect the book would get him arrested three years later.
"It's entirely fiction from cover to cover," Nicolaides said.
The Australian who wanted to be a writer is one of an unknown number arrested in 2008 on insulting the Thai royalty. Thailand-based lese majeste expert David Streckfuss believes the number could be as high as 42, but since the police haven't released an annual report since 2005, there is no way to know, he said.
"If they did make all those arrests, this would be the most arrests for lese majeste since 1977," Streckfuss said.
There were 36 cases that year. The second-highest year was 2005, when there were 17 cases, Streckfuss said. No member of the royal family has ever lodged a lese majeste complaint.
Anyone can be investigated and anyone can file a complaint - one activist was arrested for not standing during the national anthem.
Streckfuss is among those who believes the 2008 increase in lese majeste cases was tied to Thailand's recent political strife, where bloody protests and the seizure of the main airports managed to pressure the courts to oust the ruling party. The arrests, he said, could be seen as attempts by the then-government to curry the royal family's support during the crisis.
Charges of lese majeste are common, said Giles Ji Ungkaporn, a political scientist at Chulalongkorn University. Arrests are not.
"One of the real problems with this law is that anyone can lodge these complaints to the police and the police are obliged to follow through with them," Ungkaporn said. "But if it is taken up in any serious way, it has been given the green light by someone higher up."
Ungkaporn was arrested on lese majeste charges on Tuesday, January 20, the day after Harry's trial.
During the December interview, Ungkaporn had mused on why he had never been charged with lese majeste, even though he had written on the government and the role of the royalty for years.
"I'm wondering when the protection will disappear," he said. "The only thing I can do is try to be as academic as I can and avoid insult. I try to make sure it doesn't happen and you have to be careful."
Harry's only hope lies with the king of Thailand himself, King Bhumibol Adulyadej. The Nicolaides family plans to lodge an application for a royal pardon within the next few days.
Such pardons are not unheard of - in 2007, the king pardoned a Swiss man convicted of drunkenly spray painting over posters of the king after being denied alcohol on the king's birthday.
The Australian government has reportedly asked the Thai government to honor any pardon request, but the crown and government are separate entities in the constitutional monarchy. It all comes down to the aging regent.
"Once all that is done, it's really at the timing and mercy of the king when he wants to deal with that," Harry's brother Forde Nicolaides said by telephone from Australia.
Harry and the King of Siam
Many Westerners associate the Thai monarchy with the Rodgers and Hammerstein musical comedy "The King and I," and the stern, waltzing king played by Yul Brenner in the 1956 movie version.
Fewer people know "The King and I" was banned in Thailand.
The kingdom has also banned a 1999 movie version of "Anna and the King" (the original source material for "The King and I"), the unauthorized royal biography "The King Never Smiles" and, for a period in 2007, YouTube. Videos mocking the king could be viewed on the popular site.
More recently, more than 2,300 Web sites were blocked for mocking the crown.
"The Land of Smiles," as Thailand promotes itself, ranks in the bottom third of world nations in Reporters Without Borders' 2008 Press Freedom Index.
"It's part of creating a climate of fear so people don't criticize the status quo," Ungkaporn said.
And it's working. An Australian journalist who would only speak anonymously said coverage of Harry's case has been shallow because of fear of reprisal. Thai journalists fear criminal charges and Western journalists fear losing their work visas, the reporter said.
"I've only done news stories that basically say he applied for bail, he was denied bail, he's been there for this long," the journalist said. "It's a huge amount of self-censorship and just not touching some issues. I'm very reluctant to get too involved, which is not the way it should be."
Enter into this mix an Australian man who wanted to write.
Although Harry had worked as a freelance journalist and had previously written a memoir of his experiences as a hotel concierge, this was his first shot at fiction.
"My purpose wasn't widespread distribution," he said. "It was to test the market."
Fewer than 10 copies were known to exist by Aug. 31, 2008, when Nicolaides was arrested at Bangkok's Suvarnabhumi Airport. He was trying to catch a flight back to Australia to visit his family, as he said he's done several times since the book was published.
"On the night that he was detained at the airport, he called me to say there was some sort of problem and he had to cancel the flight," Forde Nicolaides said. "I don't think he fully understood what was going on at the time, probably a language problem."
Although Harry had lived in Thailand for five years, teaching English for the hospitality industry classes at Mah Fae Luang University in the northern city of Chiang Rai, he can't speak Thai.
He has been in prison since his arrest. He was held for 81 of the 84 days the government could legally hold him without filing charges. He was denied bail four times.
Although he will likely serve his sentence in Bangkok's Klong Premh Prison, Harry spent all of his pre-trial imprisonment at the Bangkok Remand Prison, about 200 yards away.
"It's an assault to the senses and the health," he said.
The cells were 12 meters by five meters and shared by 60 men.
"Each inmate has about 35 centimeters of sleeping space in width. You can't stretch out your legs without kicking someone," Harry said. "I've seen dead inmates carried out in hospital beds, cause of death unknown."
He said the doctor told him one of every 10 inmates in Bangkok Remand had tuberculosis. HIV infection is also strong, Harry said.
He slept in a surgical mask, but was still ailing. On the day of the first interview, Harry's prison jumpsuit was blue, a sign of his impending trip to the infirmary.
At the time of the interview, there were four "farang" - Thai for foreigner - in the cell, including the "Swirl Face Pedophile" Christopher Neil, a Canadian since convicted for molesting boys and posting distorted pictures online, and Viktor Bout, Tajik-born international arms smuggler called "The Merchant of Death."
He said the child molester, weapons dealer and self-published writer had become friends, if only in the way that they were forced to rely on each other in the prison environment.
Like many self-published novels, Harry's "Versimilitude" is a mish-mash of metaphors, typos and thinly veiled autobiography.
The story concerns "Savvas," an Australian of Greek origin (like Harry) who came to Thailand to teach English (like Harry), fell in love, got burned and then found love again (like Harry, like Harry, like Harry).
But it was a paragraph on page 115 that put Harry in prison. The following was copied from an edition of the book found in Thailand's National Library during Harry's imprisonment.
"From King Rama to the Crown Prince [sic.], the nobility was renowned for their romantic entanglements and intrigues. The Crown Prince had many wives - major and minor - with a coterie of concubines for entertainment. One of his recent wives was exiled with her entire family, including a son they conceived together, for an undisclosed indiscretion. He subsequently remarried with another woman and fathered another child. It was rumoured that if the prince fell in love with one of his minor wives and she betrayed him, she and her family would disappear with their name, familial lineage and all vestiges of their existence expunged forever."
Although the crown prince is not named and the story is set in a fictional version of Thailand, with fake universities and people, many surmise the passage relates to Crown Prince Maha Vajiralongkorn, King Bhumibol's son and heir to the throne.
On the advice of his Thai girlfriend, Harry tried to get government approval for the passage, or at least an opinion on whether it constituted lese majeste, he said.
"I sent letters to the Royal Bureau of Household Affairs, the Ministry of Justice, the Ministry of Culture and no one got back to me," he said.
The only letter he received was from the National Library, assigning the book's reference number and requesting two copies, Harry said.
Harry Nicolaides' parents are elderly and Harry worried if he would ever see them again. His Thai girlfriend visits once a week and a network of friends support him. But unless the king shows mercy, Harry will remain in a Thai prison for three years.
"Versimilitude" begins with a poetic quote from writer Vladimir Nabokov about a bird that flew into a glass window, thinking it was sky.
Like that bird, Harry Nicolaides never saw it coming.
Popular in the Community