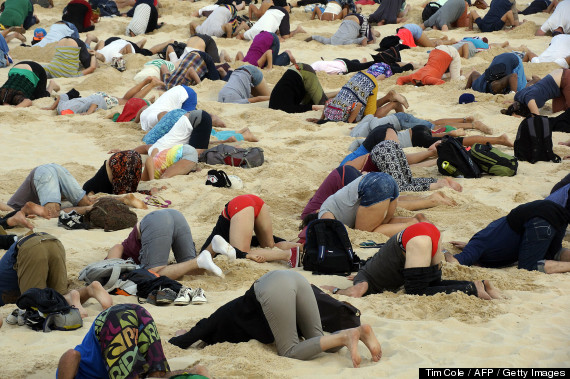 This handout picture taken by Tim Cole and released by 350.org on November 13, 2014 shows Australians burying their heads in the sands of iconic Bondi Beach to send a message to Prime Minister Tony Abbott about the dangers of climate change. As world leaders arrived in the northern city of Brisbane for the G20 summit, more than 100 people dug holes in the famous sand so they could plunge their bodies in halfway, holding their position for three minutes
SYDNEY, Nov 13 (Reuters) - More than 400 protesters stuck their heads in the sand on Australia's Bondi Beach on Thursday, mocking the government's reluctance to put climate change on the agenda of a G20 summit this weekend.
Prime Minister Tony Abbott's perceived failure to address climate change is all the more galling in the wake of an agreement between the United States and China on Wednesday to limit their carbon emissions, they said.
"Obama's on board, Xi Jinping's on board, everyone's on board except one man," activist Pat Norman, 28, bellowed into a megaphone on the Sydney beach.
"Tony Abbott!" the protesters shouted back.
Folks with babies, school children and working people in business suits dug holes on the beach and stuck their heads in them. The ostrich is said to stick its head in the sand in futile bid to avoid danger.
Ornithologists say the African bird does no such thing but that didn't spoil the cheeky protest.
"Wiggle ya bums if you feel like it," Norman shouted over the megaphone.
A few athletic types did handstands with their heads in the sand.
Abbott called climate change science "crap" in 2009 and said coal was "good for humanity." Australia repealed a tax on greenhouse gas emissions in July, the only country to reverse action on climate change.
Justin Field, 36, a former army intelligence officer who is running for a seat in state parliament for the Green Party, said Australia had to act.
"To be so far behind the rest of the developed world embarrasses progressive Australia," he said.
(Editing by Robert Birsel)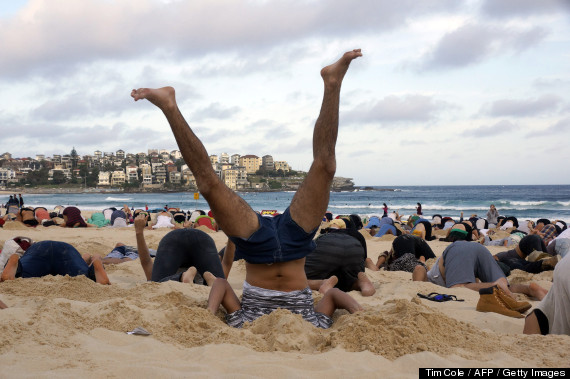 Related