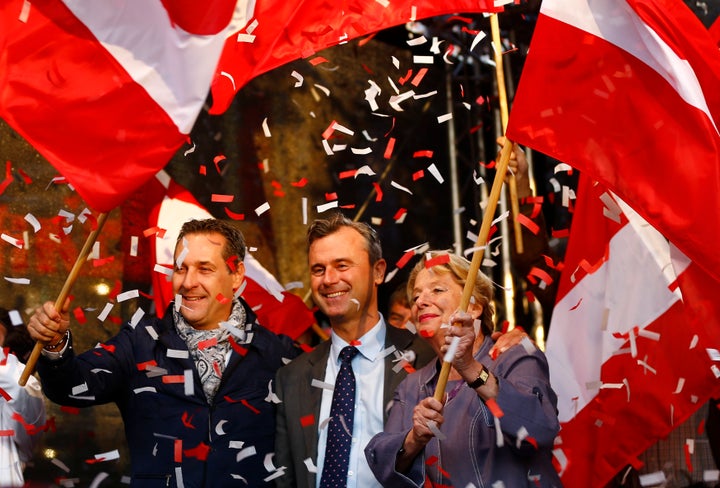 VIENNA, May 22 (Reuters) - Austria's presidential election was too close to call on Sunday, leaving it unclear whether a eurosceptic candidate buoyed by the continent's migration crisis would become the European Union's first far-right head of state.
A victory for Freedom Party candidate Norbert Hofer would be a landmark triumph for resurgent populist and anti-immigration parties across Europe that have capitalized on widespread dissatisfaction with traditional parties of power.
It would be all the more remarkable for being in a prosperous country with low unemployment, where two centrist parties have dominated since it emerged shattered from World War Two after its annexation by Nazi Germany in 1938.
A projection by the SORA institute for broadcaster ORF showed Hofer on 49.9 percent. His opponent, former Greens leader Alexander van der Bellen, was on 50.1 percent, leaving both men well within a margin of error of 1.6 percentage points.
With more than 10 percent of voters having opted for absentee ballots, which will not be counted in full until Monday, it is possible the result will not be clear until then.
"It is a photo finish, a heart-stopping finale," van der Bellen's campaign manager Lothar Lockl told ORF, saying he was "not at all" disappointed at the projection showing his candidate making up Hofer's 14-point lead in the first round.
"In soccer, you would say that this game is going into extra time," he added of the run-off election, which is shaping up to be the closest since the aftermath of World War Two.
Support for groups like the eurosceptic, anti-immigration Freedom Party (FPO) has been rising in various countries, whether they have taken in many migrants in the recent influx, like Germany and Sweden, or not, like France and Britain.
Most are still far from achieving majority support, meaning Sunday's election is a watershed for those parties, regardless of whether Hofer wins.
The race has drawn the most attention to the Austrian presidency since the time of Kurt Waldheim, a former U.N. Secretary-General whose military service with Hitler's brutal army in the Balkans came to light during the 1986 campaign.
The international outcry over his hidden past created a nationalist backlash at home that boosted his poll ratings.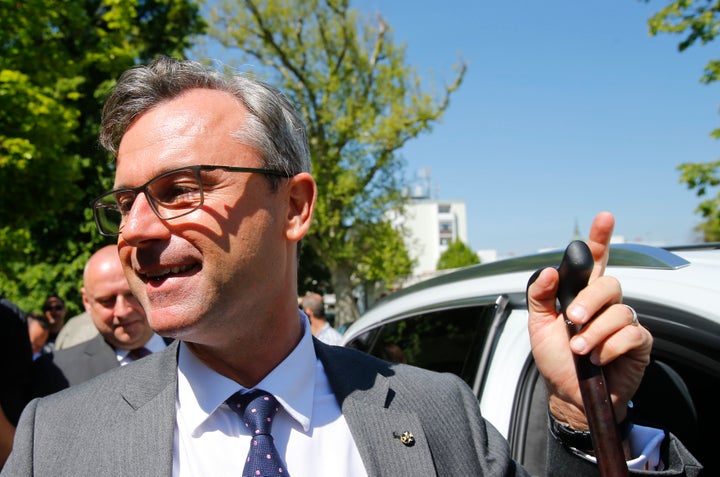 In Austria, the president traditionally plays a largely ceremonial role but swears in the chancellor and can dismiss the cabinet.
"I have to work for one or two years and then everybody will see that I am OK, I am not a dangerous person," Hofer, 45, told reporters after voting in his eastern hometown of Pinkafeld.
Hofer, deputy leader of the FPO, is known as the gentler face of the party but has only recently become a household name.
Austria took in 90,000 asylum seekers last year, more than 1 percent of its population, many of them shortly after it and neighboring Germany opened their borders last autumn to a wave of migrants including refugees from Syria's civil war.
The government has since clamped down on immigration and asylum, but that failed to slow rising support for the FPO, which was already capitalizing on widespread frustration with Austria's two traditional parties of government.
Sunday's run-off election comes four weeks after Hofer, 45, won the first round with 35 percent of the vote. That was unexpectedly high although opinion polls regularly show his party ahead of its rivals on more than 30 percent.
Van der Bellen, 72, who scored 21 percent in the first round, said after voting in Vienna that he was "cautiously optimistic."
The result is due to be announced after 1700 GMT. A high number of postal ballots has raised the prospect of the result being unclear until Monday.
Tabloid reports of immigrants availing themselves of Austria's generous benefits and of crimes in which immigrants have been suspects have played into the FPO's hands.
Calling all HuffPost superfans!
Sign up for membership to become a founding member and help shape HuffPost's next chapter