Update: Dec. 18 ― Austria's new coalition government was sworn in on Monday, which includes members from the far-right Freedom Party for the first time in more than a decade.
31-year-old Sebastian Kurz, from the center-right People's Party, is the country's new chancellor and is now the youngest leader in Europe. The Freedom Party's Heinz-Christian Strache, 48, will be Austria's vice chancellor.
Other European countries met the ascendance of the new coalition with caution.
German Chancellor Angela Merkel said she would "follow how the EU policy of Austria develops."
"Chancellor Kurz has the intention of being an active partner in Europe, and I am glad of that. We have lots of problems to solve in Europe," Merkel said, according to Reuters. In a press conference, she also said she had invited Kurz to visit Berlin.
A small group of demonstrators protested the new government in Vienna on Monday, bearing signs with slogans like "Don't Let Nazis Govern," CNN reported. But the protests were relatively tame compared to those held in 2000, the last time the Freedom Party entered Austrian government.
Austria's president, Alexander Van der Bellen, announced his approval of the new coalition on Saturday after being promised that the new leaders would take on "a pro-European direction."
"Sebastian Kurz and Heinz-Christian Strache have assured me that Austria is and will remain a strong country in the heart of Europe and that it will play an active role in the future shaping of the E.U.," Van der Bellen said in a statement obtained by The New York Times.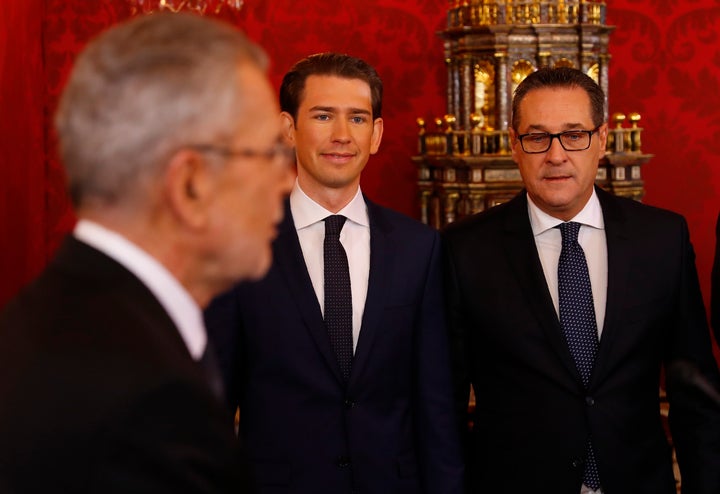 Read our analysis from October below:
When Austria's far-right Freedom Party entered government in the year 2000, there was an international backlash and harsh warnings from the country's closest allies. The European Union imposed several months of sanctions on Austria, and Israel recalled its ambassador in protest.
At the time, European governments believed an openly xenophobic party that was founded in the 1950s by a former Nazi SS officer and embraced nationalist views needed to be collectively isolated and contained. But in the years since, Europe has radically changed how it sees the far right.
The anti-immigrant and anti-Islam Freedom Party is once again about to be part of Austria's ruling government, after placing second in the country's elections on Sunday. Yet there are none of the same warnings from the EU today.
"It indicates how Europe and the world have changed in their views of the inevitability of these parties and perhaps in the viability of their programs," said Sheri Berman, a professor of politics at Barnard College. "It's a concrete example of how big and influential these parties have become and how much they've succeeded in agenda-setting over the last 10 or 15 years."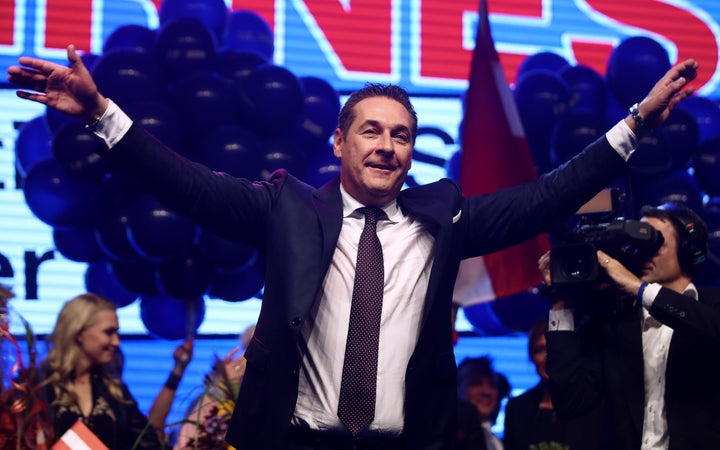 The Freedom Party, or FPO, captured around 27 percent of the vote on Sunday in Austria's election. It's the party's best result in nearly two decades, and makes it the favorite to join the traditionally center-right Austrian People's Party in a coalition government.
Much of the campaign centered around themes of immigration and Austrian identity. The country has experienced significant backlash against its decision at the height of the refugee crisis in 2015 to let in tens of thousands of asylum-seekers, whose numbers made up a little over 1 percent of its population.
As in other European elections this year, the far right capitalized on growing concern over immigration and anti-refugee sentiment to rise in the polls and dominate the political narrative. The FPO also joined other far-right movements in trying to shed an anti-Semitic public image through outreach to Israel. This has been complicated by the fact that the party's current leader, Heinz-Christian Strache, was once a neo-Nazi youth activist.
Contributing to the FPO's success was that the far right has long had a presence in Austrian politics. The country also has less of a social taboo against such parties than does neighboring Germany, which had rejected far-right parties since World War II until recently.
The FPO grew in prominence throughout the 1990s under its outspoken former leader Jorg Haider and was part of a coalition government between 2000 and 2005. Although support for the party dropped off after that stint in power resulted in scandals and internal rifts, the party remained a presence at the local and regional level.
"Over time this kind of absorption of this party into regular political dynamics has made it able to mainstream itself and mainstream its own views," Berman said.
In the recent election campaign, not only did the FPO increase in popularity as it railed against immigration and the so-called "Islamization" of Austria, but other parties also changed their own policies in attempts to appease far-right sentiment. The conservative Austrian People's Party and its 31-year-old leader Sebastian Kurz visibly shifted their platform right for the election, a tactic common among established conservative parties feeling pressure from insurgent populist movements.
During elections this year in the Netherlands, France and Germany, mainstream conservative parties all tried and failed to win back votes from the far right by adopting some of their policies and rhetoric. Meanwhile, established parties on the left have suffered defeats as they failed to offer convincing alternatives to the status quo.
In Austria, Kurz's campaign promises that he would take a hard line on immigration and limit the role of Islam mimicked FPO rhetoric to the point that the far-right party complained he was copying their platform. He vowed to put restrictions on what he called the "parallel community" of Muslims living in Austria and clamp down on refugee routes. Kurz's party ended up winning the election, and he is set to become the world's youngest leader as soon as he decides on a coalition partner.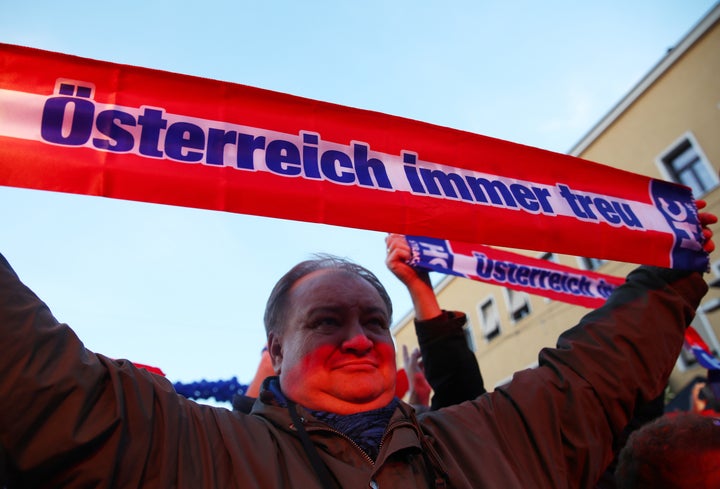 If the Austrian People's Party and FPO form a coalition, it would likely push the country closer to nationalist governments as have the Law and Justice party in Poland or Viktor Orban's Fidesz party in Hungary, both of which have prompted condemnations from the EU for their illiberal polices and anti-refugee stances.
The EU has struggled to find ways to pressure these central European nations to fall in line with the bloc's policymakers in Brussels, as threats of sanctions or even removing of voting rights have failed to coerce them to change their tack. Instead, many of these leaders have enjoyed casting themselves as valiant defenders of the national interest against a meddlesome EU.
At the national level, experts say establishment parties are still confused about how to address the growth of the far right and its presence in a number of governments and parliaments across Europe. One answer, which appears to be the likely outcome in Austria's election, has been integrating these parties into government or incorporating their ideas ― but the long-term effects of that inclusion is uncertain.
"We're not 100 percent clear as to what the integration of these parties means. Does it mean somewhat stricter limits on immigrants, somewhat more careful consideration of the benefits given to them?" said Berman.
"Or does it mean a fundamental retreat into xenophobia and a much more exclusive view of what being part of the national community really means?"
Related
Popular in the Community