The leader of Austria's conservative and far-right coalition government on Wednesday called for Germany and Italy to join an "axis of the willing" that would fight "illegal migration."
Sebastian Kurz, a 31-year-old who became Austrian chancellor last December, made the comments during a press conference with German Interior Minister Horst Seehofer. Both men are campaigning for more border controls and tighter immigration measures at a time when Europe is strongly divided over migration.
While Kurz's hope for an axis between Rome, Vienna and Berlin has echoes of World War II, it is also reflects European far-right and conservative politicians' current effort to join together to promote anti-migrant policies.
Earlier this week, Seehofer called Italian Interior Minister Matteo Salvini to offer support and invite him for migration talks. Salvini, who also leads the far-right Lega party, caused a diplomatic and humanitarian crisis this week after he turned away a rescue boat carrying over 600 migrants ― leaving it in limbo until Spain agreed to accept the vessel.
Hungary's far-right government, whose leader Viktor Orban has used the migration crisis as a pretext to crack down on civil society, is also seeking closer ties with Italy and Austria after anti-migrant parties recently became part of those country's governments.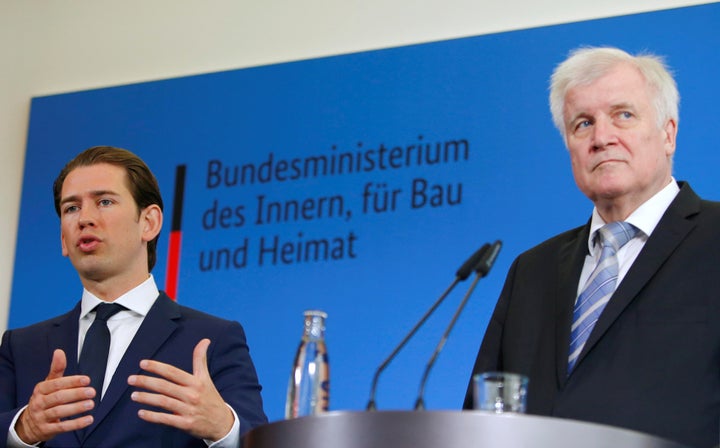 Since Kurz formed a coalition government with the far-right Freedom Party in December, the Austrian government has pursued anti-migrant, anti-Islam policy that includes plans to shut down seven mosques and expel dozens of imams. The government has also experienced a number scandals relating to the Freedom Party's Nazi past and modern connections to extremist ideology. A senior party official resigned in February after Austrian media reported that he formerly led a far-right fraternity that distributed a songbook with lyrics about killing Jews.
Kurz's vision of a three-nation axis against migration is unlikely as long as German Chancellor Angela Merkel is still in power. Merkel has long pushed for a comprehensive European Union policy on migration that would have countries share the cost and effects of refugee arrivals.
But Merkel is under domestic pressure to pursue a more restrictive immigration policy, including from within her own government. Seehofer, while a government minister, comes from the more conservative Christian Social Union party, which is currently locked in a fight over refugee policy with Merkel's Christian Democrats. He also caused controversy earlier this year when he renamed his position of interior minister ― a powerful role in German politics ― to that of homeland minister, a term that has Nazi-era connotations in Germany.
Seehofer skipped a German government-held summit on integration in order to meet with Kurz. He claimed he decided to miss Merkel's event because an author who planned to attend compared Seehofer's policies to Nazi ideology.