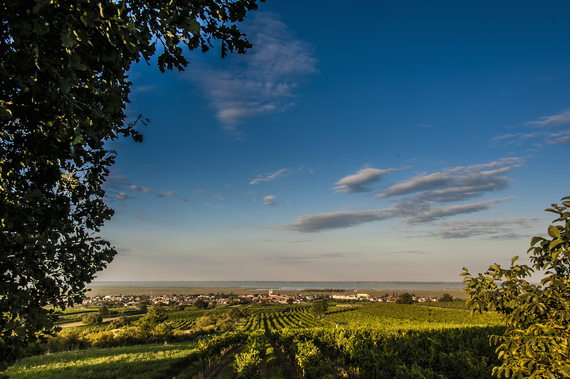 As I write this, there are still several inches of snow on the ground in New York, but when you read this, the wildflowers may well be bursting from the rich soil of Burgenland in southeastern Austria, and the grape vines getting ready to bud.
I shall be writing about Austrian wines in another column, but I could ignore them entirely and still convince you that Burgenland, about an hour from Vienna and bordering on Hungary, Slovenia and Slovakia, is well worth visiting for its natural beauty alone. This is not an area dotted with little Hansel-and-Gretel-style cottages, for the Burgenlanders are a practical people who live in minimally decorated, comfortable stucco homes. But it is rich as a place where hundreds of species of birds and indigenous breeds of cattle dwell that include the longhorn Graurinder (gray cattle), white donkeys, water buffalo, and Mangalitza pigs famous for their delicately flavored meat.
Watered and fed by Lake Neusiedl (a UNESCO World Heritage Site) in the eastern parts of the Alps, the region is home to six nature parks, including the huge National Park, founded in 1993. Indeed, the park is prime bird-watching territory, and people are more likely to be seen on their bikes or hiking through the marshes than driving cars. The birds range from the great gray shrike (Raubwürger) and short-eared owl (Sumpfohreule) to the red-tailed phalarope (Odenshühnchen) and the imperial eagle (Kaiseradler).
My wife and I visited Burgenland last autumn, when most of the foliage and harvesting had taken place, so we contented ourselves with visiting the towns, restaurants, and one very special castle in the region. On our first day, we visited the small lakeside village of Gols, now famous for its exceptionally well done Weinkulturhaus (Wine Culture House), which not only stocks more than 400 Austrian wines (above) but has a beautifully lighted stone wine cellar to visit.
Afterwards we sat down for lunch at nearby Restaurant Varga, whose sign reads "FISCH" in big letters, and whose ingredients come straight from the lake each day. Only 14 fishermen are allowed to work in the lake, and Varga has its own, most of whom use nets and traps, not hooks.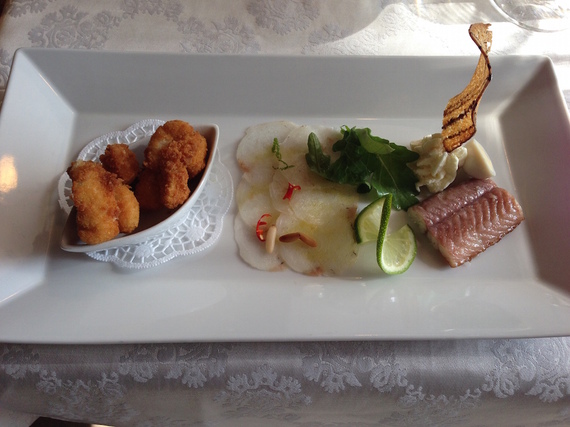 Varga's interior is old-fashioned Austrian décor, with heavy wood and heavy antiques, but come spring the outside tables are where you want to dine in the sunshine. The menu, on any given day, will be rich with zander (walleye pike), perhaps with eggplant and pumpkin puree; wels (catfish) with tomato, zucchini, potato dumpling and bacon (above) or hecht (pike), simply sautéed with boiled buttered potatoes. Drink the restaurant's own wine, name Zummitnehmen. Prices are according to availability of the fish.
After lunch we visited the remarkable Dorf Museum, a labor of love crafted almost singlehandedly by Christine and Josef Haubenwallner as homage to the farming heritage of the great plain. It is a kind of amiable ghost town lined with small houses, a schoolroom, grocer's shop, post office, craftsmen's shops, bakery, even an old cinema, all reclaimed from a century of village life now largely vanished. That evening we stayed on the grounds of the extraordinarily baroque Schloss Halbturn Castle, built in 1711 as a hunting lodge for Holy Roman Emperor Charles VI, who gave it to his daughter, Empress Maria Theresa of the Hapsburg Dynasty.
Today it is a museum with a small hotel owned and cared for by the very cordial Waldbott von Bassenheim family, which also oversees the vast Markus Count of Koenigsegg winery, well known for its Pinot Noirs.
The castle is home to a superb collection of furniture, as well as a glorious 1765 ceiling fresco "Allegory of Time and Light" by Franz Anton Maulbertsch, given as a wedding present for Archduchess Marie Christine. The rooms are ideal as galleries for the highly popular seasonal art exhibits, concerts, and garden parties, including an annual visit from Vienna's famed Lipizzaner stallions. The hotel's guest rooms, located in a building across the courtyard, have all been refurbished in a very minimalist, modern style--ours in a riot of bright orange colors. Down the winding staircase is a wholly charming dining room, Restaurant Wieser (below) , with wooden booths and beautifully set, candlelit tables where we enjoyed hearty autumnal fare that included that wonderful Mangalitza pork scented with rosemary (€12.80), and chicken paprika with housemade noodles and sauerkraut (€9.80). Complete meals range from €18 to €25, or you can order à la carte. Lingering here over coffee and candlelight gave us a sense that Burgenland can seem as remote and removed from Vienna as Capri is from Naples.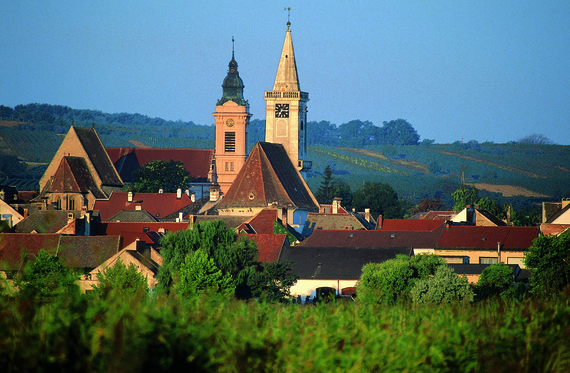 The next morning we drove to Burgenland's largest town, Eisenstadt (Iron City), actually a small city of just 13,000 residents, its center dominated by the magnificent Esterhazy Palace, once owned by one of the richest of the Hapsburg families and now wholly restored to 19th century grandeur, with several floors of superb and opulent furniture befitting the family's station. There is also a grand music hall with impeccable acoustics, where many of Haydn's works were first performed.
We had a really splendid lunch at one of the town's finest, most modern restaurants, Henrici, located within the palace's former royal stables, with a menu featuring foods cooked on a lava stone grill, like juicy suckling pig and crispy potatoes. The interior, reached through glass doors, has high, barrel-shaped ceilings, and fine modern tables, chairs and a counter, all lighted by brightly colored, glowing lamps.
We began with goose liver with apple-poppyseed chutney (€15) and herb- marinated lake trout with roe, with an avocado potato salad and Mangalitza bacon (€13), and a dish of marinated, fried cep mushrooms with a chervil cream (€14). Our main courses included a dead ringer for Southern fried chicken (€16), here served with potato and corn lettuce, and sliced filet of beef, which came with herbed dumplings (€19). We finished our meal with curd cheese dumplings and stewed plums and a lovely chestnut cake with red wine pear and plum jam sorbet.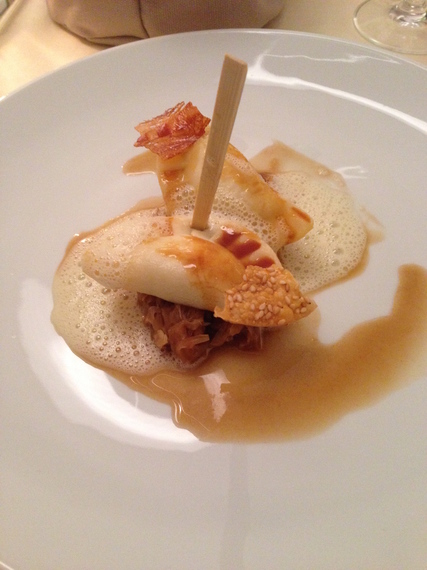 That evening we dined at a very new restaurant with an even more modern look and menu--Zur Blauen Ganz (Blue Goose), whose owner, Peter Szigeti, is also proprietor of one of the region's most forward-looking wineries, Szigeti. There are two dining rooms here, both brightly lighted and therefore very convivial, and the menu ranges far and wide for its effects while still using Burgenland's products as much as possible. Thus, we enjoyed dim sum with black pudding and sauerkraut as well as foie gras with plums and brioche (€15); there was sushi with polenta (€13), and carpaccio with apple and horseradish (€9). One of the best dishes was a white zucchini soup with burrata cheese and roast beef and black olives served on the side (€8.50). Grilled wild shrimp with romaine lettuce and kohlrabi (€19) was simple and perfect, and the cold autumn air was kept at bay by a gutsy gulasch soup with black caraway and garlic (€6.50). There was also a traditional form of Tafelspitz--boiled beef with Sardinian fregola (€20).
Desserts were sumptuous--mango and coffee with hazelnut crisp (€8), and a rich chocolate brownie with vanilla ice cream (€7).
One of the few towns in Burgenland that probably concurs with tourists' expectations of quaintness is Rust, granted "free state" status by the Holy Roman Emperor, whose broad streets end at the waterline and whose chimneys are famous perches for storks.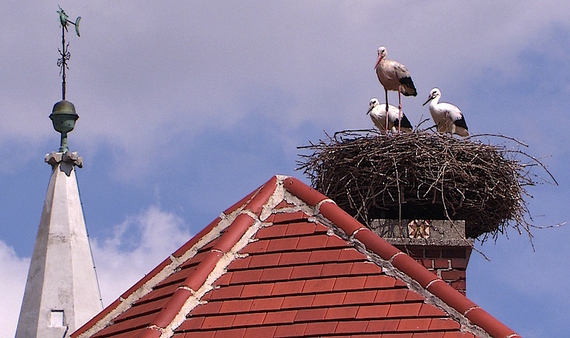 The Austrian Wine Academy is also located in the city, which is surrounded by vineyards that produce its principal income and its most famous sweet wine, Ruster Ausbruch. The main streets are mostly off limits to cars, and charming shops line the few blocks of the center. You walk through Rust at a slow pace, through archways, past the town hall and the Gothic Fischerkirche church. The wine taverns, called Bushenshanken, are gregarious gathering places. Most buildings date back to the 16th through 19th centuries, with mildly baroque façades mounted with royal heraldic decorations. It's a storybook village, home to only 300 or so citizens, and for its beauty is actually protected by the Hague Convention for the protection of Cultural Property in the Event of Armed Conflict, which one hopes will keep Rust from ever changing. Once at the gates, the barbarians will be asked to leave. . . politely.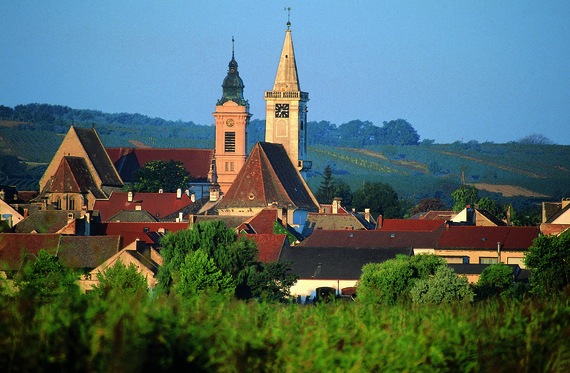 Popular in the Community