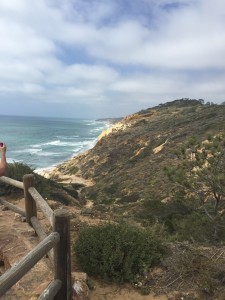 As I landed in San Diego, I was completely exhausted from my Goldman Sachs 10,000 Small Business graduation weekend. I didn't know what to expect from Authenica, but what unfolded at this event rocked my world!
I was welcomed to town by the famous San Diego 70's and sunny weather, as well as by colleagues from Cleveland who had also come out for this adventure. The event was hosted at the Torrey Pines Lodge, and although I am not a golfer, the space was peaceful, elegant and gorgeous.
The lunch program began and I immediately knew that I had stepped into another space and time of like-minded people of Excellence-egos left behind and humility at the helm. The first speakers included David Baker (President and Executive Director of the Pro Football Hall of Fame), Mark McGinnis (Managing Director, SEAL Legacy Foundation) and Ken Blanchard (Chief Spiritual Officer, Ken Blanchard Companies), who began to lay the foundation for the next 36 hours.
The tender and powerful moments that followed included:
David Baker's challenging statement that "excellence comes at a cost."
Mark McGinnis talking about his experience with the Navy SEALs, where failure isn't an option and leadership comes by doing things first and sacrificing all for your team.
Sitting next to Ken Blanchard, which was like sitting next to your grandfather at the end of the day, gleaning the wisdom of years of experience and expertise.
In the afternoon, we toured the USS Midway and saw the full capacity and immensity of this famous naval ship. Friendships were beginning to form, conversations were beginning to flow, laughter was emerging and hearts were beginning to bond.
A fireside chat that evening was also a powerful experience. We listened to the aforementioned speakers, as well as Swen Nater (Retired NBA Basketball Player) and Leigh Steinberg (CEO of Steinberg Sports & Entertainment and the real-life "Jerry McGuire"), talk about the personal shortcomings, failures or hard experiences which led them to the success they have achieved today. The evening's beautiful overarching theme was humility and tenderness. Conversations then flowed out onto the patio, along with the sounds of some self-made karaoke ... Thanks, Tiffany Baumann Cantelupe (Former Miss Ohio and Breast Cancer Survivor)!
The next day started early with this band of former strangers who had so quickly allowed walls to come down to become friends and comrades within the course of the event. The morning began with a powerful session by Sarah Harvey (COO of the Chopra Center for Wellbeing), continued with the story of Swen Nater's journey from being born in the Netherlands to his NBA success, and culminated with Mark McGinnis sharing about his years of service with the Navy SEALs. He did not leave a dry eye in the room.
The Authenica experience ended that evening at Mr. and Mrs. Rod Dammeyer's (Philanthropists and former Ohioans) home, which kissed both the mountains and the ocean. The warmth, hospitality and generosity of this couple was the icing on the cake for this trip. Again, leadership emerged, humility enveloped and hearts were bonded.
Well done, Craig Lucas (Founder of Authenica), for sharing this gift with each of us. For me, this trip was like no other. It challenged me, provoked me, inspired me and taught me a lot. Since returning to Cleveland, I feel all the more compelled to lead my team with authenticity, to serve our clients with relentless integrity and to draw individuals into a deeper level of excellence.
To learn more about upcoming events, do not hesitate to email me at jenn@jennasisassociates.com.
This blogger graduated from Goldman Sachs' 10,000 Small Businesses program. Goldman Sachs is a partner of the What Is Working: Small Businesses section.

Follow Jennifer Chernisky on Twitter: www.twitter.com/jchernisky
Related
Popular in the Community