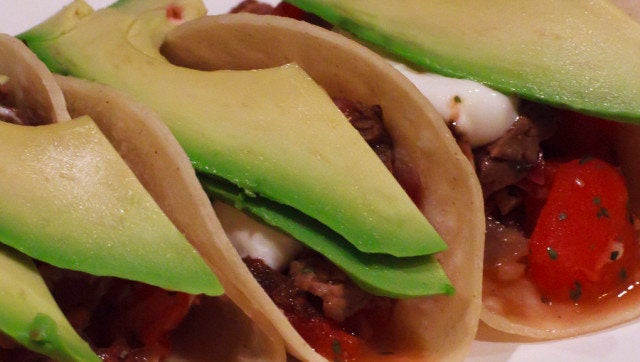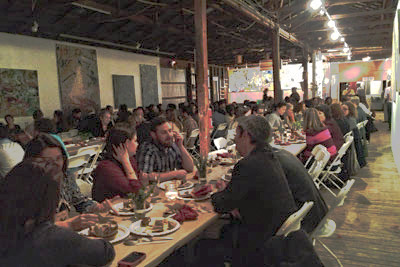 I'm here in Austin, Texas. The beer's good, the weather is better and the barbecue trumps both. High on quirk and low on fuss, it's as fun a place as any in the U.S. to sample cooks' wares, be they experimental (think cornflake fried shrimp and avocado served out of a retrofitted Airstream) or entrenched (one word: brisket). So it makes sense that Molly O'Neill chose Austin as the site for her latest LongHouse Food Revival, the traveling food writers' salon-cum-feast series she hosts together with local members of her "tribe," Cook N Scribble.
Last time we were at a LongHouse event, my friend and colleague Neftali Duran (baker/proprietor of El Jardin Bakery in South Deerfield, Mass.) and I were frenzied parts of the planning and cooking team. This time, we got to sit back and absorb the evening. Good thing, as the topic -- what is "authenticity," specifically in the context of the Mexican diaspora and its food ways -- is one we have long been debating.
Our ongoing conversation was fueled by provocative presentations by Gustavo Arellano, Melissa Guerra, Beatriz Terrazas, Iliana de la Vega, Rachel and Logan Cooper and Hilah Johnson.
Sara: Last night, there seemed to be a distinction that emerged between "authenticity" and "our-thenticity."
Gustavo talked a lot about this, the idea that the "authentic" in food is sort of a false one, full of imagined nostalgia. He says all foods are shaped by place and time, and contact between different cultures, especially in this global age. But you've been an ardent supporter of "local ownership" in food culture since I've known you. What are your thoughts on that these days?
Nef: I agree with Gustavo. But I also truly believe that if a Oaxacan cook wants to call his or her food "authentic," it's their right to do that. But I don't think gringo chefs should be able to pull the "authenticity" card when cooking ethnic food. Furthermore, I believe in a term called "greater Mexico" that comes from Américo Paredes, a University of Texas anthropologist, that basically states that as Mexicans, we bring our culture and therefore our food anywhere we go. For example, I cook in New England, and my cooking has been adapted to the local ingredients.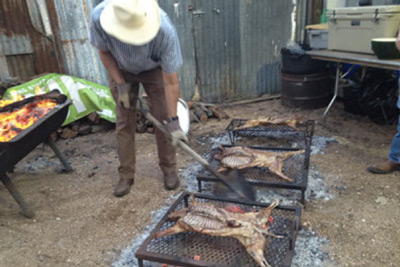 Sara: So is what you cook still Mexican food?
Nef: It absolutely is. I don't believe it's losing anything, I believe it's gaining. By using ingredients where we live, the cuisine evolves. We're creating. But it's still Oaxacan-inspired food.
Sara: What's distinctly Oaxacan about your food?
Nef: For example, in Massachusetts, I can assemble a mole amarillo because I can get most of the chiles dried from NYC, and instead of fresh yerba santa, I use dried. So it's not the same -- the flavors may differ -- but it's still a dish whose roots are in Oaxaca.
Sara: So here in Texas, you have a constant overlap of two worlds -- what you would call "gringos" and then Mexican culture. How would you characterize the Mexican food scene here?
Nef: Well, I've had different kinds of experiences here. The other night I ate at El Naranjo, where Chef De la Vega adheres very closely to Oaxacan technique and would rather leave something off her menu than try to re-create it with non-traditional ingredients. And I really admire that. But then, today, at La Barbecue, we had distinctly Texas barbecue, which is Americana, really, but the chef is giving tribute to the Mexican influence on this city's food culture. For example, he calls his sausage chorizo and his signature sandwich El Sancho. By the same token, he's not calling his food Mexican, he's called it "Texicana."
Sara: So what's the difference, then, between cultural appropriation and being inspired by another culture to create something innovative and new in food? Isn't it a fine line?
Nef: I think that as cooks, we all borrow from different cultures all the time. Especially in the U.S. We're inspired by many different peoples. What crosses the line in my book is when people think of themselves as an authority on an ethnic cuisine which is not their own.
Sara: Define for me. What makes a cuisine one's own?
Nef: This is something where I've grown a lot in my thinking. You make a cuisine your own by cooking it and practicing. For example, if a Mexican cook is in the kitchen at a French place and he's doing it well ...
Sara: ... So a Mexican chef can claim French food, but a chef with German roots can't call him or herself an authority on, say, Brazilian food?
Nef: He or she can cook it. But to claim authority ... let me give you some examples.
Sara: Well, first let me ask you this. Are you in agreement with Gustavo Arellano about Rick Bayless being a "prima donna" and a "liar," as he said last night?
Nef: I wouldn't say that, but I would say he's been disrespectful. For example, for him to come to New York City and say that there is no good Mexican food except for Alex Stupak's is obnoxious. I assure you that many a Mexican vendor selling tamales out of a cooler in Queens makes a better tamale than Stupak does.
Sara: So did anything about the conversation last night change your mind or surprise you?
Nef: I think that having had Iliana's food and then hearing her say on stage that she would not compromise reassures me that we're going in the right direction, in the sense that there are still cooks that care about their food and the integrity of what they're serving. I'm encouraged to see that there's a generation of first-generation cooks who are sticking to their guns and traditions. It gives me a lot of hope. It pleases me that the American palate is changing, and people are willing to be adventurous in tasting things that aren't necessarily translated or watered down, but are still largely indigenous and culturally intact.
Dinner and debate are served at the LongHouse Food Revival in Austin, Texas. Credit: Sara Franklin
Artist and pit master Kiko Guerra tends the slow-cooking cabritos. Credit: Sara Franklin
Zester Daily contributor Sara B. Franklin is a graduate of the Salt Institute for Documentary Studies and a doctoral student in the food studies program at New York University. She's farmed and worked as a writer, researcher, policy advocate, educator and baker in Massachusetts and New York. She's currently working on a cookbook exploring the foundations of Brazilian cuisine with Rio de Janeiro-based Teresa Corção.
Popular in the Community