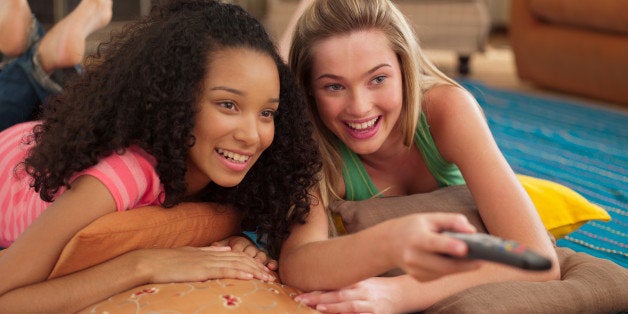 Despite the recent, dismal report on the lack of diversity in the 100 top-grossing fictional films between 2007 and 2014 -- among other depressing statistics, only 30 percent of speaking roles belonged to women -- girl-on-girl friendship on TV is thriving. Broad City revels in its main characters' love for each other; the central relationship on USA's Playing House, which just began its second season, has been called "the most authentic female friendship on television"; Girls demonstrates that love between gal pals can be just as complicated as any romantic entanglement; and on Orange is the New Black, a solid friendship -- like the ones between Taystee and Poussey, Boo and Nicky, and Flaca and Maritza -- is a lifesaver.
Sarah Gertrude Shapiro and Marti Noxon -- creators of the summer's surprise hit, UnREAL, which just wrapped up its first season on Lifetime -- may not have been close friends before they teamed up for the series, a behind-the-scenes dystopia set on a Bachelor-type reality dating show. But their creation has added another entry to the growing list of TV shows in which the central tension is placed not on any romantic relationship, but on the interplay between female friends.
According to feminist advocate Rachel Sklar, female friendship is having a "moment of visibility" in the media. From Amy Poehler and Tina Fey to Shonda Rhimes and Betsy Beers, there's no shortage of famous women who derive obvious pleasure -- not to mention professional success -- from their platonic relationships with other women.
On UnREAL, relationship between producer Rachel Goldberg (Shiri Appleby) and her boss, showrunner Quinn King (Constance Zimmer) is embattled from the start: Within the first few episodes, we discover that Rachel has been hauled back to the set for another soul-crushing season of Everlasting only because Quinn has something on her: Rachel had an on-set meltdown during the previous season's taping, sabotaging the finale episode, and Quinn will only agree to drop the related charges if Rachel returns to work her smooth-talking magic on the new crop of contestants.
Rachel -- in many ways a stand-in for Shapiro, who worked for six seasons as a producer on The Bachelor -- is full of self-loathing over her job, which entails feeding lies to the eager contestants in order to manipulate their behavior. It's a job that, unfortunately, she's pretty damn good at. Quinn, on the other hand, is less scrupulous about the realities of her job, merrily handing out cash bonuses for "nudity, 911 calls and catfights." She's unapologetic: what the girls endure on the show "is no worse than what happens to them in real life," Quinn tells one horrified producer.
By the season finale, Quinn is at the height of her cynicism about love. She's been having a years-long affair with Chet, a married producer who finally leaves his wife and proposes to her--before she finds him receiving oral favors from a 19-year-old production assistant. In the last episode, she admits to Chet, "I think that I actually started to believe the crap that we sell here." "What?" he replies. She looks at him squarely. "Love."
Except there is one final affirmation of true love left in the finale, and it's not between the bachelor -- or "suitor," as Everlasting calls him -- and his betrothed. Laying on cushy lawn chairs after the season has wrapped, Quinn pours Champagne for herself and Rachel, who's been crushed by heartbreak herself: In the penultimate episode, she and suitor Adam plan to run away together, only to have Quinn once again interfere and nix their plans. "Love is swell," Quinn tells a morose Rachel, "but it's not something you build a life around."
Then, we finally get the honest declaration of love we've been waiting all season for. Chin quivering, eyes filling with tears, Rachel looks over at Quinn and says, "I love you. You know that, right?" Quinn looks away. "I love you too," she mutters, glancing briefly at Rachel before lying back down on the lawn chair. "Weirdo." The camera pans to an overhead shot of the two of them lying side by side, miserable fools in love. Their friendship may not be made of rainbows and kittens -- it's certainly not healthy -- but it's their anchor, the only real thing in a world of manufactured love.
REAL LIFE. REAL NEWS. REAL VOICES.
Help us tell more of the stories that matter from voices that too often remain unheard.