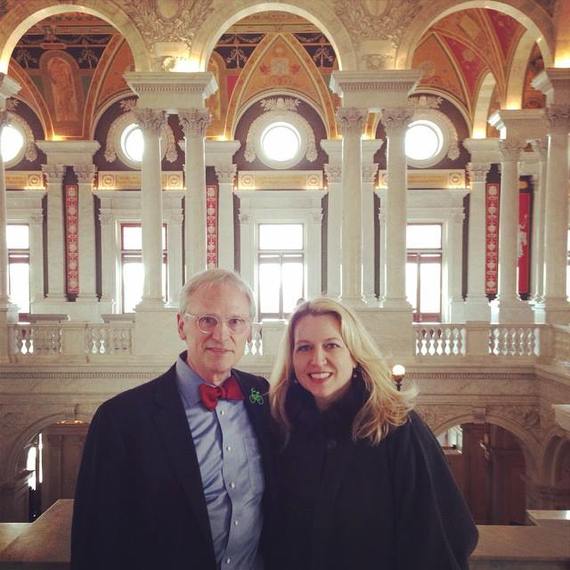 Last night at the State of the Union address by President Obama, my guest was Portlander Cheryl Strayed, author of the bestselling book Wild. Her tale is currently being portrayed on the big screen by Reese Witherspoon. It's an epic story about a young woman who, reeling from the loss of her mother and the cascading challenges of her life, undertook a journey of 1,100 miles along the Pacific Crest Trail. It was 96 days of an amazing struggle, overcoming all sorts of difficulties and adversities, as she worked through her own challenges and issues.
I invited her because I thought the story and experiences that she portrayed offer an interesting metaphor for the sorts of things that we should be doing here in Congress. Perhaps we might be able to come together and support legislation protecting the special places that are portrayed in her powerful book and excellent movie.
During the course of her visit, another thought occurred to me. As I watched her interact with dozens of young people on Capitol Hill, fellow members of Congress, and many others who were touched by the story of her journey, I realized what a profound effect her story has had on so many. She continues to receive hundreds of emails a day from those inspired by that effort and her magnificent book.
We should look at this as an appropriate metaphor for the challenges facing us as members of the 114th Congress, because after all, this is our two-year journey on behalf of the American people.
The question for us is: Can we struggle with that heavy pack and navigate areas where the trail is sometimes a bit obscure? Can we put our trust in strangers who help us along this difficult journey? Can we be resolute in putting one foot in front of the other on behalf of the American public?
After watching the movie and being entranced by the book, I found it to be a very profound experience to see her interact with others. I'm absolutely convinced that this is our moment, our journey into something that doesn't necessarily have to be "wild." Even though there is a roller coaster of legislative activity, I'm convinced that there ought to be enough common interests, common commitments, and common goals to enable us to be successful in our journey.
It's my hope that people will reflect on the experience of this young woman who was able to overcome adversity and create an amazing chapter for her life -- and now for millions of others. We in Congress should rise to the occasion and do the same for the people we represent.
Calling all HuffPost superfans!
Sign up for membership to become a founding member and help shape HuffPost's next chapter