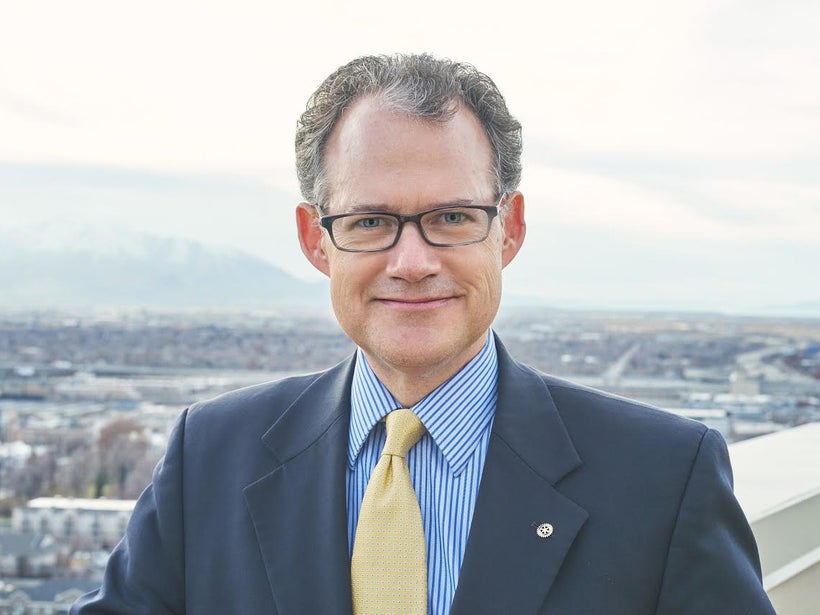 Devin Thorpe's life story is proof that no matter who, or what, tries to stop you, we all have "a calling," or a purpose, and we can all accomplish it eventually – even if we take a few detours along the way.
Ever since he was a boy, Thorpe wanted to write and give back to society in some way. However, his father did not approve, and urged him to follow the more lucrative field of finance instead. Eventually though, after serving as the CFO of the third largest company on the 2009 Inc. 500 list, and founding and leading an NASD-registered investment bank, Thorpe rerouted himself to the original path his heart always longed for.
After nearly three decades, he finally achieved his lifelong dream. So far, he has written five books focusing on how to use money for good, he is a Forbes columnist, runs his own YouTube show, and is an overall champion of social good.
Thorpe was born and raised in Salt Lake City, Utah – the eldest out of five brothers and sisters. He remembers the first time he felt a calling to his destiny was when he was 11 years old. A dam in Idaho had been damaged by a flood, and his dad asked if he would go and help him dig muck out of some basements. Although he didn't want to at first, the feeling he received after helping those in need was a reward so big that it kept him wanting more.
"Ever since then, I vowed I'd never miss an opportunity to serve," says Thorpe.
He continues to explain his career path developed "sort of happenstance."
"My first career ambition in high school was to be an author, and my dad said, 'That's not a career...'He totally shut it down," says Thorpe. "Then I thought about going into education, maybe getting a PhD and becoming a principal. My dad said, 'No, you have to do something to make more money.'"
Feeling down, Thorpe followed his dad's advice and got a job at a bank, at 21, while studying finance at the University of Utah. Afterwards, he got an internship at the U.S. Senate Committee on Banking.
"It was a different perspective on the same industry," says Thorpe. "After five to six years, I got an MBA [from Cornell University] – which was another new perspective. I ran and launched a mortgage company and had a really good, solid finance career, but I don't think I was exceptional or great, and it didn't cover the youthful ambition I had."
In 1997, he decided to finally go for his original dream and write his first book.
"It was rejected by a bunch of publishers, so I decided to self-publish, but I realized I had to get a 'real job' first, so I put it on hold," says Thorpe. "I thought to myself it will get easier one day to self-publish."
In 2011, he got fired from his job as the CFO at a food and beverage company, but that was the final catalyst he needed to build a full-time occupation around helping people around the world.
"I went to China with my wife to teach," says Thorpe. "I gathered all my papers with me, and I updated the book I had been working on, 'Financial Planning.' When I came back, I hired a publicist who connected me with Forbes."
Then, he started his Youtube channel called, "Your Mark on the World," where he has interviewed more than 600 celebrities, CEO's, billionaires, and others, who are aiming to make a difference in the world. He says he's also about to introduce a new online course on crowdfunding for nonprofits.
"I also enjoy speaking," says Thorpe, who in a typical month speaks at various conferences, and workshops, worldwide. "A typical week is Mondays I tend to do a lot of writing. Tuesdays, more writing and interviews for my show. I share those interviews on podcasts…Thursdays, more interviews, Friday is catch up day and networking, and I also volunteer 20 hours a week at my Rotary district."
He explains that when he is writing about topics he is passionate about, the words just seem to leap out.
"Most of the time though, it feels closer to homework," says Thorpe. "I love the interviews and I love speaking. Speaking takes a tremendous amount of time. The challenge is getting people to say, 'Wow!' If your audience is not wanting to tweet, you're not great. It's hard to be great. It takes many hours of preparation."
He says his proudest moment of his career so far was a speech he gave at the United Nations last fall.
"Ban Ki Moon couldn't make it, so the deputy and I were the keynote speakers," says Thorpe. "I was glad to get the business leaders in attendance genuinely excited to use business for good."
Does he have any major regrets in life which he wishes he handled differently?
"I think back, and I think of the times I listened to my dad when I really shouldn't have," says Thorpe. "It's really important to follow your bliss. Only people who are truly passionate, make that leap from good to great. I never had that for finance."
Being a dad himself to a 28-year-old, he has enjoyed the process of watching his son grow.
"While I think I've avoided some parenting mistakes my dad made, I'm sure I've made others, or perhaps even reversed my dad's mistakes, encouraging my son to be more entrepreneurial than he'd like."
Calling all HuffPost superfans!
Sign up for membership to become a founding member and help shape HuffPost's next chapter
This post was published on the now-closed HuffPost Contributor platform. Contributors control their own work and posted freely to our site. If you need to flag this entry as abusive,
send us an email
.