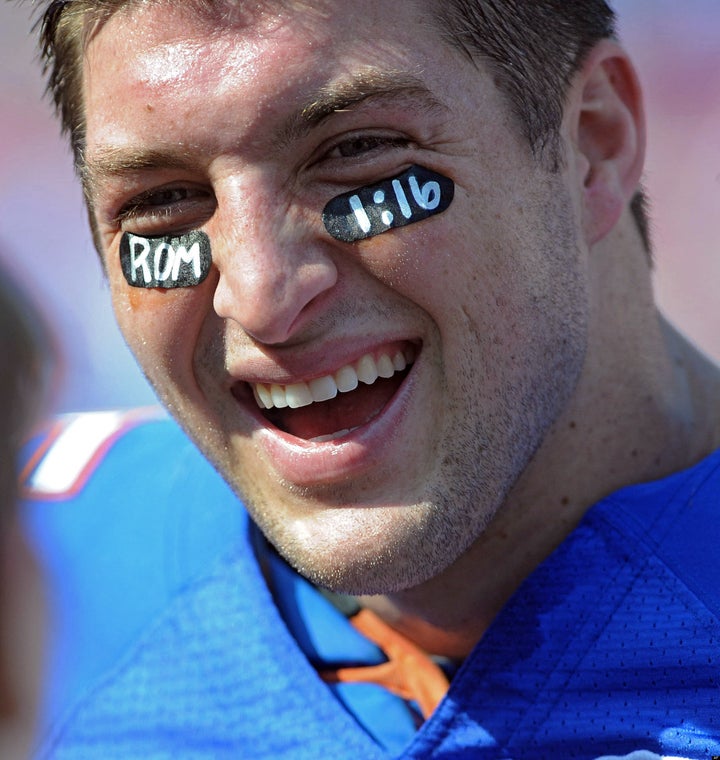 By Greg Garrison
Religion News Service
AUBURN, Ala. (RNS) Chad Gibbs has been on a pigskin pilgrimage throughout the South, searching for spiritual truth in Tuscaloosa, Baton Rouge, Gainesville and Fayetteville.
He grew up a fan of the Alabama Crimson Tide and switched allegiance to his alma mater--and the University of Alabama's archrival--Auburn University. For a while, Gibbs became so fanatical that he wondered if football had replaced God as his god.
"I wondered about how much I could care about football before it starts to hinder my faith," said Gibbs, a 2002 Auburn graduate who lives less than a mile from the school's famed Jordan-Hare Stadium.
Gibbs set out to find how other Christian football fans handled their dual obsessions. For 12 weeks he attended football games involving every Southeastern Conference (SEC) football team.
That quest resulted in Gibbs' new book, "God and Football: Faith and Fanaticism in the SEC," which tracks college football's near-religious following in the heart of the Bible Belt, where fans worship their SEC teams on Saturdays and God on Sundays.
In the summer of 2009, he contacted churches and campus ministries in all 12 SEC university towns.
"I was looking for fanatical fans that were also Christians," Gibbs said. "My idea was to go to the games and spend time with them and see how they balance the two."
Among the many memorable people he met was a Catholic priest, the Rev. Gerald Burns, pastor of St. Aloysius Catholic Church in Baton Rouge, La., who watches Louisiana State University games on his big-screen, high-definition TV. He once joined the LSU crowd in chanting, "Go to hell, Ole Miss!" while wearing his Roman collar. LSU won 61-17.
Gibbs soon realized he wasn't the only one who got carried away with football, letting it become his religion.
"If you ask them point-blank, 'Do you worship football?' they'd say no," Gibbs said. But for some, football clearly trumps God, he said.
Gibbs interviewed evangelist David Nasser, a football fan, who talked about how discussing football opens doors to sharing faith. Nasser added, however, that "football is a great hobby, but a horrible god."
The statement struck a chord with Gibbs, and became the theme of his book.
"I was using football for my self-awareness and identity as a person," Gibbs said. "I was trying to get too much out of football. On a Sunday morning after a loss, I was still pouting. ... I was looking to get so much out of football that football really can't give you. I learned you have to take it as what it is, as a game."
People who look for the meaning of life and salvation from football will always be disappointed, he said.
"When you try to fill that void where you're supposed to put God, if you try anything else, it doesn't work," Gibbs said.
"It's not something to build your life around. Football's certainly not worth being miserable about. When you start leaving games depressed, you may want to step back and take a critical look at things. I began to realize what about football had me so wrapped up. I was looking for more from football than I should be looking for from football. It's hard to fit a football into the God-shaped hole in your heart."
After Auburn's win over Clemson this season, Auburn Coach Gene Chizik said, "It's a God thing," which stirred up a lot of commentary over how much God really cares about football.
"When I heard it, I did kind of cringe," Gibbs said. "I know how it sounded. It sounded like God made Clemson miss a field goal."
Gibbs thinks what the coach was getting at was turning a loss into a learning experience. And while Gibbs clearly thinks football shouldn't be more important than spiritual issues, he doesn't rule out that God cares about football.
"I don't think God gets upset if we go to football games," Gibbs said. "You can obviously take it too far. I think God's big enough to hear prayers about Sudan and football at the same time," Gibbs said.
"I don't think God's a fan of a particular team. If he is, right now he's an Alabama fan."
(Greg Garrison writes for The Birmingham News in Birmingham, Ala.)
Related
Popular in the Community