Heather Gudenkauf is the New York Times and USA Today bestselling author of "The Weight of Silence" and "These Things Hidden." Her latest thriller, "Not a Sound," comes out in paperback in May. It tells the story of Amelia Winn, a nurse who is trying to piece her life back together after a tragic accident. When she discovers the body of a co-worker in the river near her cabin, she is drawn into a murder investigation and discovers that her idyllic Iowa town hides a dark secret. I recently spoke with Gudenkauf about her love of suspense, how she conquers writer's block and what keeps her inspired to write.
You live in Iowa and set your novels there. In "Not a Sound" there's this sense of a beautiful town with a very dark secret. Talk about that dynamic, and why you write suspense novels.
I've always loved suspense books. Growing up, my dad and I would trade mysteries and thrillers to read back and forth, and watch crime shows on television together. I set all my novels in Iowa and I think there is an interesting dynamic when we think of idyllic, small-town Iowa -- people who are very friendly. We know our neighbors. But we never really know what goes on behind closed doors. There's an element of mystery that I really like to write about. I think of it as a puzzle and laying the clues out like bread crumbs for the reader.
If you were to choose three adjectives to describe your childhood, what would they be?
Happy. Imaginative. Loving. I am the youngest of six, and two wonderful parents and we grew up in Mason City, home of "The Music Man". We grew up in a time when we could run the neighborhood and be out until dark with our friends. And we had a really busy, fun home.
You were a voracious reader as a child. Who were some of your favorite or most influential books or authors?
Growing up I was a big fan of the Little House on the Prairie books. I loved Beverly Cleary. As I got older I discovered Willa Cather. "My Antonia" is my favorite book of all time. I'm also a fan of Anita Shreve, Elizabeth Berg, Tess Gerritsen, Ann Patchett – and so many others, too many to count.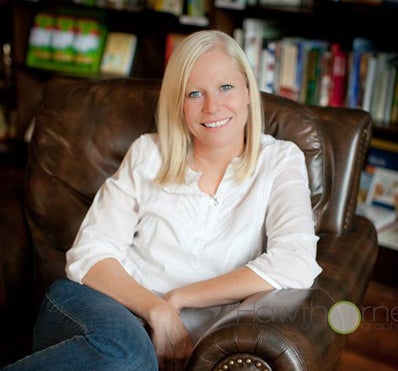 You've worked in elementary education for 25 years and you are a mother of three. Talk about how that affects the portrayal of children in your books.
I've always been fascinated with how resilient kids are. They may have some challenging things happen in their lifetime but they keep bouncing back.
Your character in "Not a Sound" is deaf after a car accident. How did that change the writing process?
This has to be the biggest challenge I've had in my writing. I have a hearing impairment. When I'm in a noisy situation I can only hear every third or fourth word, which makes understanding conversation a challenge. I wanted to explore that in my writing because I thought her situation would heighten the suspense. But the sound kept creeping into my writing. I wanted to be respectful of the deaf community and get it right. So I talked to teachers of deaf students. My brother is a doctor of audiology. And I consulted with some profoundly deaf folks who read the story and made sure I got the elements correct.
What does your writing day look like and how do you stay motivated and inspired?
I still work in the field of education, so most of my writing gets done at night after I get home from work. I'll write for four or five hours when I'm in the thick of a book. I always get a journal and start writing in long hand. It gets me started. I also spend a lot of time hiking. We have beautiful nature preserves in Dubuque. And I get a lot of my ideas walking and hiking with my dog. When I get stuck and I need to work through a plot problem, I go outdoors and that really helps.
What's the one thing you know now that you wish you knew growing up?
Not to worry so much. Things have a way of working out.
What's your biggest accomplishment?
My family – I have a great husband and three kids. I've gotten my greatest joy out of my family. I adore them. And my education life is very important to me, as is my writing. I've been lucky to do the things I love.
What's the best advice anyone has ever given you?
My mom always said we are quick to judge or be hurt by slights from others, but you never know what someone else is going through. So pause and try to find out what that is.
What is your idea of perfect happiness?
Being with my family. And I love just to be out with my dog taking a hike through the woods, come home and read a good book -- and I'm set.
Heather Gudenkauf will speak at the Des Moines Public Library on May 30. Go here for more information.
Related
Popular in the Community