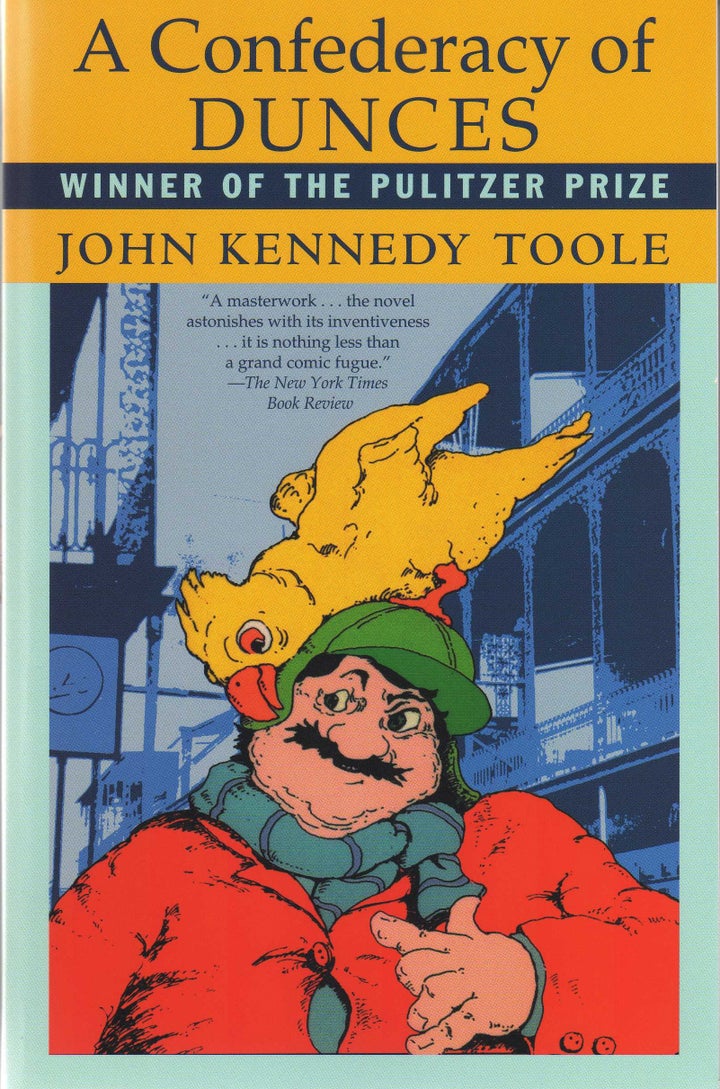 Madeleine Crum, The Huffington Post: The following is an excerpt from Cory MacLauchlin's biography of John Kennedy Toole, "Butterfly in the Typewriter," [De Capo Press, $26.00] in which the inspiration behind "Confederacy of Dunces" protagonist Ignatius J. Reilly is revealed:
By far the most memorable and monumental specimen of eccentricity who left an indelible impression on Toole was Bobby Byrne, a mustached medievalist, tall and burly with dark hair. He lived in a little cabin behind the house of a fellow professor, where he played his harp, his violà de gamba, and a harpsichord he had custom made in England. As an avid devotee to Boethius, he ­assigned "The Consolation of Philosophy" to every class he taught, even freshman composition. As Professor Rickels remembers, "He believed the climax of civilization occurred sometime during the fourteenth century; it had been on a steady decline ever since." Byrne often said of people their "geometry and theology are all wrong," echoing a favorite line of his from an H. P. Lovecraft short story. And while he had completed his doctoral course work at Tulane, he never wrote his dissertation. At one time, one of Byrne's professors is reported to have said to him, "Bobby, just give me a piece of paper with something written on it, and I will give you your PhD." But he deemed the exercise of a dissertation unnecessary. "I wasn't going to learn anything from it, and besides I already had tenure," he admitted in an interview in 1995 with University of Louisiana graduate student Carmine Palumbo. "Ya see," he explained further, "I have a birth defect. I am amazingly unambitious." And yet this supposedly unambitious man taught himself to read Welsh and ancient Japanese, simply because he had heard they were the two most difficult languages to learn.
Behind his supercilious posturing, Byrne was also known for his ill-timed flatulence, and he harbored a deep devotion to hot dogs. He once told Rickels a story from his childhood that explained and justified his passion for the common street food. When he was growing up, his mother had become convinced that "wieners were not good for children." But taking pity on her son, she would occasionally yield to his pleas. Preparing the rare and savory treat, she carefully buttered both sides of a split bun as the young Bobby watched with anticipation. Then she nestled the sanctioned sausage into its soft throne. But as she handed it to little Bobby, she would squeeze the bun so the hot dog would slip back into her hand, leaving the child only the buttered bun to eat. "I felt cheated all my life," he would say, thinking back to all the hot dogs that had eluded him in his youth. In adulthood, he reclaimed those lost wieners.
Whether by chance or choice, Byrne and Toole shared an office at SLI. They actually had much in common. Byrne was hired the year before Toole, so he was relatively new to the faculty. They were both raised in Uptown, had an interest in medieval thought, and graduated from Tulane, although Byrne had finished his undergraduate studies nearly a decade prior to Toole. They also felt a fierce sense of devotion to their hometown. And like any two New Orleanians, their histories connected long before a formal introduction. Byrne's aunt was Toole's second-grade teacher, who remembered the bright child and his hovering mother.
Their similarities of background aside, one could not conceive of a more opposite pair sitting together in an office. Toole's average height and trendy fashion sense contrasted with Byrne's burly physique and his incomprehensibly bizarre manner of dressing. Byrne cared little about coordinating his attire. And his blatant disregard for appearances occasionally shocked Toole, who always had his clothes "fit, tapered, neat as a pin . . . carefully fitted pants with a good crease in them." One day Byrne came to their office "wearing three different kinds of plaid and an absurd hat." Toole later told his friend Joel Fletcher of the shocking vision that had materialized in front of him. He could not help but comment, "My God, Bobby!... You look like the April Fool cover of Esquire!"
Byrne usually dismissed such comments, especially from a young man who clearly put stock in appearances. But as a faculty member with higher rank, Byrne need not suffer reprisals from his junior colleague. When Toole once reproached him for the loose fit of his clothes, Byrne responded with a pointed and detailed lecture on the sartorial philosophy of the Arabs, who, he argued, wear flowing fabrics in order to retain moderately warm body air and keep out the desert heat.
Indeed, with his encyclopedic knowledge and bellowing voice, it seemed Byrne could dissertate on any topic. Those who kept company with him learned to endure his preaching. But Toole not only enjoyed Byrne, on occasion he provoked him, as if to test his reaction. In an article published in Acadian Profile, Trent Angers interviewed several of Toole's friends who recalled one cool spring morning Bobby Byrne, J. C. Broussard, and Toole sat at "an outdoor table next to the concession stand . . . engrossed in a bull session." Angers describes the scene:
Bobby Byrne, was giving a verbal dissertation on the lack of taste and social redeeming value in music and literature created since the Medieval period. . . . John Kennedy Toole, was sitting across the table with his head cocked to the side with eyebrows raised and with a smirk on his face as if he were trying to break in with something like, "I can't believe that's coming out of your mouth!" Byrne continued pontificating, and Toole began trying to harass the orator with facial contortions that reflected increasing incredulity at what he was hearing.
Accustomed to Byrne's tirades, Broussard sat at the table silently drinking his coffee. Then Broussard noticed that Toole "seemed to be studying and subtly mimicking the speaker's gestures." In his year at Lafayette, Toole found in Byrne a New Orleans character almost too much to take, the ironies and absurdities layered into his larger-than-life existence. The contradictions of his bizarre clothes and his demeanor of sophistication made him ripe for the plucking. Toole closely watched Byrne, taking note of his sayings and inflections. And Byrne remained unaware of the impressions he made on Toole for decades. In recalling their many conversations, Byrne admits, "I didn't know I was under ­observation."
Almost twenty years later, when Rickels read an excerpt of Confederacy published in the New Orleans Review, she immediately recognized the basis for the slovenly character Ignatius Reilly. "Oh my God!" she exclaimed to her husband, "This is about Bobby Byrne!" She worried Byrne would read it, and find out what Toole had done. But Byrne made it a point not to read popular fiction, especially not best-sellers. He finally gave in after someone leant him a copy, telling him he must read it because obviously Toole based the main character on him. Byrne recognized some likenesses between himself and Ignatius. The devotion to Boethius, his passion for hot dogs, the motto of "theology and geometry," and his dress all seemed to be derived from him. Toole even seemed to have recalled Byrne's lecture on Arab dress when describing the fashion philosophy of Ignatius Reilly whose "voluminous tweed trousers" had "pleats and nooks" that "contained pockets of warm, stale air that soothed" him.
This excerpt was authorized by De Capo Press.
Calling all HuffPost superfans!
Sign up for membership to become a founding member and help shape HuffPost's next chapter
BEFORE YOU GO