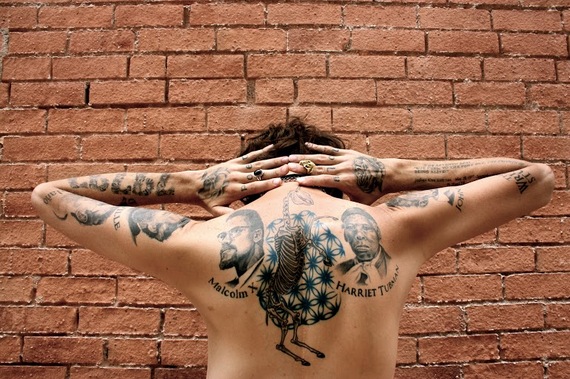 They retired the mic to Isaac Kirkman, on the sultry spring night I first saw him here in Tucson.

Just took it right off the stand and handed it over--a sign of respect in some poetry circles. Akin to giving the game ball to the MVP, in sports.
The Words on the Avenue audience had snapped and stomped and finally just stood as one after he'd spit the last lines. And Kirkman, resplendent in flowered suit, black gloves, divine bling, seemed almost as mesmerized as we were.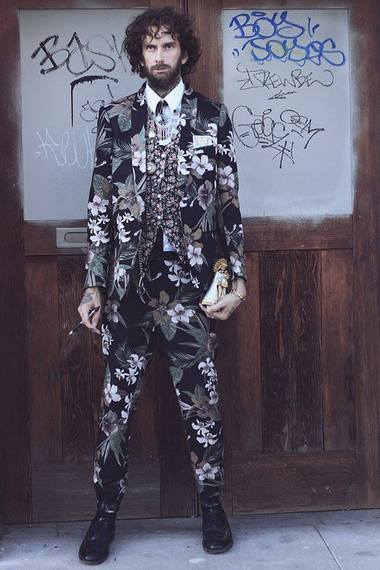 He'd taken us far, far away from the patio where we sat beneath boughs strung with twinkly white lights. And we weren't entirely sure we wanted to come back.
I'm from where the dead vomit red clay
in a seashell splatter, of kudzu and black confetti,
where you can hear the sound of slave chains
in the soft foam of surf crashing onto Charleston's shores,
as little white kids with confederate flags
flapping from their bikes, ride happily into the sun
dreaming of the day the south shall rise again.
See, I'm from where plantations turned into prisons
the way HIV turns into AIDS.
And every cop is a doctor
trained to prescribe
bullets to black children and call it the cure.
That there was time when you were all poems
spreading your ink through the blank page
of yours mothers womb. Tiny little vowels
blinking awake. Tiny little kicks bending
out from the soft curve of your spines
like calligraphy.

I remember when each of you were a haiku
dreaming of what kind of novel you'd grow up to be.
And he'd embraced us, in his last poem, with:
...I hope...
...that I inspire a smile
or a second glance,
as our eyes meet in a crowd
rushing separate ways in a busy intersection.
A moment warm enough
to hold us over another million more transmigrations
that divide our next brief reunion.
And if denied this final reunion,
and we only cross each other's paths
as strangers to never see each other again,
I hope I cross your path
on your way to a good memory.
What do you do with all that, all at once?
She spent hours, the day she received them, reading the lines out loud, over and over and over again. And concluded that, "...he should always have the last word," at events like that.
I knew I was right.

Those poems come in part from what he sees as he walks the world--Isaac does not drive. He has never driven. He prefers to wander on foot, finding stories, seeing sights that he can spin into poems.

That mode of transportation is especially difficult for a man recovering from Ehlers-Danlos Syndrome. EDS is a hellish collection of physical issues caused by a lack of collagen, the "glue" that keeps our connective tissues flexible. It causes loose, unstable joints, weak muscles, fragile skin, and, less frequently, scoliosis, mitral valve collapse and arterial or intestinal ruptures.
Isaac is undeterred, perhaps even inspired by this. In one of the many emails we exchanged over the next few weeks--a tête-à-tête had spun gleefully out of control--he said:
"It is an aspect of me, but it does not define me. I view it as spiritual lesson from my creator to strengthen my spirituality, gratitude, and empathy through pain. I don't ever feel like I am really in my body. I am a ghost."
He learned to defy "definition" as a child in Greenville, South Carolina, a world where "the Civil War never ended." A world where "My classmates hunted and chewed dip and wore confederate flag shirts and viewed the black race as an abomination and treated them as such."
"I was an alien to this world," he said. "And was treated like one. Bullied. Humiliated. But I was determined to write my way to a better life. I would write my way to freedom."
He would have the last word on that world, too. In Opiate Haloes a short story published in the summer issue of Waxwing, Kirkman unleashes a posse of pill popping teens, most ravaged by illness, to exact apocalyptic revenge upon their foes in a macabre backwoods world. They are the Red Band Society from Hell.
And he knows Hell personally. He lived in it, a troubled teen on the streets, for a time. A time of drugs and drink and danger. And again, he wrote his way through it.
"I always had a notebook on me," he said. "Writing on the couch as my friends sold drugs out the front door, sleeping outside writing in my pad, writing descriptions of the junkies and the outlaws, writing metaphors to capture the agony of the ghetto, and the ecstasy of God."
After a move to Tucson, he took his first and only writing class at the local Writers Studio. He also got sober, one substance at a time. And the words, through it all, kept coming.
"I never gave up on writing because it was my destiny," he said. "Because I had to tell the stories of the forgotten. I didn't come to this through academics I came from my own grave. I'm just surfacing. I have been beaten humble and beaten pure."
And so he walks the streets of Tucson in the scorching heat and torrential "monsoons," leaving votive candles on shrines and the sites of recent homicides, "to pay respect to the spirits and religions of the barrios, honoring their losses as well as my own."
And then, he writes. Always, he writes. Through pain both physical and emotional.
"There remain obstacles," he said. "But I will make art from them."
Photo credits: Tattoos, Chelsea Gleisner; Floral suit, Ezra Letra
Support HuffPost
The Stakes Have Never Been Higher
Related
Popular in the Community