Jos-Madelaine Standing, an expert on how to move beyond trauma, has influenced people across the US and Canada for over 10 years.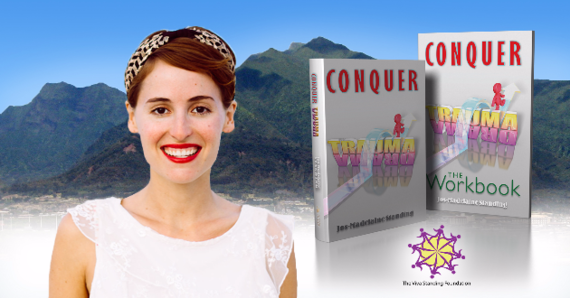 Standing believes that everyone will experience a traumatic life experience at some point and defines trauma as follows:
"any experience that overwhelms the body's nervous system, creates changes in the brain, and leaves the person unable to fully cope from day-to-day."
I had the good fortune of meeting the dynamic Jos-Madelaine Standing several years ago as she openly shared her story of how she triumphed over being kidnapped and raped. So, when I found out she recently released her book, Conquer Trauma Drama: Get Your Life Back, I wanted to talk to her about body image and how women overcome the trauma of having a body that is constantly under attack, evaluated, and controlled by extreme beauty standards.
During our conversation on trauma and body image, Standing gave many amazing insights. Here are a few of them:
Body Peace University: Why might a woman experience trauma by seeing herself through someone else's eyes?
Standing: Losing sync with your own self-experience is traumatizing. Hand-in-hand with this trauma is dissociation from your body. When that happens, a woman loses a sense of where she is in relation to other people. This can reinforce a sense of disconnection and even isolation from women within groups of woman, as well as isolation from the community.
Body Peace University: Many women live in a state of body disconnect and focus on pleasing others. Why can pleasing others with your body be problematic?

Standing: When the body becomes something to tend to and take care of only for the benefit of "outside wins", women lose power. For example, "that guy thinks I'm hot", or "this group of people will like me if I look this way," not only distances a woman from herself, but she runs the risk of losing connection to her greatest hopes and dreams. Her compass becomes pointed to ideas that originate from outside of her. She becomes really ungrounded. It is a feeling of losing herself.
Body Peace University: What are some things a woman can do to reclaim her power?
Jos-Madelaine Standing: The next time you're in the bathroom, look at yourself in the mirror with an open, empty mind. Always be curious and non-judgmental. No matter what other people think, you always have your own non-judgmental mirror - or no mirror.
Body Peace University: What's your belief about women needing to be less sexy, rigid or plain in order to be taken seriously? Do you think there's a denying of our sexuality there?
Jos-Madelaine Standing: Yes, you know our culture is largely suppressed. There's a big difference between having sex and having sexuality. People tend to take one for the other, incorrectly. Allowing all parts of yourself to come through at any one given point in time is the belief that all parts of ourselves are accepted and whole. That we can honor our bodies fully, instead of only fragments we had to leave behind in exchange for being considered serious in the business field. I have seen many women live their lives without abandoning who they are while becoming a raging success. Arianna Huffington, her Greek Goddess really shines through. Oprah is one of the most well-rounded women in our culture today, and Sheryl Sandberg started her 'Lean In' movement, with her spunky, yet sexy-chic, red heels. I think we are incredibly lucky as women to have women role models who lead with their fullness instead of shrinking back. We all just need to be brave, continue to be who we are, and continue to check back in with ourselves to ask if our life's actions, words and dreams come from ourselves, or from a third party defining what we should be.
Jos-Madelaine Standing will join us at our next Body Peace Retreat along with many outstanding attendees dedicated to having a peaceful relationship with their body. We would love to have you join us.
Popular in the Community