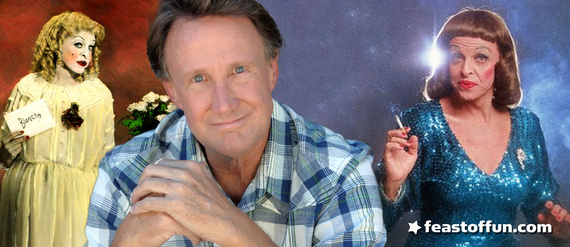 This year will be remembered for many things, maniacal political ramblings among them, however as 2016 rolls into its soul-stirring second half, we're seeing the spotlight shine even brighter on LGBTQ issues and culture, and some of the mavericks who paved the way for others to express themselves more authentically in the here and now.
One of those humans was the late Charles Pierce.
Long before drag performance sashayed into the mainstream, there was Pierce. Savage, audacious and talented to the bone, the performer creatively strode through the latter half of the 20th century and became one of the most iconic female impressionists of all time before his death in 1999 at the age of 72. Creatively, he went where few performers ever could on stage, embodying to hilarious ends the likes of showbiz legends such as Bette Davis, Katharine Hepburn, Joan Crawford and a posse of other darlings. So many things stand out about Pierce, which author-colleague-friend Kirk Frederick (pictured center, above) chronicles in his engaging and thought-provoking new book, "Write That Down! The Comedy of Male Actress Charles Pierce," but chief among them may be the fact that Pierce never used the term "drag," nor did he see himself as a "drag performer."
As the title of the book notes, he always billed himself as a "male actress."
Other historic things stand out in "Write That Down!" and Frederick, who served as Pierce's producer/manager/dresser for the last 20 years of the comic genius's career, recounts them to winning ends: Pierce began in cozy little gay clubs in New York City and San Francisco, for instance; he often wrote his own material and improvised on stage; and his international fame may have helped paved the way for the future careers of other icons, such as RuPaul, Charles Busch, and Lypsinka.
And how Frederick came up with the title for the book is also interesting to note.
As Pride Month unravels, I recently caught up with Frederick to learn more about his upcoming book talks and the man he worked for--a male actress who left one of the more memorable if not indelible imprints on the entertainment world.
Greg Archer: Share with us your first encounter with Charles, and when the two of you became friends.
Kirk Frederick: We met backstage after I saw him (for the first time) at a small San Francisco nightclub in 1969. He was being considered for a part in "Geese," a play about coming out in which I was performing, so our entire company went to see his nightclub act. I was smitten. I think we became friends instantly, but definitely shortly thereafter, after the first few "Geese" rehearsals.

Talk about that unique friendship -- what it was like and how did it evolve over time?
We had acting in common, but our mutual attraction was laughter. We had similar senses of humor, and he of course was a stand-up comic in a dress, so I was fascinated and impressed by his talent. After a few weeks of "Geese," he decided to do his nightclub act on the Monday nights when the show was "dark." I started assisting him both onstage and off, and eventually it became a long-term association of "Charles the performer" and "Kirk the back-up performer/stage-manager/manager/publicist/advertising graphic artist/dresser/production coordinator/confidant and friend" ... for 20 more years.
It's remarkable how it all began for you--"writing that down" and all, and it's riveting to read about. Can you elaborate more here about that journey; about documenting Charles?
Our first engagement together alone after "Geese" was at The Cabaret nightclub in San Francisco's North Beach in 1971. It was a large room, which he filled every night. There was much adlibbing with the wildly attentive and appreciative crowd, and Charles started coming up with so many hysterically funny impromptu lines, that he would call out for me to "write that down," backstage. The problem was that often I hadn't actually heard the line or the set-up for it, so I suggested we start videotaping the show every night so he could review it. Fortunately I kept all the tapes, which is how I was able to recall all his material for the book.
I find it interesting that Charles never identified as a "drag queen" or that he felt he was doing "drag."
In the 1950s and 1960s, "drag queens" mostly lip-synced to recordings, rarely doing "live" material. Charles did it live, so he wanted to establish himself as a different kind of cabaret act. He wasn't a "female impersonator" in the sense of pretending he was Bette Davis. He did impressions of Bette and other stars, so he was more accurately a "female impressionist." In "Geese," he had played the mother of one of the gay boys, and because he did the part "straight" (as it were) but in drag, he called himself a "Male Actress." That stuck.

What do you feel was Charles' philosophy on life ... or life credo?

Several: "Laughter is the best medicine" (especially during HIV/AIDS in the 1980s). "Whatever you are, be a good one." And "He who laughs, lasts."
So why does Charles stands out historically?
He wasn't the only drag artiste who crossed over to straight audiences, but he was one of the first and most successful, as early as the 1960s. By the time he opened for Ann-Margret at Caesars Palace in Las Vegas in 1978, he had already played (and sold out) the 3,200-seat Dorothy Chandler Pavilion in Los Angeles. Charles had perfected his act in gay clubs, and it was the Los Angeles Times, in its review of his 1974 Chandler show, which called him "America's quintessential female impressionist," noting that in the 16 years he had played mostly gay cabarets, now here he was, in the early gay-lib days, playing the Music Center.
Why was it important for you to write this book?
He had a 40-year career from the 1950s through 1990. He helped pioneer and popularize the art of female impressions. Careers like RuPaul's, Charles Busch's and Lypsinka's owe a lot to Charles. I felt the need to help preserve his legacy and his hysterically funny material. His longevity, coupled with the fact that he helped preserve our memories of some legendary Hollywood stars, is a legacy to be proud of. Plus, he made people laugh at times when laughter was a necessity. Like now. I wanted to promote and prolong that laughter.
Can you share a few things you have learned from Charles ... about the art of performance, about friendship, about life?
Charles taught me about the art and science of comedy, about true and honest professionalism on stage, about perfecting your art and your craft. I learned how to treat audiences with respect and to give them their money's worth. His kindness, generosity, loyalty, sense of humor, and love of performance were like no one else's I had every known, or have since. And he had a lust for life, for friendship, for trust, and for laughter that has stayed with me since I first worked with him in 1969, until his death in 1999. I still cherish it.
If Charles were alive today, what do you sense he would feel about the time in which we now live ... and what piece of advice--I am sure we could use some--might he impart?
Charles was a 20th-century gentleman; I sense he may not have adjusted easily to current and recent events. But forced to, he would have done so with grace and an uncanny ability to rise above even the worst of times by making people laugh. I can almost hear him say: "Keep it light, keep it gay, we'll be OK."

Frederick will speak about Pierce at a book event June 23 in West Hollywood. Learn more about "Write That Down!" here.
Calling all HuffPost superfans!
Sign up for membership to become a founding member and help shape HuffPost's next chapter