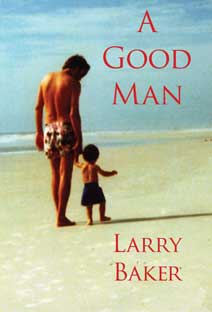 Larry Baker was the one-time manager of the Admiral Twin which was a drive-in theater located in Tulsa, Oklahoma. And it became the inspiration for his very first novel, The Flamingo Rising, which was about an eccentric north Florida family who lives in the world's largest drive-in theater. That book, Flamingo Rising, which was very successful, later became a television movie.
And for his latest book, Baker was inspired by an old Harry Chapin song, a song about a down-and-out radio DJ on WOLD. In this book, A Good Man, we meet the main character Harry Forster Ducharme. And because of Ducharme's fondness for alcohol, and bad decisions that go along with being an alcoholic, he has dropped from being an A-list talk show host in a major market to having to work in a small cinder-block station in St. Augustine, Florida. There, Ducharme, the main character, works the 10 pm to 2 am slot. And one night as a hurricane is rolling through north Florida, an old man appears - Peter Prophet - who comes to Ducharme and announces the impending arrival of a new child of God. Though Ducharme is skeptical, he is intrigued and that is the basis for the book, A Good Man. Well, welcome Larry. I really appreciate you joining me.
Larry Baker: Kathleen, thank you very much. It's good to talk to you again.
Kathleen Wells: Well, you know, actually first I would like to say that, you know, I did interview you previously, and it was my first time to be on BlogTalkRadio, and you were my first guest, and now, you know, looking back, I think I can ... I did feel sort of like how maybe a DJ - a disk jockey - feels: wondering, sitting, wondering if anyone is actually listening to their ...
Larry Baker: It's the feeling that every writer has, too. You sit at a computer or keyboard, you write and you send it off, and even if it gets published, you don't get feedback. You don't know if anybody is out there. So if you have any kind of insecurities at all, you need to reconsider ever wanting to be a writer.
REAL LIFE. REAL NEWS. REAL VOICES.
Help us tell more of the stories that matter from voices that too often remain unheard.