Mary Elizabeth is a contemporary fiction and new adult romance writer with a huge and loyal fan base. She lives in Southern California with her family, styling hair by day and crafting addictive stories by night. Her latest novel, Low, was an Amazon best-seller and chronicles two bank robbing bandits in love and on the lam. She is also the co-author of the Dusty Series, a widely read and loved romance that originated as fan fiction.
MW: You began your career as a fan fiction writer. How did move from there to publishing and was it an easy transition?
ME: There's nothing easy about publishing a book, but I can't deny my success as a fan fiction writer gave me a head start when I decided to self-publish. Both worlds--fan fic and indie publication--collided at the height of my fic career. I'd penned fan fiction for five-ish years when unexpectedly the very first story I ever wrote, Closer, went viral with over two million reads; Dusty surpassed that number not long after. During that time, I came across a book called My Blood Approves by Amanda Hocking. Shocked doesn't begin to explain how I felt when I learned she was a self-made millionaire and gatekeeper to what's now this amazing digital eBook revolution.
Here was this girl, around my same age, living this unattainable dream. It sparked a fire inside of me I honestly didn't realize I had. I'm a mother, wife, hairdresser, and a devoted reader. But one thing I was not: a legit author. I suddenly wanted it all, and if Amanda Hocking could, so could I.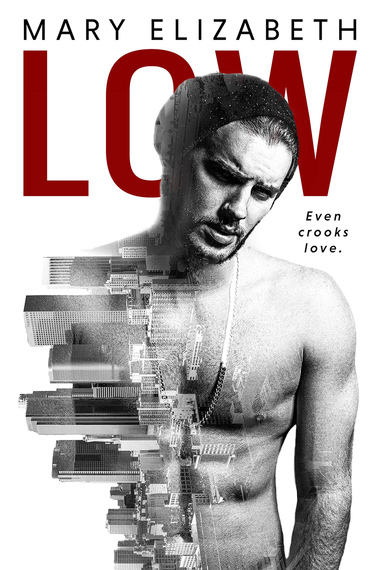 MW: Have you retained some of your fan base from that time and if so, what do those readers mean to you? What's the world of fandom like for those who have no frame of reference?
ME: Fandom, like the indie/hybrid/traditional publishing population, is a bunch of people who come together to bond over a similar interest and form an extremely tight alliance. It's a community ... on steroids. High anxiety, high emotion, high love drives members of a fandom to take characters from a book, movie, or music, and freak out! We want more, so we make more, whether it be fan art or fan fiction.
I 100% retained readers from my fic days, but I don't think of them as fans; they're family. As I evolved from fan fiction to original fiction, so did they. Change is natural, and the fandom holds a very special place in my heart, so I'm humbled they've taken the next step of this journey with me.
MW: How did the idea for Low come to you? Were there any direct sources of inspiration?
ME: I wish I had an exciting explanation for this question! But the truth is, after Dusty published I was asked to write a short story for a "bad boys" anthology. After the other contributing authors came up with their ideas, I knew I wanted to write something original in an over-saturated market, especially in the romance genre. I contemplated mob bosses and filthy-mouthed rock stars, but I read an article on Bonnie and Clyde and new bank robbers was the direction I wanted to go in.
MW: If Lowen Seely could have three wishes, what would they be? Would Poesy's be the same three?
ME: His first wish would most definitely be that his women--his mom, sister, and Poesy--could live a comfortable life without struggle. His second wish would probably be to take back the crimes he committed just to get by. We learn in Low that Lowen was born corrupt, but he played the hand he was dealt; he's the epitome of the term antihero. And his third wish would be to be the man he thinks Poesy deserves.
Would Poe's wishes be the same? Absolutely not. Lowen is everything she wants and needs.
MW:You write irresistible bad boys. How does it feel to have fans react so strongly to your characters?
ME: It's amazing, and it solidifies my decision to write characters in a style different from the norm. There's something authentic and stimulating about human nature and things that make good people do bad things.
I'd be lying if I said that I don't sometimes second guess my work. I mean, who in their right mind would willingly love a bank robber like Low or a drug addict like Dusty?
Thankfully, when readers get ahold of my books, they let me know right away I'm not the only one who loves the bad guys.
MW: In a world of extremely racy romance, your novels remain comparably chaste. Is the secret to eroticism in the withholding? (I heard John Colapinto say this at a reading for his novel, Undone. We're both fans of his work, so I thought I'd throw it in there!)
ME: Sex sells, but I'm a believer in the slow burn. There is nothing sexier than what you feel during the maddening build up between characters. The swift beat of your heart, the sinking sensation in your stomach, the tightness in your lungs ... when you just have to rub your thighs together between sentences; it's all a part of the experience of a book. That's erotic.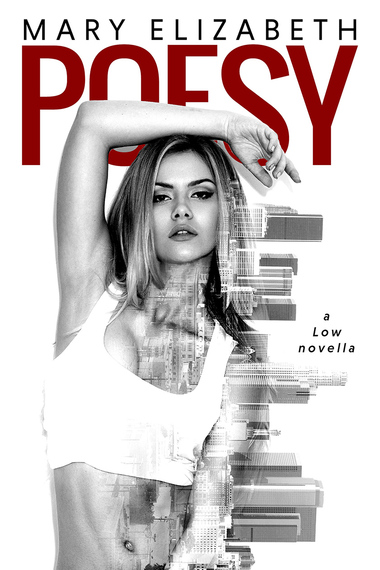 MW: Would you call yourself a spontaneous inspiration writer or are you more of a plotter?
ME: I plot! Before I type a single word, I need a detailed outlines to help me stay on track. Otherwise, I'm a mess.
MW: I know that you're a Nabokov fan; which other writers inspire you?
ME: Besides Vladimir Nabokov, Gillian Flynn is by far my most favorite author. She is so fantastic and talented and rousing, I named a character in Low after her. Her ability to tell a story leaves me utterly speechless and green with envy. Does it get better than her? No, I don't think it does.
MW: Do you have any all time favorite literary heroes or heroines?
ME: Humbert Humbert and Lolita! My love-hate-love for these two is disturbing, but I'm not ashamed. Their tale changed my life, and Lolita (Lo-lee-ta) singlehandedly inspired my entire writing career. I have Humbert's words tattooed on my body, and Dolores' hope endlessly embedded in my heart. It's love.
MW: You still maintain your profession working as a hairstylist, is having an identity outside of writing important to you?
ME: I'm an artist. Doing hair, writing ... they're different forms of creativity. It's not that one is more important than the other, or that I need an outside identity away from Mary Elizabeth. It's that I love both professions so much I refuse to choose between the two.
MW: Why is being and staying Indie important to you?
ME: After Low published and sold so well, I got attention from publishers and agents who were suddenly interested in my brand. I went through the ropes and answered their emails and phone calls, flattered, proud, and insecure all at once. It didn't take me long to realize they wanted me to sell my soul for the sake of fitting their mold of a bestselling author.
One thing everyone should understand about me is that I'm confident in my craft. I've been gifted with multiple platforms that make chasing this crazy dream of being a successful writer possible without someone telling me I'm not doing it right and taking 15% of my royalties.
I'm a patient person, and the indie community is a force to be reckoned with. When and if the right deal comes to my table, I'll take it. Until then, I have no problem being in the driver's seat.
Popular in the Community