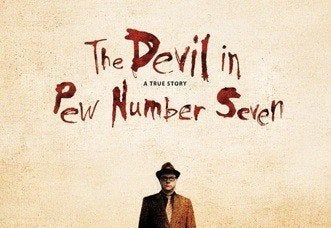 By Roy Hoffman
Religion News Service
MOBILE, Ala. (RNS) In The Devil in Pew Number Seven, Rebecca Nichols Alonzo tells a deeply personal story of God, faith, murder and forgiveness.

The story centers on her parents, a Holiness church pastor and his wife, who left Satsuma, Ala., in the 1970s to shepherd a flock in the struggling Free Welcome Holiness Church in Sellerstown, N.C.

"They felt that God had called them," Alonzo, now 40, says of her parents.

Alonzo was a little girl at the time, five years older than her brother, Daniel.

She was almost eight on the evening of March 23, 1978, when Harris Williams walked into their house at supper and pulled out a .38-caliber pistol.

The assault, it seems, was years in the making.

Since Robert Nichols had arrived with his family in Sellerstown, according to Alonzo's account, he had been the object of scorn -- and repeated attack -- by a power-hungry and tormented parishioner, Horry Watts, and Watts' accomplices, including Williams.

"He wanted power," says Alonzo of Watts, a former politician and longtime church leader, whom she calls the "devil in pew number seven."

There were phone threats, hate mail, bomb threats, three actual bombings -- the Nichols family endured them all. Her parents held firm.

The church gave the pastor an overwhelming vote of confidence, and Robert Nichols preached to his children love and forgiveness.

Then came the night when the man with the .38 caliber walked in.

"I can still see the sparks from the gun," Alonzo says.

Within moments, the shooter had put three bullets into her father, then turned on her mother.

Alonzo writes: "Standing by the kitchen table and in front of the washing machine, she was unarmed; she held no knife, no gun, not even a chair to throw in her defense.

"She cried out 'Jesus! Jesus!'

"Without hesitation, with a cold indifference to her precious life as our mother, he fired a single bullet to her chest.

"The lead projectile clipped Momma's heart."

Alonzo's book begins with the evening of the shooting as she's running, terrified, down the street.

A first-time author, the Missouri State graduate says she worked with Bob DeMoss, a professional writer, in fashioning the narrative to read "like fiction," though the story is true.

Alonzo tells of the trials that sent Harris and Watts to jail; about testifying at 9 to what she saw; about returning to Satsuma to live with family.

Robert Nichols, wounded from the shooting, suffered from emotional stress and mental anxiety. He died when Alonzo was a teenager.

She and her brother Daniel were adopted by their father's sister, Dorothy Nichols.

But "The Devil In Pew Number Seven" is more than a harrowing tale of violence, intrigue and murder.

It is a story of forgiveness.

As a teenager, Rebecca received a call from Watts, asking for forgiveness.

She did not hesitate.

She says that "we live in a world with a legal justice system," and that this system prevailed in making sure Watts and others "were convicted and sentenced."

In order to free herself of "the pain" of what the men had done, though, she had to forgive them in her heart.

Alonzo says that the experience of reliving the past has churned up a host of emotions. "While I was writing the book," she says, she realized, "you have to forgive them again, and again.

"If you have the 'heart sting,"' as she calls it, "you have to forgive them again." She is over the heart sting.

"I'm stronger for having to go through it again," she says. By telling their story of faith and determination -- and compassion -- she feels gratified, she says, "to know my parents didn't die in vain."
Roy Hoffman writes for the Press-Register in Mobile, Ala.
Calling all HuffPost superfans!
Sign up for membership to become a founding member and help shape HuffPost's next chapter