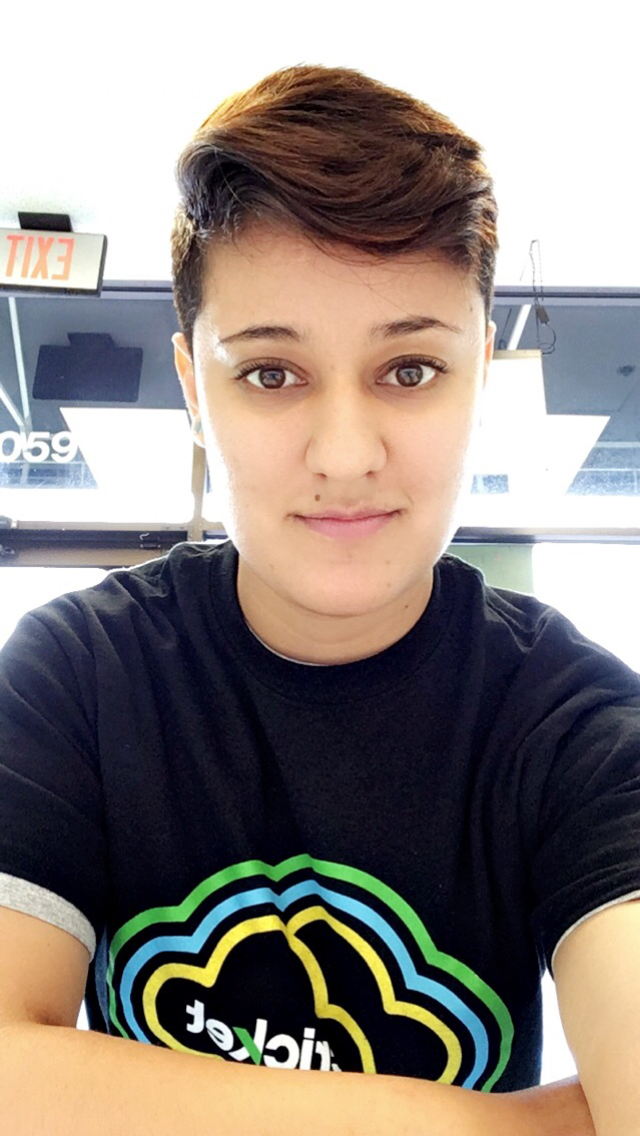 WASHINGTON ― Federal immigration authorities arrested a 22-year-old woman in Jackson, Mississippi, on Wednesday shortly after she spoke to the media about the detention of her family. Law enforcement had initially declined to arrest Daniela Vargas, who was previously granted deportation reprieve under the Obama administration's deferred action program.
On Feb. 15, Vargas was half-asleep at home when Immigration and Custom Enforcement agents came for her family. Her father, a house painter, kissed her goodbye on his way to work and was apprehended in the driveway, Vargas told The Huffington Post last week. She says she never saw her brother, a construction worker who was also detained.
Vargas' family came to the U.S. from Argentina over 15 years ago. She'd previously had protection under the Deferred Action for Childhood Arrivals program. The program now has an uncertain future under President Donald Trump.
When the agents arrived, Vargas had a problem: Her DACA status, which has to be renewed every two years, had expired ― and because of the high cost of renewal, $495, her application had only been received on Feb. 10. (Vargas provided HuffPost with a copy of her receipt.) Scared, Vargas went into her house, locked the door and hid in a closet for hours while she sobbed and called her mother. Eventually, she says, ICE agents forced their way in with a warrant, guns raised. The house was searched ― officers had previously found a gun, which Vargas said the family owned for protection ― and she was handcuffed. As local news reporters arrived, she was eventually released.
Agents declined to arrest Vargas at that time, she told HuffPost. Her father and brother were sent to a detention center in Louisiana, where they now await deportation. (An ICE spokesperson at the time described their detention as routine enforcement.)
When Vargas last spoke to HuffPost, in an email on Tuesday, she said she was scared she was being watched, and was moving around because she was "afraid to stay in one spot and be taken back to Argentina."
Vargas told local news outlets about her story. On Wednesday, she spoke at a news conference organized by local immigration advocates to highlight immigrants' contributions to the community, according to her attorney, Abby Peterson. Afterward, she was pulled over and arrested, and is now being processed by immigration authorities.
"It could be retaliation," Peterson said. "They had been reading about her in the news, they had seen her at this press conference... [maybe] they didn't want to hear it anymore. Maybe I'm mistaken on that, but common sense would certainly imply that's what happened." Peterson said that Vargas did not have a criminal record, but had minor traffic offenses.
An ICE official said on Wednesday that Vargas was not initially taken into custody on Feb. 15 because she claimed she had DACA status ― but ICE subsequently verified that she did not.
Vargas was taken into custody on Wednesday during a "targeted immigration enforcement action," the official said. A federal immigration judge will now determine whether she is eligible for immigration relief.
Under DACA, undocumented immigrants who entered the U.S. before the age of 16 can receive two-year work authorization permits. So far, more than 750,000 so-called Dreamers, named for the failed Dream Act that would have granted them legal status, have received DACA permits. The Trump administration is still issuing new ones, although immigrant rights organizations are advising people not to enroll for the time being.
Department of Homeland Security officials claim that DACA recipients are not being targeted for deportation. But advocates point out that recipients still can be considered a priority for deportation under the Trump administration's guidance. And treatment of Dreamers has been haphazard over the past several weeks. Some people were left alone, like Vargas was initially. Others were detained and then released. A smaller number were arrested and remain in detention.
"It's like a roll of the dice," said Gregory Chen, advocacy director for the American Immigration Lawyers Association. "If the officer who picks you up along with other family members thinks, 'You're an OK kid, we're going to let you go,' maybe you're OK. But if somebody sees it a different way, you could be subject to enforcement."
DACA was never a complete guarantee of safety from deportation, and it can be revoked in certain cases, like if an individual is convicted of a felony or multiple misdemeanors or poses a threat to national security or public safety. About 1,500 people have lost their DACA status because of criminal convictions or gang affiliations, according to Homeland Security Secretary John Kelly. But immigrant rights advocates say it's highly unusual for ICE to detain or pursue deportation of DACA recipients who still have valid, current authorization.
Trump has spoken in sympathetic terms about Dreamers and is maintaining the program, but his policies still put DACA recipients at risk, said Julieta Garibay, deputy advocacy director with the undocumented youth-led organization United We Dream. Trump said he would grant ICE agents more discretion to do what they want, rather than constraining them by telling them to focus on specific types of cases, and he has defined his own priorities so broadly that nearly any undocumented immigrant could be included.
"Even though the executive order doesn't say 'Oh, we're going to go get DACA-mented folks,' it is," Garibay said. "If you're going to deport anyone who has committed 'fraud,' that's every single undocumented person... For them to be like 'Oh, no, but we're not attacking DACA-mented folks' ― it's ridiculous."
Garibay pointed to the case of Daniel Ramirez Medina, a DACA recipient whom ICE arrested last month while agents were looking for someone else. Medina passed background checks for DACA twice, but ICE officials said after arresting him that he is a "self-admitted gang member" ― something Medina's lawyers say is untrue. He remains in detention as lawyers fight for his release in a federal court and immigration court.
Customs and Border Protection arrested DACA recipient Jesus Alonso Arreola Robles, 22, while he was driving with a 17-year-old boy about a mile from the U.S.-Mexico border last month. Officials said they suspected him of trying to smuggle someone into the U.S. illegally. He also remains in ICE custody.
Other DACA recipients were arrested by ICE but then released. ICE agents picked up Josué Romero, a 19-year-old Dreamer in San Antonio, for alleged possession of two ounces or less of marijuana, a misdemeanor. Romero had a prior order of removal from 2004, according to ICE officials, although he received DACA authorization years later in spite of it. He said later that ICE put him on a van to be deported to Honduras, but then released him.
Edwin Romero, a 26-year-old DACA recipient, spent a night in jail last month because ICE asked police in Richardson, Texas, to detain him after an arrest for outstanding traffic warrants. He was eventually released from the jail before going into ICE custody.
Both cases received public attention that Amy Fischer, policy director with the advocacy group RAICES, said was crucial to each man's release.
"ICE's essential policy is they're going to try it and try to get away with it, and unless they're held to task they're just going to deport whoever they want to deport, even if the person is supposed to have reprieve from deportation," Fischer said.
Vargas will be sent to Louisiana for detention, her attorney said, noting that when she told authorities about the pending DACA case, it didn't make a difference.
Senate Minority Whip Dick Durbin (D-Ill.) tweeted Wednesday afternoon that he was in touch with DHS to get more information about Vargas' case. "Disturbing that ICE may have followed her from an immigration press conference," Durbin said.
Before she was arrested, Vargas told HuffPost she was saving money to go back to school, where she wanted to study to be a math professor.
"We weren't here doing any harm," she said. "We were just going to work and going to school. I feel like I belong here... I feel like I am an American."
This story has been updated to include Durbin's remarks and ICE's comments.
Popular in the Community