This is a follow-up to a post I wrote last month about Amazon's new Buy Button policy. That post described what the policy is—Amazon allowing third-party sellers to "win" the Buy Button and sell "new" books in that prime piece of real estate on a given book's primary page listing. I also expressed my belief that the policy harms publishers and authors. I raised more questions than I had answers for then, but I've spent the past month talking to industry folks and shopping on Amazon and I wanted to share the results here. (I also invite you to join the Independent Book Publishers Association and its Advocacy Committee (which I chair) in a fun sleuthing mission we're launching—see Call to Action below—to expose whether or not the books being sold by third parties are in fact "new.")
What Qualifies a Book as "New" on Amazon?
According to Amazon, what makes a "new" book is pretty straightforward:
New: Just like it sounds. A brand-new, unused, unopened item in its original packaging, with all original packaging materials included. Original protective wrapping, if any, is intact. Original manufacturer's warranty, if any, still applies, with warranty details included in the listing comments.
Except that it's not so straightforward when it comes to books. Books are not sold in original packaging with packaging materials included. The only protective layer books have around them are their covers/spines. Books are easily damaged in transit, and as such they're often deemed "hurt" (a returned book that may have been slightly damaged).
According to Ware-Pak, a warehousing, distribution, and fulfillment service for authors, a hurt is "worn and cannot be sold as new."
These slightly worn books are placed into a bin to be eventually sold off to one of the remainder wholesalers.
I know that a number of industry players have been in contact with Amazon since this whole Buy Button policy thing got out more widely. I've even communicated by email with someone at Amazon who expressed interest in having a call, but then wrote back to say she was "booked solid" and welcomed my questions by email. I sent a list of my concerns last week and haven't heard back.
My biggest and most pressing concern is this: Who's holding the third-party vendors accountable for selling "new" books? It certainly isn't Amazon. As I mentioned in my first post, if I'm a consumer who's getting a steep discount, like one-third or more off the list price, am I going to issue a formal complaint because my book has "shelf wear"? Most likely not.
Three of three books I ordered this month from the Buy Button had significant enough damage to be qualified as "hurts" by my distributor's standards. Please note Ware-Pak's language above, in which they express these books "cannot be sold as new." But Amazon just created a sales channel by which they're overriding that "cannot" and making it really easy to sell shelf-worn books as new.
SAMPLE IMAGES OF BOOKS BOUGHT BY ME VIA THE BUY BUTTON (ALL SOLD BY THIRD-PARTY SELLERS)
Sample 1. Duck Pond Epiphany, by Tracey Barnes Priestley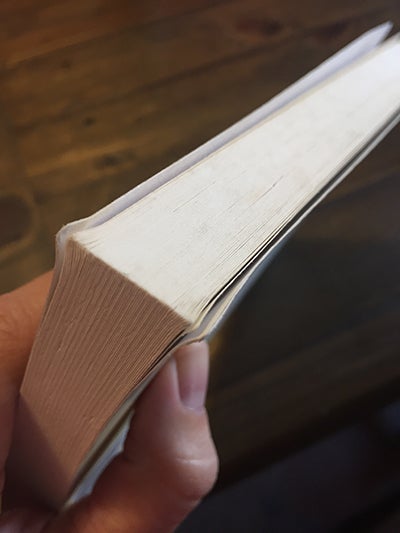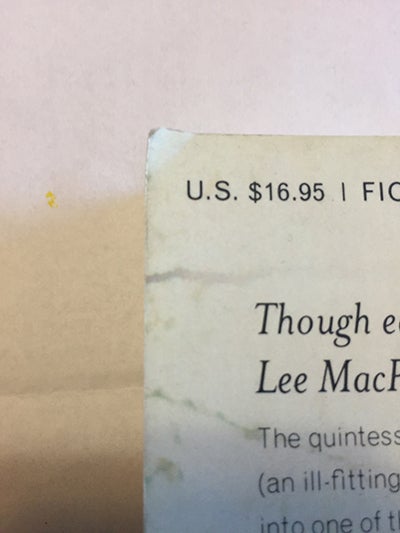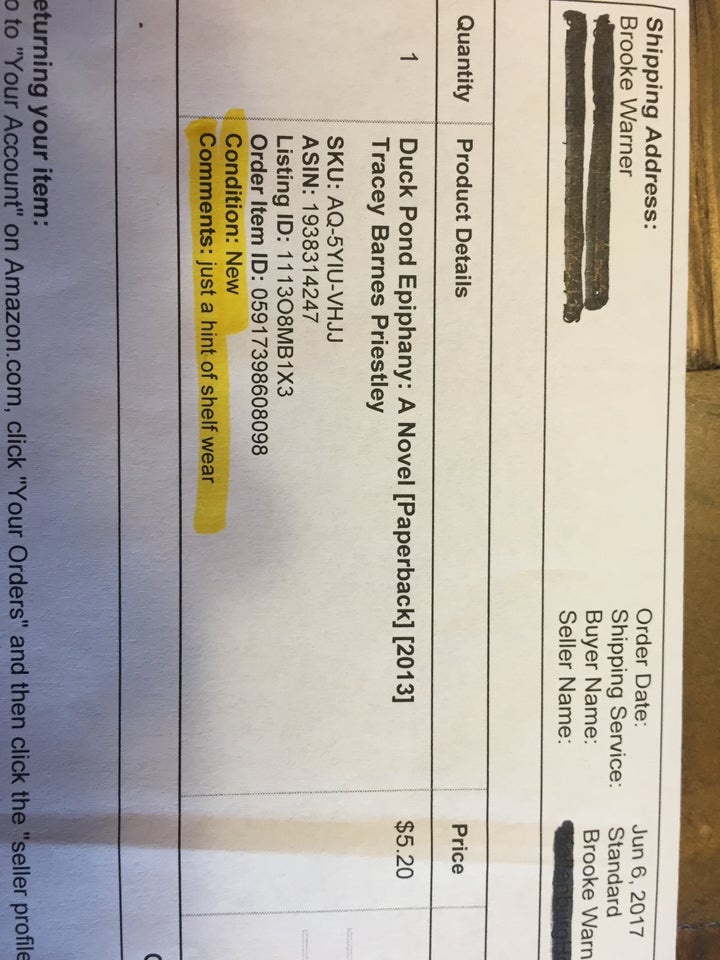 Sample 2. Americashire, by Jennifer Richardson (She Writes Press)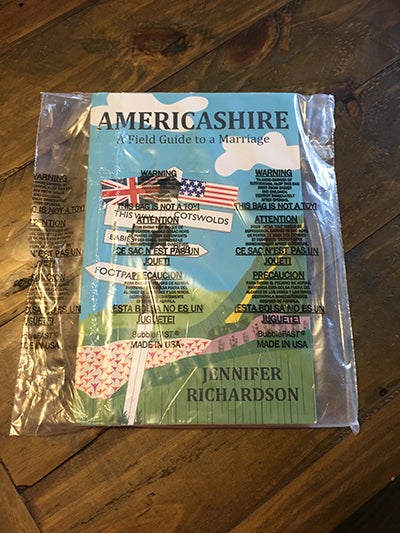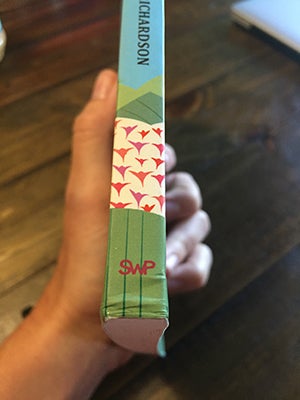 Sample 3. Second Wind, by Cami Ostman (Seal Press)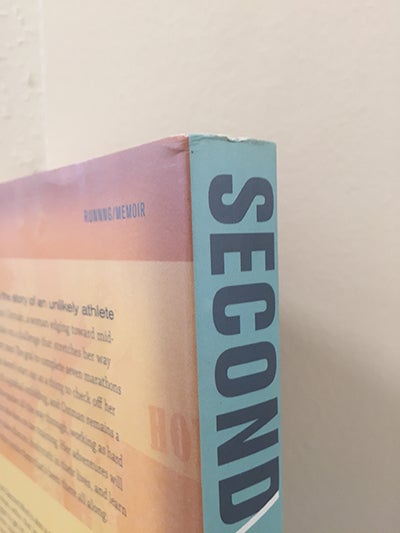 Where Are These "New" Books Coming From?
There has been a ton of speculation on this, but it's clear to me from conversations I've had this month that the underground market for "new" books is huge. Here's what people have told me in response to some of my inquiries this month:
1. In one case, a review outlet I know of told me they sell books—that they get for free from authors and publishers for the purpose of reviewing—to a used bookstore. When I contacted said used bookstore, which has a huge online presence, they didn't want to talk on the record. Shocker. They actually wrote to me to say: "We aren't comfortable officially commenting." (For the record, I don't want to blame the review site here. There's been a long tradition of offloading books to third-party vendors. The damaging change here is that now these vendors are selling used and promotion copy (aka, free) books as "new," thanks to Amazon.)
2. Someone I started conversing with online shared that he used to be a third-party seller on Amazon and that he got the majority of the stock he sold (on Amazon) from Amazon itself. Amazon unloads its own inventory onto third-party sellers and then takes a cut for those sales (15% + $2.50/book, more or less). This person shared that in order to make a profit (of .30 cents!) he could sell books on Amazon for $3.99 plus shipping. He also shared that books that were "like new" never sold as fast as books that were deemed "new." (Let me say that in these scenarios the original order would have been placed by Amazon to the publisher, so it's not that authors or publishers aren't being paid in these situations, but it's egregious opportunism on Amazon's part—and sure, it's their site, so they get to be egregiously opportunistic, you might argue. But Amazon gets (often pressures publishers/distributors for) better discounts. Oftentimes they negotiate these better discounts by taking "non-returnable" orders. So of course when they buy a boatload of copies that aren't selling, they're disposing of them to third-party sellers who pay them a percentage plus a fee for the honor—and now Amazon has found a way to highlight those books to make it more attractive than ever for third-party sellers to WANT to help Amazon offload that inventory.)
3. Amazon's marketplace is so completely unregulated that even Advance Reader Copies (ARCs) are being sold via third-party vendors. While this is not a Buy Button scenario, one of my authors saw her ARC (which is specifically marked as NOT FOR SALE) for sale on Amazon in one of the 30+ listings for her used books. She contacted the seller to ask them to take it down. It took three tries before they finally agreed. I only bring this up to say that third-party sellers likely range from decent folks figuring out a way to pull in a little money—like 30 cents on a book sale (which I suppose only makes financial sense if you're selling in major bulk) to people who either don't know or don't care about Amazon's policies or who don't know or care about the ramifications of selling used books as new. Obviously Amazon doesn't care, so there's a trickle-down environment of complete disregard throughout the entire marketplace.
Call to Action
Please join me and the IBPA in an effort to bring to light just how much selling books that are "less than new" in the Buy Button position may not be going on over at Amazon. (Read IBPA's post here.) Do this by purchasing your own book, ONLY IF it's for sale in the Buy Button from a third-party seller, and then reporting back to us by posting your images showcasing the books condition on IBPA's Facebook page. Or post on your own social media using the hashtag: #IBPAAmazonBuyButton.
If Amazon is unable to control the inflow of used books being sold on in Buy Box, then it needs to change its policy back to what it was before—where publishers' actual "new" books are being sold in the Buy Box. No one begrudges Amazon selling used books. That's been happening forever, but this new policy is misleading, dishonest, and, as with nearly so many things Amazon does, dismissive of stakeholders. It's also outright edging publishers and authors out of future sales in favor of unloading its own overstock.
There's a lot that that publishers can do—and are going to have to do—to plug these holes, which will need to be tackled in a future post. But in my email to the Amazon person who was too booked solid to talk, I asked her, rhetorically I guess, if the onus was on the publisher to police these third-party buyers. Do we have to buy our own products on Amazon to see if the books that are being sold are in fact in "new"? I asked. She didn't respond, but I doubt she's thinking on it. But maybe if we can get enough of you to participate and report back, we can actually make a change. I hope the big houses will apply significant muscle to Amazon to get real answers on these questions. As an indie publisher who advocates for indie authors I know I don't have a lot of muscle. As countless people pointed out to me in the aftermath of my first post on this topic, "Amazon doesn't give a f*** about you." As if I needed the reminder. They also apparently don't give a f*** about their reputation, though I think they should, especially given the extreme loyalty indie authors have shown to Amazon over the years. (Anyone remember this gushing letter of support from self-published authors?) But why would Amazon give a f*** even about their loyal indie authors if we don't push back? I hope you'll check your Buy Buttons and help Amazon monitor their vendors if they're unwilling to do it themselves.
Popular in the Community