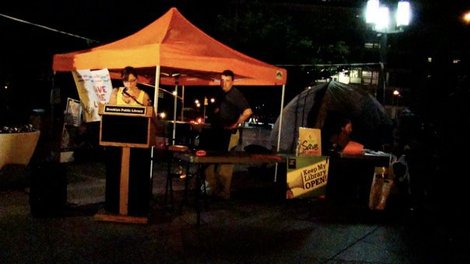 Librarians, authors, and library advocates will ONCE AGAIN read around the clock for libraries in New York City. When we started this event we thought it would be a one off. Now in this seventh year we are still fighting for more funding for libraries, still pushing to keep libraries open and staffed, still trying to get the buildings fixed and the collections healthy. This year we will be just to the right of the main entrance of the iconic Stephen A. Schwarzman Building at New York Public Library on 42nd street and 5th Ave.
We have seen an incredible outpouring of support from local authors. These writers understand the importance of libraries, both as safe havens they themselves have enjoyed and as incubators of literature and culture in our communities. It's a wonderful lineup including a rich Family Storytime on June 5th.
Saturday June 4th
4:00 PM Cecily Von Ziegler author of the Gossip Girl Series and Dark Horses forthcoming from Soho Press
5:00 PM Sarah Gerard, Essayist, Author Binary Star
6:00 PM Bridgett Davis,Writer, Essayist, Filmmaker, Author Into the Go-Slow
6:15 PM Mia Alvar, Author In The Country
7:00 PM Maud Newton, Writer, Essayist, Critic
Children's book authors and illustrators fill Family Storytime on Sunday June 5th from 9AM - 1PM
Our Children's Author Lineup currently features
10:30 AM Sophie Bell - Author The Ultra Violets Series
10:45 Kat Yeh - Childrens book Author Truth About Twinkie Pie & more
11:00 Kyle Luckoff, childrens' librarian and whose debut picture book, A Storytelling of Ravens, released by Groundwood Press in 2018
11:15 Zetta Elliot - Children's Book Author A Hand To Hol, I Love Snow and more
11:30 Veera Hiranandan - Children's Book Author Phoebe G. Green Series
11:45 AM M.D. Payne - Children's Book Author Monster Juice Series
12:00 Noon Paul Zelinsky - Classic Picturebook Author and Illustrator
12:15 Rita Meade - Children's Librarian and Author of Edward Gets Messy (Sept. 2016)
12:30 PM John Parra - Childrens Book Author and Illustrator: Round is a Tortilla
12:45 PM Lucy Ruth Cummins - Children's Book Author: A Hungry Lion, The Taking Tree
The 24 Hour Read In is a perfect analogy for libraries in New York City. Every minute of every day around the clock there is someone using the library to improve their situation or even just be entertained. Our library advocates will be the voice speaking out for all the unknown and unseen patrons who use the libraries every single day.
Last year was a huge win with $43 million in new funding but that still has levels below 2008 with more demands on the libraries than ever. Usage is up, the range and scope of the work that libraries do has expanded in new directions and needs new resources and expertise. Brooklyn Public Library, New York Public Library, and Queens Library have hundreds of new library staff providing great service but those staff need to be baselined in the budget. Their library buildings still need hundreds of millions of dollars of work and their services keep expanding.
Admission to the Read In is free and open to the public. Come out and celebrate libraries in New York City. We will be up all night in the city that never sleeps raising a ceaseless voice for the libraries that don't quit.
Calling all HuffPost superfans!
Sign up for membership to become a founding member and help shape HuffPost's next chapter