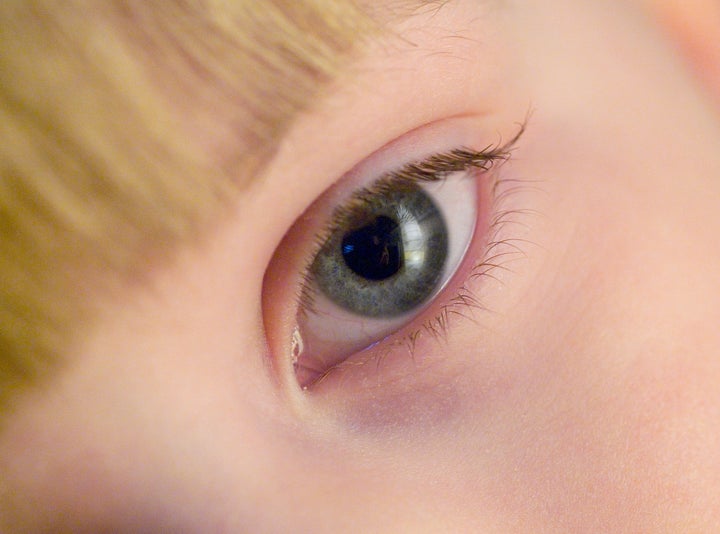 Eyes may be the key to the soul, but the act of opening and closing them -- and the rate at which children do it -- may provide clues to the mind. According to a new study, "blinking patterns" might contain new insights into how children with autism think.
Led by Warren Jones, Ph.D., Director of Research for the Marcus Autism Center at Emory University, the study measured how young children blink when watching a video. The idea for the research originated with an observation made by graduate student Sara Shultz, of the Yale Child Study Center. "[She] saw that while kids were watching [a video], they were blinking less than before or after the video started to play," Jones told The Huffington Post. "We usually don't pay attention to blinking, so that set off a train of ideas in our minds."
Jones explained that during the moment we spend blinking, we lose visual information. Therefore, less frequent blinking can indicate that an individual is more interested by, attracted to, and engaged in whatever is going on around them.
The research team decided to use this concept to study children with autism, comparing the blinking patterns of normally developing 2-year-olds with the blinking patterns of 2-year-olds on the autism spectrum.
"This is a new tool for us to try and understand ... what kids with autism are most drawn to, what things are distracting kids from learning or what things are naturally attractive," said Jones, adding that he and his fellow researchers hope to "use those things in the case of intervention."
The children in the study were shown a video of a boy and a girl playing. The 2-year-olds who did not have autism generally blinked less frequently when watching the more emotional parts of the movie, while the autistic children blinked less frequently, by an overwhelming margin, when they were watching objects and physical movements.
Information about patterns like these could have big implications when it comes to developing new ways to interact with children who fall on the autism spectrum. "Knowing what factors are naturally driving their attention ... could help everyday learning situations," Jones told The Huffington Post.
And although parents can't really learn anything from looking at the way their kids blink -- these kind of measurements require high-tech laboratory equipment -- parsing what attracts a child's attention can help parents better understand how children with autism interact with the world.
"For parents of kids with autism, one thing that can be a struggle is ... understanding what that child's experience is like. When a kid with autism gets frustrated it's hard to know what's driving that frustration," said Jones. He hopes that this research can lend a helping hand.