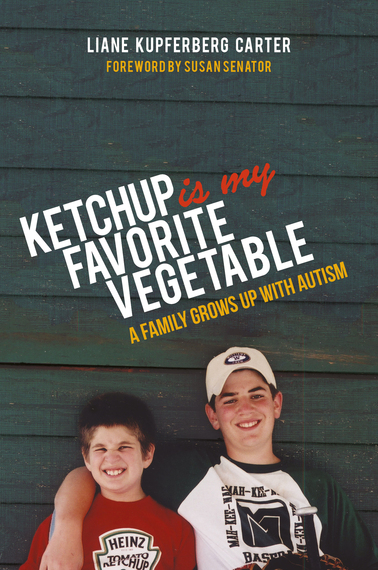 When my son Matthew was first diagnosed with autism, I found the most support and inspiration from reading stories of other parents who had raised children like mine. Favorites were Raising Blaze by Debra Ginsberg, The Siege by Clara Claiborne Park and A Slant of Sun by Beth Kephart. I was later inspired by books by Claire LaZebnik, Susan Senator and many others.
Now there is a new must-read memoir, Ketchup is My Favorite Vegetable: A Family Grows Up With Autism by Liane Kupferberg Carter. I have been a fan of Liane's for quite a while. I first discovered her essays in the New York Times Motherlode Blog. I believe I sent her comment to the effect of, "Wow, you sure can write."
I was honored that she granted me an interview. Here it is:

Q. I'll never forget the first red flags that I noticed before my son was diagnosed with autism. In your book, you talk about the ones you noticed. Did you find yourself comparing Mickey's development to you first typically developing son Jonathan?
Absolutely. Jonathan hit all the developmental milestones just the way the parenting books predicted he would. Mickey didn't. There's a wide variation on what's considered "normal," but the biggest red flag for us was that Mickey wasn't imitating language or play. I'd chronicled all of Jonathan's developmental milestones in one of those "Baby's First Year" books, and I had a book for Mickey too. The books sat side by side on a shelf. It was impossible not to compare.
Q. Sometimes I think back on all of the therapies we tried with Matthew. Of the more mainstream therapies, did any seem really promising but didn't deliver? And of all of the treatments, which worked best?
It's hard to tease apart what worked from what didn't, especially if you're doing several therapies at the same time. We tried all the mainstream therapies. We saw the clearest benefits - or the most easily quantifiable ones -- with ABA, because you take data. I know ABA is controversial -- I understand the objections that autistic adults have raised. We focused on ADLs (Activities of Daily Living.) Mickey couldn't bear haircuts or visits to the dentist, so the therapist broke it down into discrete steps. First they sat in the dentist's waiting room. Then they practiced sitting in the dentist's chair. They worked up to letting the hygienist look in his mouth; then he allowed her count his teeth. It took a few months, but eventually he was able to tolerate a routine dental cleaning. We used the same methods to teach him how to get through a haircut, swallow pills (practicing with Candy Dots and M&M's), use an electric razor, and other tasks.
The other "therapy" that was effective wasn't exactly mainstream -- it was an outgrowth of physical therapy. We found a one-to-one sports coach. Not only did he teach Mickey specific skills such as riding a two wheel bike, he helped him to interact with other players in basketball, and to recognize the rules in games. He also schooled him about professional teams and players. Essentially he gave Mickey a sports vocabulary. Spoken language is still hard, but now Mickey is able to make small talk about sports, which is a lubricant for social situations. Mickey likes to read the sports pages of the New York Times and follow the standings. As your son Matthew might say, it helped Mickey be "a regular guy."
Q. What was the best piece of advice someone gave you?
"Enjoy your son right now, because he won't be a child forever." Those early years were difficult. We struggled to create an ordinary, happy family life while dealing with the extraordinary needs of an autistic child. We celebrated every one of his accomplishments. Many of his milestones were hard-won, so we never took any of them for granted. Yes, you do get all caught up searching out best treatments and therapies, but the best bit of advice I got is one I like to pay forward: don't let your fears of the future rob you of the pleasures of the present.
Adolescence. It wreaked neurological havoc. Mickey's seizures were out of control for many years. Adolescence is a particularly rocky time for kids with special needs because the social skills gap widens significantly between them and their typically developing peers.
Q. A time Mickey surprised you?

There have been so many! Here are two:
His last year in school, all on his own he asked a girl to the prom. Then he insisted on going to the florist, and paying for her corsage himself.
He also surprised us recently when he was watching the World Series. He was rooting for the Mets, and when they started losing, he got so mad he yelled, "That's it! I can't take anymore, I'm out of here!" and slammed out of the room. I know I shouldn't laugh at that, but it was so typically male. My brother behaves exactly the same way - my sister-in-law says she can't bear to be in the same room with him when his team is losing.
Q. What effect has Mickey's autism had on his brother? (Sorry-EVERYONE asks me this!)
Jonathan loves Mickey deeply, and it's mutual. Mickey adores his big brother. When Jonathan left for college, Mickey was so bereft he got teary and actually asked, "Are we divorced?" I think siblings are the profoundly unsung heroes of autism. I've never liked the expression, "special needs." If we say children with disabilities are "special," what are we implying about our other children? That they are "ordinary?" I remember one of Jonathan's elementary school teachers saying to me, "His affect is surprisingly mature." It was, and is. He's grown into a man I love and admire. He's wise. He's also charming and funny. And handsome. Totally unbiased opinion, of course.
Q. Mickey's most endearing quality?
It's a tie. First, his empathy. He cares so much about other people's feelings. He frequently comes home and tells me that one of his friends was upset that day, and how he tried to comfort that friend. Second, his wonderful sense of humor. He's playful, he's sunny, he's impish. People tell me they find him very charming.
Q. What is one piece of advice you'd offer to parents of newly diagnosed children?
Take care of yourself. A study released a couple of years ago found that autism moms have stress levels similar to combat soldiers. There's nothing you wouldn't do for your child, but you count too. I'm not saying you should spend a week at the Ritz-Carlton Spa, but you're no good to anyone if you don't stay healthy and strong. Because as all special needs parents know, we need to live forever.
--------------------------------------------

REAL LIFE. REAL NEWS. REAL VOICES.
Help us tell more of the stories that matter from voices that too often remain unheard.