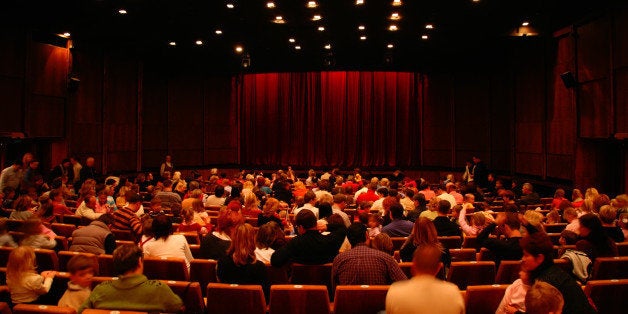 A theater company is introducing a new program in an effort to make moviegoing more enjoyable for individuals with autism.
Canadian company Cineplex Entertainment teamed up with Autism Speaks Canada to launch "sensory friendly screenings," where every few weeks, select theaters will offer a movie in an environment where people on the autism spectrum and their families can feel more comfortable. Last Saturday, Cineplex theaters hosted their first screening of its kind, showing of "The SpongeBob Movie: Sponge Out of Water."
The usual movie experience poses some challenges for people with autism and their families. The theater effects can be uncomfortable for children with the disorder, and many parents say they fear distracting other other moviegoers.
"He'll start to get loud if it's too uncomfortable for him, and ... that's distracting for other people, so it doesn't work very well," Bonita Harman, whose son, Blake, has autism, explained to CBC News regarding the struggles of attending a typical movie

The sensory screening venues have a "calm zone," where parents can take their children if they need a break from the movie, according to CBC News. And while the usual movie experience involves dramatic sound and lighting, the special screenings feature increased auditorium lighting and quieter volume as well as smaller crowds. For kids with autism, movie-watching becomes much more pleasant.
On top of the change in environment, the screenings also provide understanding among families, who say they often fear judgment from other viewers in a typical theater setting.
"If you're in a room full of people who have kids with autism, they're not going to judge you if you get up with your kid and go out for a few minutes and then maybe come back or something like that," Shannon Hill, another mother whose child has autism explained to CBC News. "Or if your kid starts yelling or clapping, nobody's going to care about that kind of stuff."
Calling all HuffPost superfans!
Sign up for membership to become a founding member and help shape HuffPost's next chapter
BEFORE YOU GO