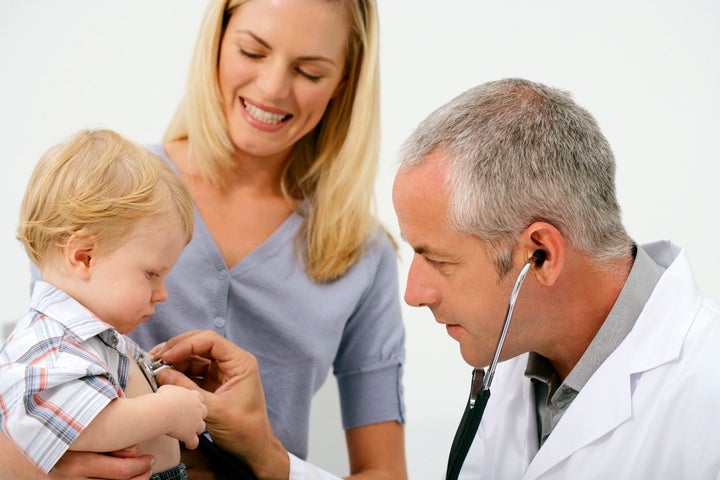 When toddlers arrive at Dr. Monika Symms' office for their routine 18-month visit, the pediatrician gives parents a survey screening their children for autism spectrum disorders (ASDs). She does this always, regardless of whether they have raised autism as a concern.
Symms' practice, Tribeca Pediatrics, developed the survey in accordance with guidelines from the Centers for Disease Control and American Academy of Pediatrics. It includes 23 questions, but Symms says she pays particular attention to four: Is the child bringing you objects, making good eye contact, pointing at things and responding to his or her name? If not, it could be a red flag, prompting further evaluations to determine whether or not that patient has an ASD.
"I think that routine autism screening is absolutely important," Symms told The Huffington Post. "There is so much misinformation and fear out there. It's a great tool."
But a new study released Monday suggests otherwise.
Researchers questioning if routine autism screening is actually an effective public health tool conducted a sweeping search of the existing scientific literature. They determined that there is not enough evidence to support the implementation of routine screening for autism. The conclusion flies in the face of AAP's current support of the practice. (Interestingly Pediatrics, which published the article, is the organization's official journal.)
To arrive at their conclusion, the researchers asked seven different questions about the efficacy of screening. Of those, co-author Dr. Jan Willem Gorter of McMaster University in Canada, singled out three as the most important: Is autism a disorder that has a significant impact on the lives of people, are the tests effective and are there sufficient tools to help patients after a diagnosis?
Gorter said the researchers found that ASDs absolutely do have a clear and significant impact on the lives of people. But they found that current tests to diagnose the disorder were not effective enough -- lacking specificity, sensitivity and proven predictive abilities.
As for the third question, the researchers concluded there was no "strong evidence" of the effectiveness of current autism therapies, adding that their availability is still limited.
"Many therapies are available, but none has curative outcome or even well-established efficacy to change the course of the condition," they wrote. "The financial burden of the treatment can be extremely high, and cost-effectiveness has not been demonstrated."
Gorter was quick to caution that there is a big difference between routine screening -- which means surveying everyone, including apparently healthy people -- and clinical surveillance, which means surveying those who present with impairments that indicate a possible problem.
"We as a group think that if parents have concerns, they should go for surveillance," Gorter said. "But routine screening doesn't necessarily address that and at this point, it may be premature."
The AAP, which currently has 60,000 pediatrician members, currently recommends all children be screened at specific intervals, regardless of whether a concern has been raised, saying that pediatricians play a key role in early recognition of disorders.
Other groups have also thrown their support behind that recommendation.
In an email, Dr. Geraldine Dawson, chief science officer of Autism Speaks, the nation's largest autism science and advocacy organization, said the group supported the AAP's recommendation that children be screened at their 18 and 24-month checkups.
"Early intervention has been shown to result in significant increases in cognitive and language abilities and adaptive behavior," she said, "allowing children the best chance for a positive outcome."