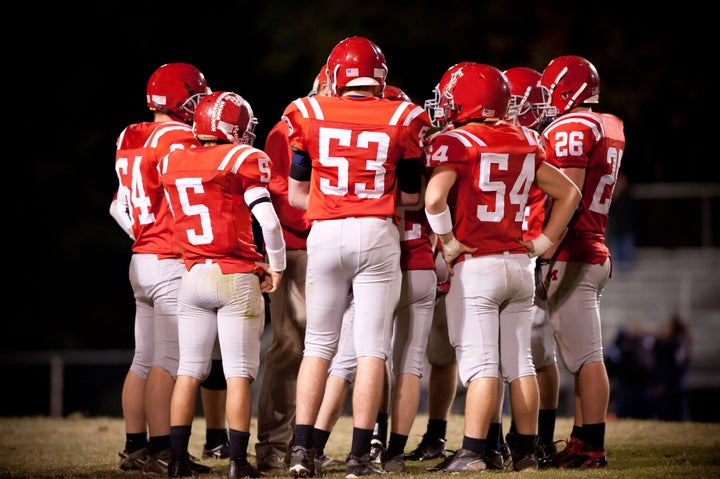 For Part One of this series, please click here.
For Part Two, please click here.

I recently took C.C.'s younger brother, Duke, to the high school Robotics Tournament at the Jacob Javits Center in Manhattan, wherein transpired a spectacle similar to pro wrestling -- albeit with brains.
Forget the hand-held controls for a moment: Non-athletic youngsters competed in full; and additionally, a large crowd of fellow-geek, school supporters cheered their peers. Teams of youngsters danced in the stands utilizing symmetrical, ritualistic moves; and in between matches, a bulkier version of the traditionally-objectified "scorecard girl" paraded around the arena with noticeable self-confidence. The aura was fantastic, as a differentiating audience obtained some semblance of the respect that traditional sports outlets receive. FedEx had provided transportation to some of the competing schools (representing countries like Brazil and Mexico), scoring graphics blared on giant screens, and exhibitors outside the arena -- representing Google, Lego, and engineering clubs -- catered to a historically-ignored (if not once-belittled) crowd.
Duke, 8-years-old and almost 10 years younger than C.C., enjoyed the "games" immensely; and this gave me great satisfaction because unlike C.C. and I, Duke is in danger of succumbing to some of the unhealthier aspects of traditional sports. Whereas C.C. and I have had to work hard at our baseball acumen, Duke can do anything, and in any sport, just by picking it up -- he is that gifted. The lucky recipient of his mom's genes, he is the first in our family to be a natural hitter in addition to owning a gun for an arm, and he looks to have a huge season for his travel baseball team. Yet baseball is not his #1 sport: A travel hockey player since he was six, he is a natural defenseman who embraces the physical part of hockey like no one I've yet seen in his (AA level) league. Duke also plays anything and everything (especially hockey) with an abandon and confidence that gets him noticed. And so he is praised heavily by communities that don't often know too much about the diagnosis that his father and older brother have (Duke shows shades, as in playing with no toys other than Legos; but he is not "one of us").
The danger for him is that we never truly love ourselves because we're talented. We might become smug through talent, and assume that this is self-love, but it isn't. Talent is something that drops in your lap, not something you earned; whether it's math ability or athletic ability. To cite but one example: Duke is commended for his skating speed. But in truth, he barely moves his feet. He is so strong that when he pushes off the ice with one skate, that for someone his age he gets tremendous power and therein is thought to be a fast skater. Yet those in the know see that with more effort, he'd be unreal. And so he receives compliments for something he works very little at. So we try to teach him that we only love our inner us when we both believe in ourselves, and try to exert more effort than the next person. For all our world's behavioral progress, nothing beats a good, old-fashioned work ethic for true inner pride.
But to be fair, we don't worry that much about him, as he is no jerk-in-waiting. Duke is an extremely sweet, well-behaved young man who does well in a rigorous academic (public school G&T) program, who just loves to bang bodies and block shots. But try telling this to the parents of the other hockey team, when a game has to be stopped because their child can't get off the ice after a collision with Duke. To hear them scream for their kids to "Get number 3!" or "Don't take that from #3!", believe me -- it's a shocker experience for a father. But events such as this Robotics extravaganza, seeing chess tournaments, spelling bees, or watching the Math Olympics -- in my hope -- will create the pluralist we desire Duke to be; without touching such beautiful, physical passion.
C.C. helps herein. Still in awe of how easily things come to his brother, he sees a role for himself, not an injustice played upon him for not having Duke's ability. C.C. knows that Duke will need him to help teach the lessons of effort. And Duke will listen because Duke worships his older brother. His playing style contains an aggression that cannot exist off the ice. But not only does he reassure us with his off-ice demeanor, we also love that he plays that way. Being scared sucks in any form -- period. Duke, therein, is an inspiration to watch.
Duke asks while sitting; "Aren't video games competing too?" And "yes, they are," I say. "But the danger there is that someone can play video games 24/7." This notion of competition that I write about here, and discuss with him "needs to be a supplement, not a blueprint, for who we are, or hope to become."
Duke then squares his eyeballs, and laughs like I'm nuts: "What's a 'blueprint'?"
My next semi-pro game after my "5 up, 5 on" debacle (see Part 2) was rained out, and I was crushed, as I am with any rainout. Every experienced coach knows that even in the blandest of games, there's a chance some kid will do something they'll remember for the rest of their lives. And every rainout washes away such possibility. Yet compounding this particular cancellation was the monkey on my back that I tried to hide from C.C.; that the nightmare of my last performance had not been forgotten, or dropped; as I had tried to teach him was the proper way to process such an event. The memory of my worst performance ever -- witnessed by my child -- would not leave. It existed at home, I brought it to work, and I knew that I needed to get back on "the horse that threw me" as quickly as possible. There was true pain herein, and I realized that maybe that bogus phrase, "It's just a game," has served our collective weaknesses as a white lie, on a white flag, when the pain becomes too much.
I had needed this whole season badly, not so much for winning or feeling young, but instead because I had a lot of work-related turmoil to resolve. Already an environment that (rightly) argues about vaccines, the value of autism research, or the word "cure," my autism/Asperger work year of 2012 had also consisted of fundraising struggles, testifying at the U.S. Congress' first-ever hearings on autism, fighting the new DSM, and doing weeks of media damage control after the tragic Newtown/Adam Lanza tragedy. The season had started great with second-place finishes for both C.C.'s high school team, and Duke's squad. But C.C.'s travel team and my semi-pro team were finishing the year on a very low note.
C.C. had the night free for my next game, and when we arrived I was told "We're stretched thin. You're starting." We were playing the Royals, and the Royals could hit. In two years with the Indians, I hadn't started a game.
Leaving C.C. without a word, in the state of trepidation for his father, I sought out Eduardo.
"You catching?"
"No, man! Let someone else catch. I've caught the last four games."
"I need you to catch."
However bad this year had been on us, Eduardo is that rare catcher who studies the body language of the hitter. Still a beloved hothead like the others, he constantly thinks, and can sometimes pick brilliant location spots. But in exchange for catching he had a demand . . . he wanted to call the game. Because of my seniority, I had been allowed to call all my own games thus far, using signs that I sent through body signals to the catcher. But Eduardo had me over a barrel and so I agreed. We came up with cues for the four-seam, the two-seam, the sinker, or the slider down and away. So soon thereafter, I took the mound and he crouched down.
Bad omen: I gave the first hitter a four-pitch walk. But the dirt was even, and I knew I'd find the zone. However, Eduardo was strangely calling for only four-seams. Establishing the fastball is important in the first inning for anyone, but I worried as, again, my fastball won't fool anybody.
The next batter grounded into what for us, was a rare double-play. Another groundout and we were back to the bench. My relief was massive, but unless Eduardo wanted to talk, I was committed to not looking at anybody as I went to sit down. C.C., doing the book, was clearly relieved too. But the game had just started.
In the bottom of the first, our guys got on base, and the noise started to increase. But because I was preparing to go 7 innings, not 1 or 3, I uncharacteristically sat quietly, watching the action between teammates legs as they all stood up on the rail. Johnny asked if I was ok, not used to my quiet. But long had I barked at C.C. to sit down, and conserve energy during his team's at-bats when he started, and in my first start in 33 years, I got to show my son again, not tell. A run scored. We actually had a lead!
In the second, the Royals scored two runs as our infield committed three errors. Hector, who jinxed himself at third by proclaiming before the game's start that he hadn't made an error all year, apologized to me on the bench about the ball that hopped over his glove. Ferociously, I yelled at him that he'd had my back all year.
The game went on, and Eduardo never called for a slider or two-seam fastball. I kept waiting for the strategy of 90 percent four-seamers to fall on its face, but it never did. The pitches still contained enough movement to induce groundouts and pop-ups. And as my teammates began feeling better, they cared more, dared to want more. I watched infielders twice make sacrifices to their bodies so that hard-hit balls wouldn't get through; a nobility we didn't often display that year. So I fed off these actions, and off their words during the solitary steps in between my pitches.
After striking out two in the 5th I walked back to the dugout, having allowed two earned runs so far, and we were down 4-3. The coach du jour said "Great game. You're done. Take right field." I said thanks, though I thought he was crazy to take me out. My stats for this game were average, but compared to what any of us had been able to muster lately? They were pretty special.
Other teammates concurred the congrats, and I thought C.C. would dissolve with relief.
Asperger's Schmasperger's -- the kids of coaches go through their own strange process of separating the part that is their father or mother, from the coach. They need to believe in the parent a little more than most, and the risk of disappointment becomes greater. Given the opportunity to judge that last, disastrous outing in the negative, I was overtaken by how supportive he had been. Too often I have said to him, "I am your father, not your friend." Yet what a friend he was.
Because of my crappy eyesight (I can't see signs, so Eduardo's been calling pitches through body signals), they're always crazy to put me in right field; and luckily, no fly ball has ever come near me. But when I'm out there, on every pitch, knowing no one can hear me, I mouth the words "Hit it to me," like a madman, even though it is best for us if no pop-up comes near me.
The Royals would blow the game open and we lost by ten runs. And five days later, our last game was rained out.
The parade grounds' field #3 is one of only three ballparks in Brooklyn that have lights, and we are fortunate to be able to play there, at night. As I said in Part II, we get few fans (and obviously, some hecklers) but we are so lucky to have that summer night sky. And every time that I am on that mound, I have since taken a moment to look at the stars; amazed and thankful that I am there, having gleefully stolen a place, or a roster slot from someone young.
Yet when I look, the moment is not all joy. Because of the difficulties in convincing the autism/AS world of this arena's benefits, or the value of both real and pretend strength; the sight of sparse twinkles has a modicum of tragedy for me--because I cannot share it. Blessed in my worklife to be able to give many things to thousands of people, I cannot convince them to trust me about this terrifying place . . . as I trusted Eduardo's pitch selection tonight, and gave myself to him; a man less than half my age who never saw half of the educational opportunities I got. If my experiences on this field are unique, what creep would want to keep it for himself? The smartest person at the dinner party, or the lone person standing after a bar brawl, is lonelier than most know.
But that night, in right field, the gratitude moment was tripled. The "5 up, 5 on" monkey was gone, I found out I wasn't done, even at my age, and C.C. had been shown (not just told) that every day really can be a new day--so let the bad ones piss off. This team might struggle, but I felt willing to suffer even more heartache, or more embarrassment so that I could continue to enjoy the feelings of belonging, and those private, mixed-emotion glances at the stars.
This three-part series was deceptive. For while the emphasis on a comfort with competition is as integral as I've described, the series isn't wholly about that, nor is it about aging, sports, or even Asperger's: This is about love. And in sacrificing our feelings, our opinions or standards, and our pride--the actions of love--for the greater good (or in this case, a baseball team); we actually do become one with others; be it teammates, fellow coaches, or more importantly, our families.
Someday, even if it happens after my time, the autism/Asperger world will know what they're missing.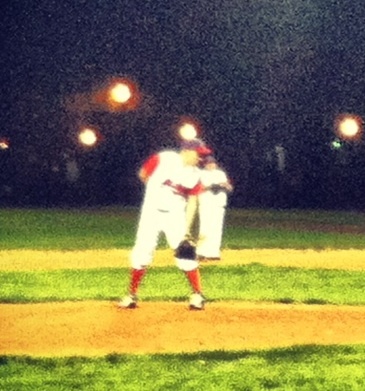 --------------------------------------------------------------------------------
Next Blog: "I Am Re-Evaluated Under DSM-5"
--------------------------------------------------------------------------------
Michael John Carley is the Founder of GRASP, and the author of "Asperger's From the Inside-Out" (Penguin/Perigee), "The Last Memoir of Asperger Syndrome" (TBD), and numerous articles. In 2000, he and one of his two sons were diagnosed with Asperger's Syndrome. More information can be found at www.michaeljohncarley.com
Popular in the Community