About this new column Carley writes, "Being (1) a brash New Yorker, (2) a blunt person with autism/Asperger's, and (3) a non-drinker, has made for an interesting move to Green Bay, Wisconsin. It's time for me to start telling their stories, even if it's through the context of educating me." To subscribe to his columns, or to suggest story ideas for this particular column, please see the information on Michael John at the end of today's story.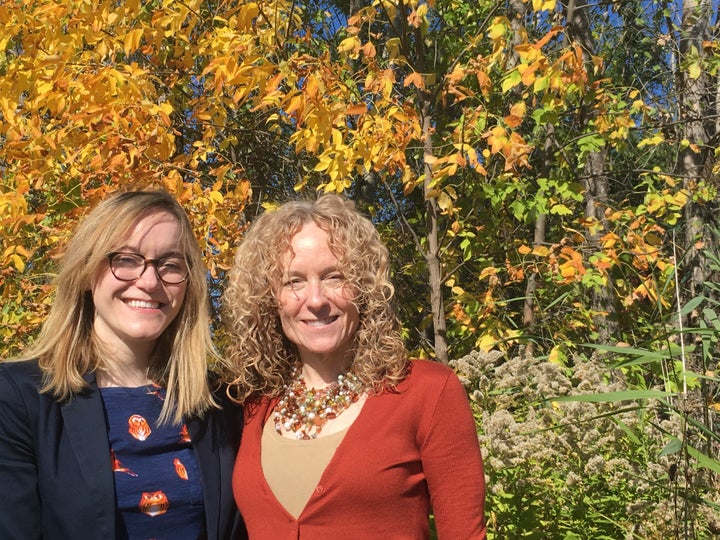 Caitlin Carmody, 29, knows very well what it is to live in a behavioral minority. Neurologically, she functions very differently than the rest of her family, and her way of thinking is especially marginalized since she works at the family-owned business.
As the Operations Manager for Green Bay's Spectrum Behavioral Health (SBH), a mental health clinic serving many local residents on the eastern portion of GB's Allouez neighborhood, she works under her mother, Clinical Director, Linda Carmody, 55; and every once in a while, her father, Kevin, 60, pops in to say hi. Her brother, Michael 28, is abroad studying neuropsychology, but he's still an influence. Caitlin even has a boyfriend whose wiring differs from hers.
Of them all, Caitlin is the only one who DOESN'T have an autism spectrum diagnosis!
"Are you the 'air traffic controller for free association?'" I ask, half-joking (quoting a mom that a colleague once came across).
Caitlin laughs. "Yes. I feel like a therapist 24/7."
Caitlin's parents were late diagnoses—adults who (like many) came to the discovery of their autism initially through their child. But it took a while, and the process was painful.
Like too many students before, and after him, the Green Bay Public School District missed Michael's diagnosis. At age 8 he was misdiagnosed with Schizophrenia (which, right or wrong for the eventual adult, is an inappropriate diagnosis for kids anyway)—Asperger's or autism was never considered.
But one day, an incident in Middle School escalated, and Michael was held down on the hallway floor and handcuffed. Amidst the emotions of the moment, as his chest was pressed to the ground, Michael threatened to kill the Principal. From then until he finally graduated and left home, the school system treated him as a pariah, and never attempted to restore his reputation.
(To clarify...Enlightened programs would agree that while arguably unacceptable, Michael's language under those circumstances was perfectly understandable.)
Once he left home, he was suddenly thought to be brilliant by those that surrounded him—in college, and now grad school, Michael has no plans to ever return.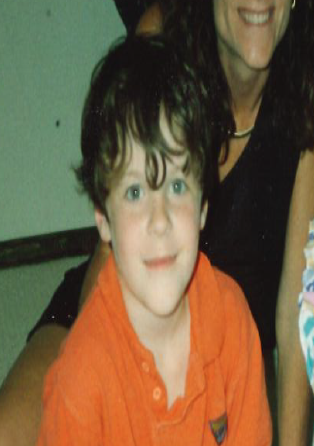 Linda felt something was up with Michael at an early age. But Kevin couldn't face it. It was the ultimate dad running act, wherein all the cowboy culture myths about individual will and hard work having limitless power…simply self-destruct on their own, and leave the typical male feeling inadequate, or, with a shattered belief system. Kevin couldn't process it, and despite overwhelming evidence to the contrary, insisted that Michael "just needed to work harder." Somewhere, he probably knew that if he were to face Michael's realities, he'd have to face his own.
It wore on the marriage, and after 15 years of wedlock, Linda and Kevin divorced.
Linda is brave when I ask her what took her so long to realize she had autism. As a clinical professional, how could she not know she was on the spectrum for that long? Part of it, she says, definitely had to do with the relative lack of knowledge in the Green Bay area: "The culture just isn't here," she laments. "And At the time, I was working only with much more challenged kids, so I didn't need to know about the spectrum's other side, along with their traits."
But traits, whatever they meant, had always been a part of her life—Especially after the divorce. Linda shared that she is especially challenged by sensory input. In such instances she regulates herself using a variety of strategies, including wrapping herself in a blanket.
Caitlin and Linda both point out that Kevin, despite his running from both his and Michael's diagnoses, never ran from his other responsibilities. After the divorce, he was always there for the kids, and he and Linda worked amicably together to raise them. Through time, Kevin faced up to both his and Michael's diagnoses, eventually allowing himself to get diagnosed.
It meant a lot, and Linda started to trust him like never before.
For instance, she told me a story of when they were young, and she had written him a long, fervent, passionate love letter; one that ended with the declaration that they were soulmates. Kevin's only response at the time was to hand it back and tell her that she had spelled the word, "wrapped," wrong.
Now both knew that there had never been any intent to hurt her feelings.
But all these positive, post-divorce revelations...it all had a sour note for Caitlin. She believed her parents belonged together.
While on the subject of relationships, I asked Caitlin a question I was dying to pose: "And your boyfriend has it too? Are you that used to our way of processing? And might you be subconsciously shortchanging potential boyfriends who are not on the spectrum?" It was a new idea for Caitlin, and she agreed to consider it. But she also knew of one justification—one attribute—to explain her attraction to spectrumites.
One morning, fifteen years after the divorce, Linda woke up from a nightmare. In her dream, Kevin had remarried—someone else. It really ticked her off.
They were soon back together.
And five years ago, Linda and Kevin remarried (Yes, that's Caitlin, crying, in the background of the below wedding photo).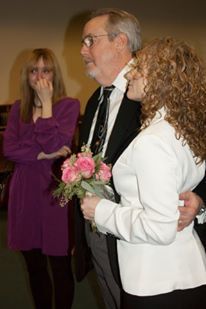 I asked Linda why she stayed, given that there were so many better places to live where she would feel more accepted for her behavioral differences.
"For better or for worse, I'd already established a foothold in the community," she said, making sense—while also sounding a little sad.
But then she looked at Caitlin and smiled. "And I got to work with my daughter."
Well on her way to becoming a clinical professional herself, Caitlin—as yet—has staked no such claim. She says will not stay in Green Bay. I sensed that Linda is reluctantly happy for her.
The folks at SBH see patients, argue with the bullies next door (at a well-known radio station, who refuse to stop using SBH's parking spaces), and file paperwork for reimbursement from insurance companies. Whether or not they're the best choice for consumers is unknown to me.
But I would bet that when faced with an unknown behavior, that SBH (alone?) will err on the side of acceptance, respect, and welcoming. In their field, their wiring, and their lives…are a competitive advantage.
———————————————————————————————————
Michael John Carley is the Founder of GRASP, a school and business consultant, and the author of "Asperger's From the Inside-Out" (Penguin/Perigee 2008), "Unemployed on the Autism Spectrum," (Jessica Kingsley Publishers 2016), and upcoming, "'The Book of Happy, Positive, and Confident Sex for Adults on the Autism Spectrum…and Beyond!" He also writes the more national Huffington Post column, "Autism Without Fear." For more information on Michael John, you can go to www.michaeljohncarley.com. To subscribe to his columns and newsletter, or to suggest stories within the Green Bay area, please click here, fill out the contact form, and check off the box at the bottom that reads, "Yes. Please include me on the event mailing list."
Popular in the Community