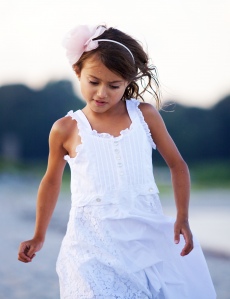 A completely random and gratuitous photo of my sweet girl. Because when people click on this post to read about mothers killing their children with autism, this is the face that I want them to see.
On Saturday, March 31st, Patricia Corby flagged down a police officer to tell him that she'd just killed her autistic son, Danny. She drowned him in the bathtub, she said. He was four years old.
On May 31st of 2010, Stephanie Rochester -- according to her own report to police -- placed a plastic bag over her 6 month-old son, Rylan's head.
She told police that when the infant was still breathing some time later, she placed blankets over his face. The child was dead by morning.
According to the Colorado Daily, "During the initial investigation last summer, Rochester told detectives that she believed her baby, Rylan, was autistic, and that having an autistic child would emotionally and financially "ruin" her life."
I cannot stop thinking about these precious, innocent souls -- brutally murdered at the hands of their own mothers. I simply cannot wrap my brain around the horror of their stories.
In July of 2010, Saiqa Akhter called 911 to tell police that she had killed her two year-old daughter, Faryaal and her five year-old son, Zainmay. CNN described the recording of the 911 call. (Warning -- the story contains a video and recording of the 911 call. Please do NOT click on the link around children -- it may begin to play automatically.)
On the tape, the woman tells the operator, "I killed them. I killed both of them. I killed my both kids... They are not doing anything. They are just blue. They are not taking any breaths. Their heart is not beating."

The operator asks her what happened.

"First, I tried to give them bathroom cleaner. I put in their mouth, but they don't drink it. I want them to drink it. They don't drink it... I grabbed their neck... and they are no more," she says on the tape.

The operator continues to talk to the woman to keep her on the phone until officers arrive. She asks why she killed her children, and the woman says she wanted normal children.

"They are autistic. I don't want my kids to be autistic," she is heard saying in an even tone.

The operator then asks her what she is feeling, and she says "nothing."

The morning after that nightmare, I wrote the following.
There are no words to describe the horror of what this woman did to her precious babies.
There are no words to adequately condemn the murder of two innocent souls.
There are no words to contain the grief that we feel for those beautiful children.
There are words, however for what we can do for one another as a community of those who care for children, particularly those who do not fall into the category of the "normal children" that this woman thought she wanted.
We can support one another. We can show those who don't see the beauty that accompanies the challenges that there is joy in this life. That there is sweetness and faith and celebration and grace in raising a child -- or children -- with autism.
We can rise above our divisions and come together as a community -- a welcoming, respectful, compassionate community that promises to hold each other up through the darkest days.
We can continue to tell our stories.
... to reclaim the word and to reveal the incredible PEOPLE who live their lives through its filter.
... to open the curtains and illuminate the full spectrum of people who stand behind them.
... to personalize our stories -- our children's stories.
... to make people understand that difference is not just OK, but necessary to our survival.
... to get immediate help for those who live far beyond the realm of simple 'difference'.
... to address our greatest fears -- by creating a system that will not just house our children, but will CARE for them when we are gone.
There are no words for what this woman did. In no sphere through which my mind can travel is there any possible explanation for this monstrosity. Those children deserved a life. They deserved comfort and safety and protection and joy. They didn't get it.
If you need support, please, please click on the links below to find local autism resource networks.
There is no more noble act than reaching out for help.
Every one of us who is or who loves a person with autism has a responsibility.
Autism has its challenges -- by God it does. And they need not be sugar-coated nor hidden from view.
But when we speak in hyperbole -- when we choose words meant to shock and scare and draw attention at all costs -- well, there IS a cost. When we say that autism ruins, bankrupts, destroys -- those words do irreparable harm -- to autistics in the world today and to those who will come after them.
So please -- take care when you speak about autism -- about our children.
And above all for Rylan, Faryaal, Zainmay, George and Danny -- may their souls be at peace.
Calling all HuffPost superfans!
Sign up for membership to become a founding member and help shape HuffPost's next chapter